Red Avispa Cuban Espionage Case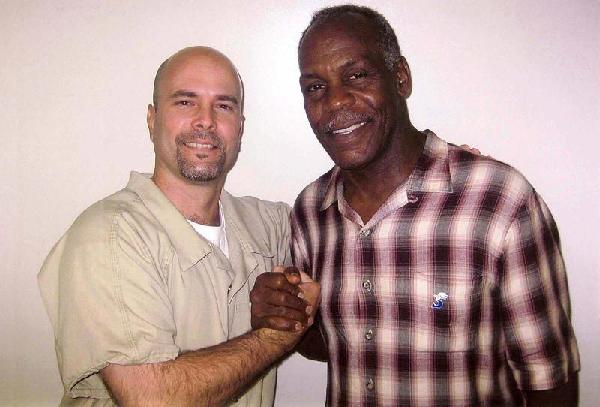 Danny Glover and spy network chief Gerardo Hernandez, sentenced to life for 4 murders
RED AVISPA ESPIONAGE TRIAL 2000-2001

Fernando
González
Llort
René
González
Schwerert

Antonio Guerrero
Rodríguez
Gerardo Hernández
Nordelo
Ramón
Labañino
Salazar
| | |
| --- | --- |
| Pled Guilty and became prosecution witness | Sentence |
| Alejandro Alonso | 7 years |
| Linda Hernandez | 7 years |
| Nilo Hernandez Mederos | 7 years |
| Joseph Santos Cecilia | 4 years |
| Amarylis Silverio Garcia de Santos | 3 1/2 years |
A Heroic Behavior in the Entrails of the Monster
Accused Cuban spy defended as a patriot
Accused of spying for defending their country from the Miami mafia's terrorism
Accused secret agents get free attorneys
Accused spies leaked exile's illness
After verdict, families of dead fliers still at odds
Agent: CANF leaders offered cash for blasts
Agent describes alleged Cuban spies' tools, methods
Alleged spy's life surprised his girlfriend
Attorney: Cuba hindered inquiry
Attorney says Brothers' pilot tested guns to use against Cuba
Basulto testifies on role as anti-Castro operative
Bosch's alleged role in Havana bombing surfaces at trial
Brothers plane shoot-down a Castro trap?
Colonel: Cuba has no need to spy on S. Fla. sites
Contrite Cuban spy couple sentenced
Convicted spy: I am a patriot
Couple accused of reporting to two Cuban spies
Couple belonged to Cuba spy ring, FBI says
Couple charged as spies
Couple plead guilty in Cuba spy case
Cuba actively assisting lawyers in spy case
Cuba attacks trial of spies in 'message' to Americans
Cuba cortó los contactos secretos con EU tras el arresto de los espías
Cuba protests led to spies' transfer
Cuba spy evidence invades bedroom
Cuba spy trial defense targets exile militants
Cuban agent who infiltrated exile groups gets maximum 15 years
Cuban 'colonel' won't testify
Cuban spies put in prison 'hole'
Cuban spy describes his peril
Cuban operative says he plotted with Miami exile
Cuban spying tactics unveiled
Cuba's spy network revealed
Defense: Cuban spies learned no secrets
Duro golpe a la labor de Fiscalía
Evidence hints of ambush in attack on Brothers plane
Eyewitness describes MiG attack
Exiles call for Castro's indictment in air deaths
Expert: Brothers had previously ignored warnings about airspace
Extracts from Gerardo Hernández's first letter
Extracts from Ramón Labañino's first letter to his wife
FAA gave Cuba reply on Brothers
FBI agent: Accused spy sent messages about military in Key West
FBI agent outlines moves, tools of accused Cuban spies
FBI charges couple are members of spy ring
FBI Explains Side in Downing of 2 Planes
5 called 'eyes, ears' of Castro
Five Cuban Agents Guilty of Spying on U.S.
5 Cubans Convicted in Plot to Spy on U.S.
Fliers downed by MiGs violated Cuban airspace, colonel says
Former Cuban spy testifies against ex-allies on trial
Gross and repugnant U.S. repression against the five patriots imprisoned in U.S.
Illegal actions and manipulation of the law confirms police vengeance
Investigator from Cuba takes stand in spy trial
Investigation to delay sentencing of spies
Is Cuba hinting at spy deal?
Jailed Cuban spy identifies his 'handlers'
Jilted wife of spy wins $7.1 million
The judge will be terrible pressured
Juror: Disks made spy case easy
Jurors hear tape of Cuban MiG pilot
Juror: Spy trial nearly stalled
Jurors view photos in spy trial
Lawyer: Accused spy to plead guilty
Lawyers' maneuvers delay sentencing of Cuban espionage master for one day
Los brigadistas antiembargo brindan su apoyo a familiares de espías
Member of spy ring sentenced to seven years in prison
Messages may have warned of shoot-down
Miami Conspiracy (Part 2)
Miami jury gets case against Cuban agents
Miami woman who unwittingly wed spy wants $41 million from Cuba
More Cuban spies will be targeted, FBI warns
Mothers of Cuban spies say their sons are 'patriots'
Mothers of Cubans imprisoned in Miami trust that 'justice will be done'
News organizations seek access to documents in Cuban spy trial
No exiles on Cuban spying trial jury
Observer tells of fatal shoot down at trial
Overflight is at heart of accused spy's defense
Papers: Spies planned sabotage
Pasa al jurado el caso de los espías
Plots against Castro outlined
Prosecution, defense rest in Cuban spying trial
Prosecutors: 5 Cubans were Castro's eyes, ears in Miami
Retired admiral relayed shootdown warning from Cuba to US
Southcom security isn't foolproof, officer testifies
Spy case judge to hear gag order issue
Cuban spy ringleader asks for acquittal in MiG attack
Spy testimony heated
Spy testifies; orders given to infiltrate U.S.
Spy-trial lawyers set trip to Cuba
Spy trial unmasks Cuba secrets
State politicians were top targets
Suspects were active in spy ring, prosecutor says
Testimony offers peek into spy biz
2 more arrests in spy case expected
U.S. duo accuses Cuba of ID theft
U.S. OK's visit for Cuban spies
Verdicts justify suspicions of many area exiles
Visit sought by Cuban VIPs to spies in Miami-Dade jail
Who is René González?
Spanish:
Acepta un espía que fue entrenado para vigilar bases de EU
Aduanas intentó reclutar informantes en Hermanos
Alegan que presunto espía intentó penetrar instalación militar de EU
Arrestan a otros dos espías cubanos
Aumentan la seguridad en el juicio a los espías
Avanza selección de jurado para espías
Basulto admite que no ordenó escapar a piloto
Basulto enfrenta una orden de silencio
Borges niega vínculos con el doble espía
Affidavit
Carta de agradecimiento al pueblo de Cuba
Concluye defensa en juicio contra presuntos espías
Contradicción en los informes de Cuba sobre avionetas
Critican a la fiscalía en el caso de los espías
Cuba planeó secuestrar un avión de Hermanos
Cuba usó alucinógenos al adiestrar a sus espías
Cuba y el FBI colaboraron en vigilar a los exiliados
Cuba y EU entregan información para la defensa de los presuntos espías
Culpables los espías
Desclasifican documentos en caso de espías
Defensa sugiere que testigo ha sido un fracaso como espía
Desafía a Castro un ex agente de seguridad
Dividida la elección del jurado para los espías
Dramática sesión en el juicio a los espías
Ejército de EU sabía de red de espías
El abogado de los presuntos espías interroga a Basulto sobre vuelos
El arresto fue una verdadera sorpresa para presuntos espías
El Comando Sur es un objetivo importante para espías cubanos
Espía consideró reclutar a empleados de base aérea
Espía cubano confesó cuando fue arrestado
Espía cubano deja estela de misterio
Esposa de presunto espía fue entrenada por La Habana
Estrategia legal provoca reacciones en el exilio
EU advirtió a Basulto de vuelos sobre Cuba
Ex agente cubano relata su ruptura con la revolución
Ex esposa de espía pedirá indemnización
FBI viró al revés casa de supuesto cabecilla
Fuerte pulseo en el juicio a los espías
Grosera y repugnante represalia yanki contra los cinco patriotas prisioneros del imperio
Informe cubano crea controversia en juicio
Jueza precisará una orden de silencio a Basulto
La defensa pretende socavar la credibilidad del espía arrepentido
La emprenden contra un testigo anticastrista
La fiscalía teme que Cuba controle el juicio a espías
La Habana estampa honores en el Mig-29 que derribó las avionetas
La Habana no es una amenaza, según un general norteamericano
La infiltración de un espía cubano empezó a planearse en los años 80
La KGB tenía instrucciones para la defensa de los espías
La red informó a Cuba sobre la salud de Mas
Las leyes sobre espionaje podrían proteger a los espías de La Habana
Los cartuchos finales de la defensa de los espías
Los espías cubanos vigilaron el tráfico aéreo militar en la Florida
Los presuntos espías esperan por el veredicto
Los supuestos espías pretendían influir en la opinión pública estadounidense
Llaman patriota a un acusado de espía
Miembro de Hermanos al Rescate testifica en el juicio contra los supuestos espías
"O rectifican o el costo político será impagable"
Muestran las técnicas de los espías cubanos
No desmayaremos en la lucha porque se haga justicia
Piden a Basulto que entregue grabaciones de audio y video
Presentan pruebas contra los espías cubanos encausados
Presunto espía guardaba objetos incriminatorios
Presunto espía informaba al FBI sobre Roque
Presuntos espías pasaron inadvertidos
Red tenía alto nivel tecnológico
Revelan intrincado aparato del espionaje cubano
Revelan nuevos detalles sobre las identidades de un presunto espía
Revelan plan de Cuba para infiltrar armas y agentes en EU
Revelan que un supuesto espía cubano colaboró con el FBI
Richard Nuccio ve en el derribo de las avionetas un 'acto de guerra'
Se excusan dos jurados en el caso de los espías
Supuestos espías nadaron entre un mar de organizaciones
Testigo de la fiscalía sirve a la defensa en el juicio de los espías
Testigos se amparan en la quinta enmienda
Testimonio contradictorio en el juicio contra presuntos espías
Un especialista considera que las avionetas fueron derribadas en Cuba
Un espía afirma que fue amenazado por La Habana
Un espía de Cuba acusa a la FNCA de reclutarlo
Un presunto espía tuvo como tarea lanzar campaña contra la Fundación
Uno de los acusados de espionaje revela su identidad
Uno de los espías puede estar conectado con el derrumbamiento de las avionetas
Viramontes hizo pocas amistades
PRISON SENTENCES:
Actuar en silencio
A la cárcel el matrimonio que espiaba para Cuba
Alegato presentado por el compañero Gerardo Hernández Nordelo
Cuba awaits visas for relatives of Miami prisoners
Cuba Grants Highest Honors to 5 Men
Cuban given life sentence for anti-U.S. spying
Cuban prisoners in Miami honored as Heroes
Cuban spies' sentencing to begin
Cuban spy gets 15-year sentence
Cuban spy gets life for 1996 shoot-down
Cuban spy sentence: 19 years
Cuban spy sentenced to life in prison
Cuba vows to fight for repatriation of spies convicted in U.S.
¡Llevaré el uniforme de recluso con el mismo honor y orgullo con que un soldado lleva sus más preciadas insignias! (Ramón Labañino)
Mi país y mi pueblo fueron obligados hace más de cuarenta años a despertar al peligro y llamados a defender su libertad (Fernando Gonzalez)
Mensaje de los cinco compatriotas al pueblo de Cuba
Ni con el hueco podrán doblegarlos
Repito, reitero y enfatizo que volverán
2nd Cuban agent given life term for espionage
Second Cuban spy gets life prison sentence
Seremos capaces de resistir cualquier cosa
No tengo razones para el arrepentimiento (Rene Gonzalez)
Trasladan a diferentes prisiones del país a los espías de la Red Avispa
2002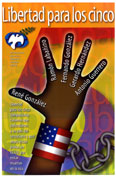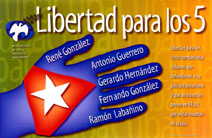 Carta de Ramón Labañino a Fidel Castro
Carta de Rene Gonzalez y la contesta de Fidel Castr
Central European solidarity with the five heroes
Condemned without witnesses or proof
Denuncian organizaciones de Miami pésimo tratamiento a esposa de Gerardo Hernández
Diecisiete meses de confinamiento
Nuevas acciones en EE.UU. por la libertad de los cinco prisioneros políticos cubanos en ese país
Más temprano que tarde volverán
Mi hijo está muy delgado, pero se mantiene firme
Nuestros héroes tendrán que ser liberados
Por esa dama suprema continuaremos en combate
'The United States seems to want to bury the Five's case'
U.S. prevents Gerardo Hernández' wife from visiting him in prison
2003
Cuban spies' solitary detention protested
Diplomatic Note: Unconditional Consular Access to the Five Cubans
Effort to free 5 Cubans gains little notice in U.S.
Miami was organized to find the Five guilty
Secret is out: He was a spy
Tight security around jailed Cubans eased
2004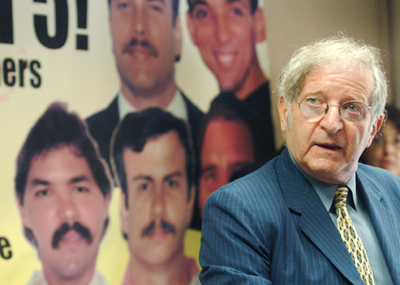 Leonard Weinglass, attorney for Antonio Guerrero
Rodríguez, talks with reporters in Miami, March 10.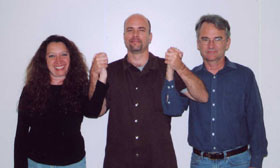 Alicia Jrapko and Bill Hackwell visit Gerardo
Hernandez in prison, Oct. 2004.
Spies will challenge their convictions
New infamy against our five heroes prisoners of the empire
Cuban spies appeal long sentences
Cuban Spies Set to Appeal 2001 Sentences
Cuban spies' trial flawed, lawyers say
5 Cuban spies appeal long sentences, trial in Miami
The U.S. violating family rights in the case of the Cuban Five
Miami five revered in Cuba as anti-terrorist heroes
Fidel sends birthday greetings to René González
The Five awaiting response from the Court of Appeal
Ellos nos inspiran para continuar la lucha
Condecorará estado venezolano a cubanos prisioneros políticos en Estados Unidos
Alarcón: The Five have been the victims of various forms of torture
2005
Cuban spy ruling irks U.S.
Spy convict faces deportation to Cuba, lawyer says
An appellate court has reinstated the convictions of five accused Cuban...
2006
Attorneys spar over whether Cuban agents got fair trial in Miami
Spy may hold key to Brothers' case
2007
Chicago-born spy remains hero in Cuba
'Cuban Five' appeal to be heard today
2008
'Cuban 5' fail in appeal of spy case
2 convicted Cuban spies ponder appeal
2009
Cuban spies in middle of swap talk
U.S. Supreme Court won't review 'Cuban Five' spy convictions
Cuban spy's life sentence reduced to 30 years
2010
Apoyar la causa de los Cinco es un deber: Carlos Muñiz Pérez