Fidel Castro Assassination Plot Case
(2000-2004)
Miami Herald Survey
Codigo Penal de Panama, Articulo 237
Actos terroristas de las organizaciones a las cuales pertenecen los personajes presos en Panamá
An extremely noisy terrorist
Anticastrista obtuvo documentos falsos en varios municipios
Anticastristas al "banquillo"
Aumenta la tension entre La Habana y Panama
Canciller dice que no extraditaran a Posada
Cash found in rooms of 4 suspects in Castro plot
Caso Posada Carriles: Silencio y campañas a un mes de prision
Castro assassination plot trial postponed
Comienza audiencia preliminar de anticastristas detenidos en Panamá
Confirma Corte Suprema de Panama detencion terrorista Posada Carriles
Corte Suprema declara legal detencion de Posada Carriles
Crece exigencia de extradicion de terroristas a Cuba
Cuba demanda justicia
Cuba formaliza peticion para extraditar a Posada Carriles
Cuban accuses developer of plan to kill Castro
Decide justicia panameña juzgar a Posada y sus complices
Declaracion del MINREX: Preocupacion sobre presunta negativa a pedido de extradicion de Posada Carriles
Declaracion del Ministerio de Relaciones Exteriores de Cuba
Denuncian planes de fuga de Posada Carriles y sus complices
Desestiman denuncias contra los anticastristas
Desestiman en Panama amenazas de atentados para exigir libertad de Posada Carriles
Designado el ex procurador panameño Rogelio Cruz abogado de Posada Carriles y sus complices terroristas
El odio los cria y la FNCA los junta
El Salvador ordenara la detencion de Posada
En manos de tribunal panameño la suerte de cuatro anticastristas
Este mes Panama decide sobre extradicion de Posada Carriles
Exigen en Panama castigo para los crimenes de Posada Carriles y sus complices
Exiles deny plot on Castro
Exiles see a Cuban trap in alleged plot to kill Castro
Exiles to be tried on lesser charges
Ex presidentes panameños abogan por extradicion a Cuba de terroristas presos
Fiscalia aprueba querella judicial de sindicatos contra Posada Carriles
Four anti-Cuban terrorists to remain in Panamanian jail

Hábitos antiguos nunca mueren
Implicado conocia a Posada como pintor
It would be disgraceful if Panama agreed now to El Salvador's extradition request
Justicia panameña pide a El Salvador detener a implicado en caso Posada Carriles
La extradicion a Cuba puede asegurar la justicia
Las autoridades panameñas han sucumbido a las presiones
Liberan de cargos a complices de Posada Carriles
Libre implicado en complot de Panama
Los terroristas deben ser juzgados en Cuba
Mala sorpresa para Posada y Remon
McVeigh y Posada Carriles: Doble rasero para el terrorismo
No extraditaran a exiliados si Cuba busca su muerte
Nuevo magistrado presidira el juicio de Posada Carriles
Ordena Corte mantener arresto de panameño que apoyó a terroristas
Panama anuncia que no extraditará a anticastristas
Panama critica afirmaciones temerarias''
Panama enviará una "energica'' protesta
Panama: Exile says aim was Castro hit
Panama May Try 4 in Castro Plot
Panamanian government will be responsible if terrorists escape or their crimes go unpunished
Panamanian judge to rule today on anti-Castro trial
Parlamentarios venezolanos piden extradicion de Posada Carriles
Piden a gobierno Panama actuar con soberania caso terrorista cubano
Piden acelerar el caso de exiliados presos en Panama
Plotters sought to down plane, Cuba says
Posada Carriles a juicio en septiembre
Posada Carriles in the "Renacer Hilton"
Posada in El Renacer, 60 meters from the Panama Canal
Posada y sus sicarios frente a sus crimenes
Posada se acoge al derecho a guardar silencio
Posada terrorized by DNA
Posada viajaba con documentacion falsa
Ratifican legalidad de detencion de Posada Carriles y sus complices
Reafirma Fidel que terrorista debe ser juzgado en Cuba
Release for the four dangerous international terrorists?
Religiosos piden que indulten a Posada Carriles
Repudia Cancilleria cubana decision panameña de no extraditar a terroristas
Revulu en juicio de Posada Carriles
Rogelio Cruz defendera a Luis Posada
Se deteriora la salud de dos exiliados detenidos en Panama
Sin marco juridico negativa panameña para extraditar a terroristas a Cuba
Sin plazos extradicion de Posada Carriles, dice Canciller de Panama
Solo pedimos que cese la impunidad
Subrayan legalidad de la detencion de Posada Carriles
Terrorismo en Panama: Impunidad o justicia
Terroristas Planeaban Colocar Poderosa Bomba en Acto en Universidad
Terrorists offend judge and Panamanian justice
Trasladan de prision a dos de los terroristas capturados en Panama
Panamá y los terroristas anticubanos
WILL THERE BE JUSTICE IN PANAMA? Ten questions for Posada and Remón
2004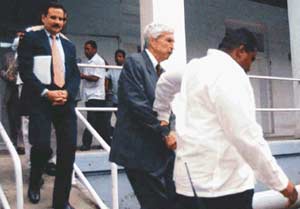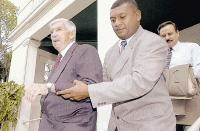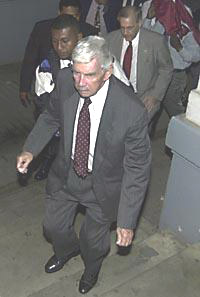 Decretan para marzo audiencia contra terroristas en Panama
El juicio contra Posada Carriles se iniciará el 15 de marzo
Panamanian district attorney exposes defense tricks
Dame la mano y mataremos
From Posada to Zuñiga
The Miami Mafia in Canada
4 Cuban exiles convicted in plot to murder Castro
Ocho años de carcel para Posada Carriles
A Posada Carriles Le cayo la teja
Carriles va pa' la reja
Condenan en Panama a Luis Posada Carriles
Cuba slams Castro 'killers' rule
Sentences handed down to Posada and accomplices do not match the seriousness of their crimes
Panama sentences dismay Miami exiles
Funds raised for four convicted in Panama
Cuba warns of new escape plan hatched by Posada Carriles and his accomplices
Panama se defiende ante cuestionamientos de Cuba
Posada Carriles y sus complices no deben quedar impunes
Panama niega que planea indultar a reos anticastristas
Niegan indulto para cubanos detenidos en Panama
La dictadura amenaza a Panama con romper relaciones si se indulta a exiliados cubanos
Panama leader may pardon 4 Castro foes to spite Cuba
Cuba exposes attempt by President Moscoso to pardon four anti-Cuban terrorists
Panama saca a embajador cubano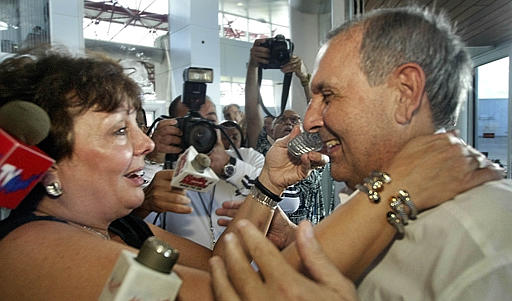 Talk-radio host Ninoska Perez
Castellon greets Guillermo Novo
at Opa-locka Airport.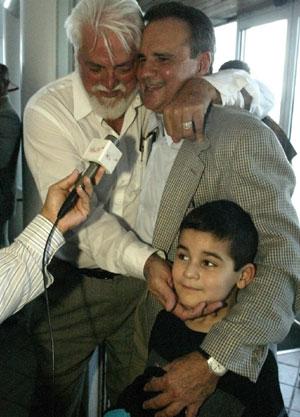 Reynol Rodriguez, left, greets the returning
Pedro Remon, who was also met by son Peter,
7. Nearly four years after being arrested in
Panama on accusations of plotting to kill Fidel
Castro, three Cuban exiles from Miami-Dade,
including Remon, return home.
Panama pardons four anti-Castro Cuban exiles
Three Cuba exiles, pardoned in Castro assassination plot, return to Miami
Panama indulta a anticastristas acusados atentar contra Castro
Panama president pardons anti-Castro figures
Pardons for Cuban exiles an issue since arrest
Declaracion del Ministerio de Relaciones Exteriores (Agosto 26, 2004)
Panama pardons Cuban exiles
Panama pardons Cuban exiles in Castro plot
Panama pardons Castro 'plotters'
Exige Mireya Mosco disculpa de Cuba
Nota informativa del Ministerio de Relaciones Exteriores
3 of 4 accused in kill-Castro plot fly to Miami after pardons in Panama
Panama frees 4 jailed in Castro death plot
4 Cuban Plotters Are Freed by Panama
Pardoned exile trio back home
4 Veteran Foes of Castro
FBI speaks to pardoned Cuban exiles
U.S. Denies Role in Cuban Exiles' Pardon
Cuba cuts ties after Panama frees prisoners
Cuba no cejara en su lucha por la justicia y contra el terrorismo
Exile foe of Castro being sought in Honduras
Venezuela plays down Panama rift
Venezuelan slams the U.S. on asylum
Posesion de Torrijos provoco la medida
Probe of assistance to exile is widened
Honduran president furious at U.S., Panama
Terror votes
Posada Carriles said to be in Honduras
U.S. quiet as Panama pardons Cubans
Honduras on lookout for Cuban exile on lam
Flap over pardons embroils U.S.
Moscoso admite polemica llamada
Honduras tras Posada Carriles
Califican de aberracion indultos a terroristas en Panama
No pueden haber terroristas buenos y terroristas malos
Demandan que Panamá anule indulto de terroristas
Ibero-American foreign ministers condemn pardon of Posada Carriles and his accomplices
No podrán salir de Panamá ex funcionarios relacionados con el ilegal indulto de terroristas
CONSPIRACY TO FREE POSADA
Moscoso obtained $4 million for pardoning Posada and his accomplices
2008
Fallo. Se Reinician Procesos Contra 168 Personas
Panama court overturns Posada's pardon