Guerrillas in
Colombia
2002
JANUARY
Analysts doubt success of Colombia talks
Artist transforms cliffside in rebel stronghold
At the Rebel-Held Zone in Colombia, Alarm Is Mounting as a Showdown Threatens
Campamentos de las FARC cerca de Bogotá
Colombia a las puertas de la guerra urbana
Colombia and Its Rebels Agree to Talks, Reviving Peace Effort
Colombia Destroys a U.S. Helicopter
Colombia Fears Ties Between Its Rebels and Venezuela Military
Colombia, Guerrilla Group Set a Timetable for Talks
Colombia on verge of ending attempt at peace
Colombia peace process revived
Colombia Says Talks Have Failed, and Rebels Get Ultimatum
Colombia Tilts Right as Rebels Press Fight
Colombian mayor killed by gunmen
Colombian peace talks on brink of total collapse
Colombian President Extends Deadline for Revival of Peace Talks
Colombian Rebels Quitting Safe Havens as Peace Talks Fail
Colombian rebels vow to seize power at any price
Colombian Riddle: What Drew Rebels to the Table?
Colombian Troops Move on Rebel Zone as Talks Fail
Colombia's female fighting force
Cronología de un diálogo a sobresaltos
Cuba host to Colombian talks
Deserter links IRA to Colombia rebels
El Caguán, destino de autos robados
Guard slain, inmates flee in Colombia jailbreak
In Colombia's troubled talks, stopwatch restarts
IRA members armed Columbian rebels, deserter says
New deadline issued to rebels in Colombia
Panamanians fear foreign rebels
Pastrana, rebels to relaunch the push for peace
Peace Talks in Colombia Are Revived by an Accord
Presumed rebels kill 5 police in northern Colombia
Progress in Colombia: New Talks About Talks
U.S. Chopper Destroyed in Colombia
U.S. Supports Colombian on Ultimatum to Rebels
Testigo ocular

FEBRUARY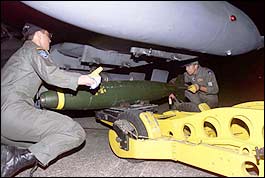 Analysts: Colombia army is short on resources
Civil War Preys on Civilians
Colombia abandons peace effort
Colombia flexes muscle against FARC
Colombia invades to take back rebel zone
Colombian Air Force Bombs Rebel Zone as Talks Fail
Colombian Army Attacks Rebel Posts
Colombian Army Ordered Into Haven As Rebel Talks End
Colombian presidential candidate kidnapped, spokeswoman says
Colombian Rebels Hijack a Plane and Kidnap a Senator
Colombian Rebels Met By a New, Unarmed Foe
Colombian Rebels Sabotage Peace Hopes
Colombian Rules Out Swap for Hostage
Colombian troops move into base
Colombian troops recapture base that was given to guerrillas
Colombians continue to flee war
Comenzaron sobrevuelos militares sobre el Caguán
Cronología del proceso de paz entre Gobierno y Farc
Deserted Colombian Camps Tell Story
Ejército recupera La Macarena
Eln insta al Gobierno y a las Farc a retomar el diálogo
Guerrilla Strategy Perplexes Colombians
Iglesia Católica apoya decisión del presidente
Las FARC controlan el oro de Colombia
Las Farc quedaron sin estatus político
La Policía captura a 16 guerrilleros del ELN
Primer parte oficial sobre retoma de la zona de distensión
Rebel leader killed in Colombia
Rebel Mortar Hits Colombia Barracks
Rebels Go on Killing Rampage
Second car bomb in a week
Secuestro del avión fue un operativo milimétrico
Texto de la alocución del presidente Andrés Pastrana
UNICEF denuncia que las FARC siguen reclutando a menores
MARCH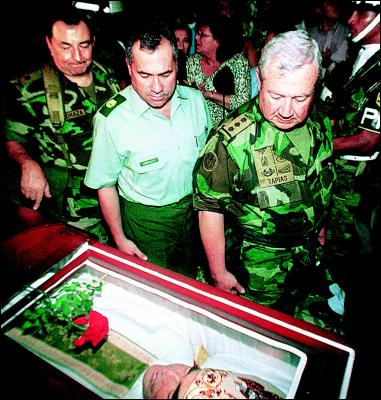 General Fernando Tapias attended the funeral of murdered
Cali Archbishop Isaias Duarte Cancino on March 16, 2002.
A Captive at Mercy of Colombian Rebels
A Colombian Town Caught in a Cross-Fire
Alabama Coal Giant Is Sued Over 3 Killings in Colombia
As Colombia talks fail, fear tears at hostages' kin
Bogotá y el ELN se acercan a una tregua
The Colombia I Left Behind
Colombia's Hit-and-Run War
Colombian gang leader arrested in prelate's death
Colombian rebels kill 3, including senator
Colombian Rebels Step Up Attacks
Colombians Ill-Prepared For Prolonged War on Rebels
Continúa bloqueo de las Farc en La Línea, cerca a Cajamarca
Control militar en 19 pueblos
Destruyen un complejo cocalero de las FARC
Detenidos dos sospechosos por atentado en Medellín
Family Stands Strong Behind Kidnapped Candidate
Family Works to Free a Kidnapped Colombian Author and Senator
FARC leaders indicted in U.S.
Hyde to probe IRA link to Colombian terrorists
In Colombia's War, Even Cause at Issue
Las FARC apuntan a las urnas
Lawmakers are newest prey in Colombian kidnappings
Listo el ELN para una tregua inmediata
Nueva reunión del gobierno con el Eln en Cuba
Oil inflames Colombia's civil war
100 guerrillas killed in Colombia since talks failed
Outspoken archbishop shot dead in Colombia
Pope Lauds Slain Colombian Archbishop
Rebel leader, fighters held in Colombia
Rebel tactics cause concern Attacks prove tough for army
Rebel Tactics Intimidate Colombia Candidates
Rebels or Drug Rings Suspected in Colombian Prelate's Killing
3 Colombian Rebels Included in Drug Charges by U.S.
Urban rebel commander captured in Colombia
Venezuela protests Colombia's rebel base claim
APRIL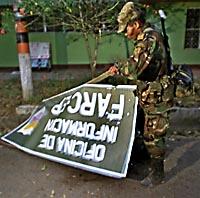 Colombian Candidate Survives Blast That Kills 3
Colombian rebels hold governor
Colombian rebel turns politician
IRA fuels carnage of Colombia terrorists
Sinn Fein Says No to Congressional Probe on Colombia
MAY


Car bomb exploded in Bogota on May 29, 2002.
Adams ally's trade in terror
At least 39 children killed in Colombian fighting
Capturan jefe de banda de secuestradores del frente 53 de las Farc
Colombia charges rebel leader in deaths of American activists
Colombia lidera los secuestros en el mundo
Colombia rebels met with dozen IRA chiefs
Colombia Rebels Raid Banana Plantation
Colombian military struggles to reach scene of bloodbath
Colombian rebel leader jailed in U.S. in drug case
Colombian Rebels Are Indicted as Terrorists
Colombian War Brings Carnage to Village Altar
Combates en Medellín dejan 9 muertos y 37 heridos Medellín
Death toll climbs in Colombia conflict
Dinamitan puente que une a Antioquia con la costa Caribe
EU to consider adding FARC to terror blacklist
Farc amenaza a civiles a antigua Zona de Distensión
Farc money funded arms deals
Farc y AUC merodean a Uribe: OEA
Five wounded by Colombian market car bomb
IRA 'trained Farc terrorists'
La Costa incomunicada por acciones de la guerrilla
One killed, 3 hurt in roadblock near Bogotá
Rebels taking aim at bomb squads
60 in Colombia Are Said to Die During Battles
Town's stories of mass killings emerge
U.N. Faults Colombia for Civilian Deaths
Venezuelan rebels killed in Colombia battle
JUNE
Colombian mayors heed rebel threats to quit or die
Colombian rebel leader wanted by U.S. arrested
Colombia's guerrilla war moves downtown
Millonario el costo de la guerra en Colombia
JULY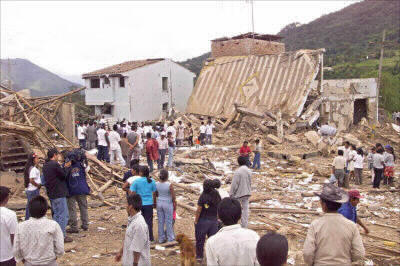 Toribio police station after FARC attack.
Acts of defiance: Unarmed rural Colombians resisting guerrillas
A salvo 14 agentes de policía en Toribío (Cauca) que resistieron por 18 horas ataque guerrillero
Análisis: Amenazas, una estrategia diabólicamente eficaz
Army: Hundreds snatched from village
Capturados dos jefes de las Farc
Colombian president calls for more soldiers
Rebels' brazen bid to paralyze Colombia
Region in Colombia is now 'the danger zone'
Toribío estuvo 20 horas en el infierno
Tres historias de horror de las Fuerzas Armadas Revolucionarias de Colombia (Farc)
AUGUST
Bomb offensive jars Colombia ahead of inauguration
Brazil largely ignoring bloody Colombia war
Colombia Counters Rebels With Troops and Music
Colombia resorts to historical war strategy: civil resistance
Colombian assassination suspect arrested
Colombian leader installs citizen spies
Colombian rebels reject call for U.N. mediation
Colombian vice president: Rebels planned for worse attack
Colombian War's Uneven Burden
Colombia Turns to Citizen Spies as Newest Weapon of War
Funcionó el plan de las F. Armadas
In violence-torn Colombia, nation braces for a meaner war
Las FARC ordenan combatir a los `gringos'
Pastrana makes late bid for Colombian hostages
Rebel Attack Seen As Grim Harbinger For Colombians
State of emergency declared in Colombia
U.N.: 'Extremely concerned' about Colombian refugees
SEPTEMBER
Colombia Authorizes Warrantless Arrests, Citing Terror Fight
Colombia to monitor some citizens' lives
Colombian informants could fuel vigilantism
Colombian Military Reports 100 Rebels Killed in Offensive
Colombian rebel groups seen as regional danger
Dos capitales y tres departamentos, las primeras zonas de rehabilitación bajo control militar
Key Secret Police Official Is Assassinated in Colombia
Straitened Colombians Back Tax to Fight Rebels
OCTOBER
Colombia police clash with rebels
Colombian farmers caught in civil war
Colombia's largest rebel army losing strength, U.S. envoy says
Crisis financiera en las FARC
Neighbor's fighting spills over into Venezuela
Rebels' grip on Medellin loosens
U.S. Steps Into the Rebels' Lair
Urban Anti-Rebel Raid a New Turn in Colombian War
Washington se involucra militarmente en Colombia
NOVEMBER
Bikini calendars send message to Colombian rebels
Colombia Takes Aim at Rebels in Its Cities
DECEMBER
Security forces take back Colombian neighborhood