Guerrillas in
Colombia
2005-2009

FARC leader Rodrigo Granda, captured in Venezuela, in custody
in Bogotá on Dec. 15.
Colombia Admits It Hired Agents to Abduct Rebel in Venezuela
Capture of Rebel Divides Latin American Neighbors
Rebels kill 15 in raid on Navy base
17 troops, 11 rebels killed in clashes
Image Offensive: Rebels Undercut Colombian President
Rebels wreak havoc in Colombia
In U.S. hands: a rebel in the know
Colombian rebels widening reach
Troops failing to rein in FARC
Colombia urges Ireland to extradite 3 IRA-linked men
Ireland, Sinn Fein deny Colombia deal
FARC is on the run -- for now
2006
FARC indicted in U.S. on drug charges
Señalan a médico cubano de proveer material clínico para las Farc
Raul Reyes (September 30, 1948 – March 1, 2008)
A manos de sus propios hombres murió 'Iván Ríos', miembro del Secretariado de las Farc
To prove FARC death: a severed hand
Así cayó 'Ríos'
'Iván Ríos' ordenó asesinar a más de 200 supuestos infiltrados en las Farc, revela su computador
'Las Farc ya se acabaron, son seis bandas dispersas', dice asesor presidencial José Obdulio Gaviria
FARC bid to buy anti-aircraft missiles revealed
¿Recompensar a alias 'Rojas' es premiar el delito?
¿De turismo con la guerrilla?
FARC ESCONDÍAN ¢250 MILLONES DEL NARCOTRÁFICO EN HEREDIA
Caja fuerte estuvo bajo tierra
El otro PC, el de alias "Iván Ríos"
El fin de las FARC Será largo y sangriento
El gringo y las Farc
¿La prueba reina?
Actividades de las Farc en el continente sería destino de caleta hallada en Costa Rica
Médico de 'Tirofijo' sería reemplazo de 'Iván Ríos' en secretariado de las Farc
Condenan al secretariado de las Farc por caso de cadáver bomba
Hallan 30 kilos de uranio que según el computador de 'Raúl Reyes' fueron adquiridos por las Farc
Farc buscaban uranio desde 2005: Fuerzas Militares
Colombian military says it found uranium linked to FARC
Medicina Legal confirmó que el cuerpo es de Franklin Aisalla
No Ideology, Just Money and Cocaine
Files From Colombians Point to Venezuelan Bid to Arm Rebels
El cerrajero de las Farc
Interpol: top Colombian rebel sought
On Ecuador's border, FARC rebels visit often
Man tied to Colombian rebels extradited to U.S.
Deserta de las Farc 'Karina', la comandante del frente 47
Karina: su historia dentro de la guerrilla
Corazón violento
Tirofijo está muerto
Colombian rebels' loss of leader ends an era
Colombia Says Top Rebel Commander Is Dead
Un campesino en armas
¿Cómo queda el poder en las Farc?
Lo que sigue para las Farc tras muerte de 'Tirofijo'
La muerte de 'Tirofijo'
Hace 15 días buscan cadáver de 'Tirofijo' en región del Coreguaje, entre Meta y Caquetá
'Tirofijo', conocido como el guerrillero más viejo del mundo, llevaba casi 44 años en la guerra
Detalles de la enorme ofensiva contra Marulanda revela el comandante de las Fuerzas Militares
La última batalla de 'Tirofijo'
El verdadero poder de 'Tirofijo'
El nuevo comandante de la guerrilla más antigua del mundo (Alfonso Cano)
Comunicado de las Farc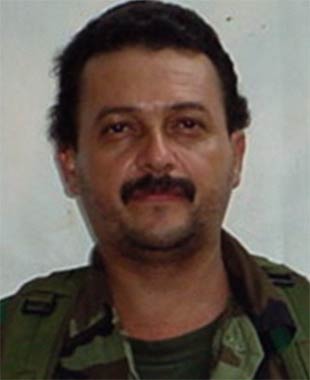 Gerardo Antonio Aguilar Ramírez,
alias César,es el cabecilla capturado
en la operación. Llevaba 26 años en
las Farc y era hombre clave en el
negocio del nacotráfico en el
departamento de Guaviare. Va a ser
extraditado a Estados Unidos.
The liberation of 15 hostages in Colombia
Jaque mate: la operación perfecta
Colombia hoodwinks FARC, frees Betancourt, U.S. hostages
¿Y los que quedaron?
Cómo fue el audaz operativo del rescate de Íngrid
Bold Colombia Rescue Built on Rebels' Disarray
Details Emerge of U.S. Role in Colombia's Hostage Rescue
US, Colombia choked rebels' communications network
El rescate según el jefe guerrillero apresado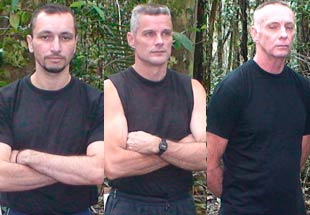 Mark Gonsalves, Keith Stansell y Thomas Howes
son los 3 contratistas norteamericanos que fueron
liberados junto con Íngrid Betancourt y 11 militares
colombianos. Luego de llegar al aeropuerto de Catam, el gobierno los entregó al embajador de
Estados Unidos y volaron de inmediato a su país.
Book Casts Harsh Light on Ex-Hostage in Colombia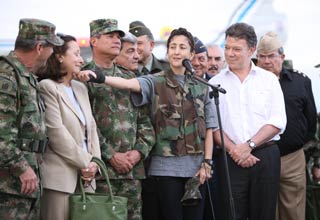 El general Mario Montoya, Yolanda Pulecio, el
general Freddy Padilla de León, Luis Eladio Pérez,
el general Óscar Naranjo , Ingrid Betancourt y el
ministro de defensa Juan Manuel Santos.
AUGUST-DECEMBER
FARC Dissidents Assist Colombia
Cuba, FARC may be training guerrillas at Venezuelan camp
2009
Venezuela tolerates FARC rebels in border region, residents say
Colombian rebel turncoat claims betrayal
Ejército captura sede de frente de las FARC
Cavernas naturales donde se escondía el 'Mono Jojoy' fueron descubiertas por la Fuerza Omega
Hallan cavernas donde se escondía el "Mono Jojoy"
'Negro Antonio' fue trasladado a Bogotá por el Ejército Nacional
A key to Colombia peace: Reintegrating the ex-fighters
FARC rebels in alleged Venezuela smuggling
Chavez says Colombia rebels unwelcome in Venezuela
Ecuadoran Town a Hub for Drug-Running Rebels, Colombia Says
Colombia's FARC rebels work on rebirth plan
Intimidades de 'Tirofijo' y las Farc revela desertora en libro 'Conversaciones de una guerrillera'
More Colombians massacred in Venezuela
2010
Los argumentos de la Procuraduría en el caso de Piedad