Natural Disasters in Cuba
1998
Cuba evacuates 200,000; Castro takes charge as storm batters island
1999
Castro orders rapid hurricane ecovery efforts
Hurricane storm waves swamp Havana
2000
La Habana se cae a pedazos por las lluvias
2001
After the Storm, Cubans Survey Losses
Cuba, desolada y conmovida por el huracán
Cuba says Hurricane Michelle did more economic damage than any storm during ommunist
Cuba still measuring the impact of Hurricane Michelle
Cuban relief thorny issue
Damage assessment in Cuba after hurricane
Dos sismos sacuden la zona oriental
Eastern Cuba drying out after heavy rains
Havana building collapse kills 2, injures 2
Havana residents take storm in stride
Hurricane Kills at Least Five in Cuba
Hurricane Kills Five in Cuba
Hurricane Michelle Moving Toward Cuba
Michelle dañó más de la mitad de la caña
2002
Cubans safe, but buildings hit hard
Isidore clobbers western Cuba
Lili causes widespread destruction, second hurricane in 10 days
Lili strikes western Cuba, churns into Gulf
2004
Havana residents fill plastic containers from
a hose in one of the few areas of the city of 2
million still supplied with water, 4 days after
Hurricane Charley barreled across Cuba packing 105-mph winds.
Luis Eligio Perez M.Cafria, a Havana rapper,
protested the water shortage by taping a spigot
to his mouth while walking the capital streets.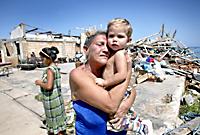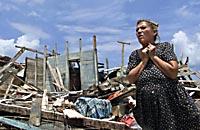 Baracoa Baracoa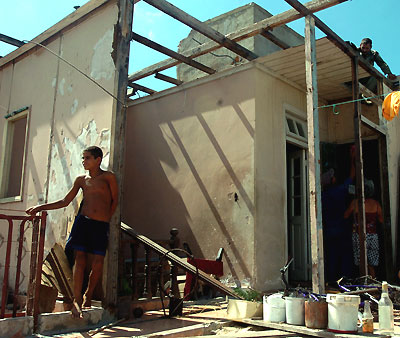 Juan Carlos Monzon, 12, leans on what's left of the second
story of what was his house in the Playa Baracoa in Havana,
damaged by Hurricane Charley almost a month ago. Monzon
lived in the house with nine relatives.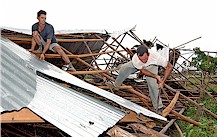 Pinar del Rio digs out after Ivan.
Hurricane leaves Cuban capital without power
Trabajan por restablecer servicio de agua
Hurricane Charley leaves considerable damage
Cubans left to cope yet again
Tourists shuffle as Havana keeps calm before the storm
Hard-Hit Havana Still Short of Water
Muertes y derrumbes por el ciclón en Cuba
Grave carencia de agua en La Habana tras el huracán
16,000 viviendas destruidas
Se realiza un gran esfuerzo y el pueblo debe tener confianza
Priorizan reconstrucción de viviendas en La Habana
Charley, a very bad hurricane
Daños de Charley superan los mil millones de dólares
Storm deals economic blow to Cuba: $1 billion
Villagers reeling from Charley
Powerful hurricane threatens to hurt economically vital tourism in Cuba
Cuba expects severe trial by weather
Nearly 2 million Cubans get out of hurricane's way
Already Battered, Cuba Braces for 'Ivan the Terrible'
Cuban tobacco crop likely to escape Ivan
Sherritt Cuts Production in Cuba as Hurricane Ivan Approaches
Coastal villages in Cuba evacuated
Western Cuba hit by Ivan
After Charley's damage Cubans brace for Ivan's follow-up
Cuba escapes worst of Ivan's onslaught
Cuba imposes strict response
Hurricane batters west tip of Cuba, spares Havana
Island weathers Ivan's fury with no deaths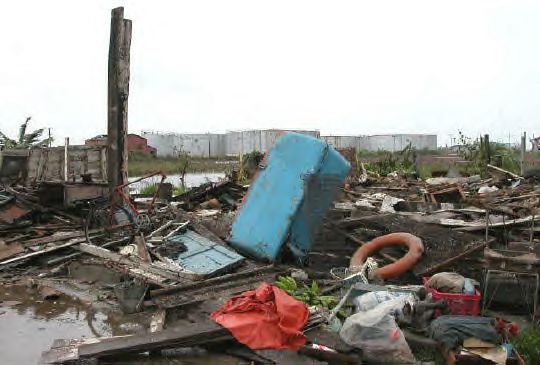 Damaged house in Catalina de Guines Casilda
Hurricane Dennis tragic path through Cuba
Derrotado el huracán mercenario
Dennis se aleja
A trabajar duro en la recuperación
Santiago se recupera
La mayor evacuación en Cienfuegos
Damage report from Cuba
Damage extensive across island
Shantytowns hit hardest
Nota informativa de la situación del Sistema Eléctrico Nacional
Cuba raises death toll, rejects U.S. help
Cuban death toll from Dennis raised to 16
Cubans start task of rebuilding, but worry about more storms
Storm worsens housing shortage
Más sólida y fuerte la Revolución
In wake of Dennis, Coast Guard steps up patrols for Cuban migrants
Castro declares war on hurricanes
Cuban residents secure homes, animals, then follow government orders
Cuban villages empty in anticipation of Wilma's wrath
Massive waves from Wilma rock Havana
Cuba gets no respite from two storm systems, three days of rain
Water turns parts of Havana into rivers
Cubans use ingenuity to cope
2006
Cubans are feeling vulnerable as storm season approaches
2008
Cuba rejects U.S. storm assessment team offer
Battered by Storms, Cuba Uses Ideological Zeal to Lift Spirits and Direct Anger