Human Rights
in Cuba 2004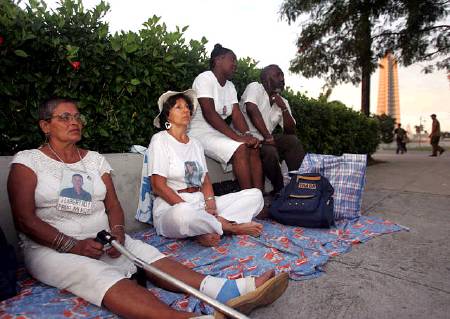 Isabel Ramos, Dolia Leal and Berta Soler sit together after spending the night in a park next to Revolution Square in Havana. The women are wives and family members of jailed Cuban dissidents, who delivered a letter to Cuban President Fidel Castro, asking for Soler's husband Angel Moya to be released to undergo medical treatment, Oct. 7, 2004.
JANUARY
Castro's Judges Burn Books 'Lacking Usefulness'
Life after prison means facing fear daily
FEBRUARY
Cuba's human rights assailed
Cuba's report card
Disidentes llaman a los cubanos a impulsar cambios
Leading dissidents ask Cuba to expand citizens' civil rights
'They Are Killing These People'
U.N. criticizes arrests of Cuban dissidents
U.N. Decries Cuba Over Dissident Arrests
Cuba under fire over dissidents
U.N.: Cuban Dissidents Held in 'Alarming' Conditions
U.N. Envoy Criticizes Detentions by Cuba
Talks On Cuba Need Results
La UNESCO otorga a Raul Rivero el Premio a la Libertad de Prensa
MARCH


Fifteen wives and mothers of Cuban jailed dissidents pray in
front of the Santa Rita Church during a march from Cuba's
National Prison Headquarters to the Cuban Parliament to
demand for their sons and husbands' liberation one year
after their detention in Havana, Cuba.
Cuban librarians, 'medieval cages'
I add my voice to support Cuban dissidents
Indignation at Ashcroft, but not at Castro
Dissidents' loved ones go public with Cuba protest
IAPA criticizes Cuba's treatment of journalists
Cuba's Forgotten Prisoners
Castro's Latest Victim: Himself
Cuban Ministry Protests UNESCO Award
Dissidents' kin lament TV encounter
'Transici?n desde el exterior es un error'
M?s gestiones por la salud de Chepe
APRIL
Cuba opens jails to journalists in campaign to polish rights image
Cuba allows reporters into 2 prison hospitals
Cuban official denies jailed dissidents treated poorly
Castro's jails given hard sell
Cuba opens prison doors to journalists
Cuba throws together guided tour of prisons to defend rights record
Cuba shows off medical care in prisons
Dissident in a coma after hunger strike
Aclaracion Imprescindible Sobre Publicacion del PSC Recogida por La Nueva Cuba
Cuba frees one of 75 dissidents jailed
Cadena de oraciones en Cuba por disidentes presos
Distribuyen en La Habana la Declaracion de Derechos Humanos
Dissidents put on trial in Cuba
Disidente ciego condena espionaje del gobierno cubano
Dissident gets 4 years for protest
Cuban activist unrepentant
Pay? llama vocero oficialista a Menoyo
MAY
Apoyo desde EEUU a bibliotecarios presos
Diplomats visit home of jailed dissident reporter
'Guaranteed' freedoms denied, highly restricted
Guardar? Cuba as bajo la manga
Disidentes rechazan medidas de EEUU
Cuba Imprisons Three Dissidents
JUNE
Commission set up to watch Cuba
Cuban dissident accuses government of harassing activists
Couple work to foster change, 1 book at a time
Liberan a otros dos disidentes
JULY
Freed dissidents may leave Cuba
Victims of tugboat's sinking by Cuban vessels honored
Cuban Dissident Says U.S. Revoked His Visa
Disidente critica a la Seccion de Intereses
Cuban Dissident Calls for Referendum
Cuba frees imprisoned female dissident
Cuban dissident is freed
Cuba releases economist after 16 months of 20-year sentence
AUGUST
Paya pide apoyo a peticion de amnistia para presos politicos
Freed Cuban dissident paid heavy price
SEPTEMBER
Clamor de libertad a la Patrona de Cuba
Denuncian abusos contra Oscar Elias Biscet
Llamado mundial por la libertad de Raul Rivero
Havel hails anti-Castro activists
Havel inaugura conferencia en apoyo a la oposición cubana
Plan de apoyo a la libertad de Cuba
Las 'Damas de Blanco' realizan otro ayuno
Grupos del exilio se dan cita en Praga
De activista de derechos a acusado de traficar armas
Payá a favor de la Cumbre de Praga
OCTOBER-DECEMBER
Cuba ends dissident protest in Revolution Square
Jailed dissident's wife refuses to stop Havana protest
Cuban women protest and get results
Probe of rights abuses unlikely to sway Cuba
Havana's transfer of dissidents hints at release
For dissidents, exit permits are bittersweet
Cuba frees 3 ailing dissidents
Journalist is 6th Cuban dissident to be freed this week
Cuba Releases Dissident Writer From Prison
Raúl Rivero prefiere vivir en Cuba y expresar sus opiniones
7th Cuban dissident freed, plans exit without renouncing ideals
In Cuba, Castro foes wage lonely fight