Anti-Castro Guerrillas
(1959-1964)
Click on the pictures



| | |
| --- | --- |
| | |
| | Sylvia Odio and JURE commandos |
Evelio Duque Mijares (left) and Osvaldo
Ramirez, killed in action April 16, 1962.
Eusebio Peñalver with Thompson .45 machine gun
and Joaquin Membibre, with an M-1 carbine.
Victor "Chiche" Gomez, (dark shirt, left rear), one of the
few surviving guerrillas.
Commandant Chaplain Francisco Lopez Blazquez (center) at Delicias del Manacal farm. Monguito Perez (left) and
Evelio Duque Mijares (right).
Delio Almeida (center) with M-3 machine gun
and Matanzas guerrillas.
Joaquin Membibre (right)
and his guerrillas.
| | |
| --- | --- |
| | |
| Anti-Communist guerrillas in Las Villas. | Dr. Orlando Bosch (right) delivering weapons to the Escambray guerrillas. |
BOOKS
Paz Sanchez, Manuel de. Franco y Cuba: Estudios sobre España y la Revolucion (2006)


Antonio Santiago Garcia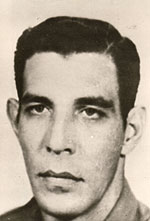 Tony Santiago: Un cadaver en disputa (Replica, Feb. 19, 1975)
El Comandante Tony Santiago: Una lucha silenciosa contra los enemigos (Granma, junio 17, 1984, 2)



1959
Castro Killing Try 'Admitted' (The Tennessean, Feb. 6, 1959, 5)

1960
Survivors remember bloody battle on 50th anniversary [Escambray, 1960-1966] (Miami Herald, Sept. 5, 2010)


1961
MRP Camp and Col. Ramon Barquin, Roberts Road, Miami (January-February 1961)

1962
Anti-Castro War Camp Ruled Out by Exiles (Miami Herald, July 22, 1962)

1963
Participacion directa de la CIA en ataques a Cuba [Clemente Inclan Werner, Luis Montero Carranza, Roberto Lizano Rodriguez] (Bohemia, Nov. 8, 1963)
El enigma de la Operacion Cruz Roja (El Nuevo Herald, Dec. 31, 2001)
Cuban Raiders Ordered by to Depart (March 30, 1963)
Chasing shadows [Geoffrey Sullivan, Alex Rorke] (Portland Press Herald, Dec. 5, 2004)


1964
St. George, Andrew. The Attempt to Assassinate Castro Parade Magazine, April 12, 1964
Arms Cache and 3 Cubans Seized by Raiders in Jersey (New York Times, Dec. 12, 1964)
Bazooka Fired at U.N. as Cuban Speaks (New York Times, Dec. 12, 1964, 1)
Blast Brings Confusion and Rumor to Halls of U. N. (New York Times, Dec. 12, 1964, 12)
Shot That Shook the UN (New York Herald Tribune, Dec. 13, 1964)
Find Clue in UN Shelling (New York Post, Dec. 13, 1964, Weekend Blue Final Edition)
Cuban Exiles Boast of UN Shell Blast (New York Post, Dec. 13, 1964, Weekend Final Edition)
UN Bazooka Echoes 'Round Cuban World (New York Herald Tribune, Dec. 13, 1964)
Dynamite--A Bazooka Link? (New York Herald Tribune, Dec. 13, 1964)
The Cuba War in New York (New York Herald Tribune, Dec. 13, 1964)
Dynamite sticks found near UN (Newark Star-Ledger, Dec. 13, 1964)
Bazooka in U.N. Case Made In Germany (New York Times, Dec. 16, 1964)
UN Bazooka Suspect (New York Journal-American, Dec. 17, 1964)
Three Castro Foes Arrested in Firing Of Bazooka at U.N. (New York Times, Dec. 23, 1964, 1)
3 Held in Bazooka Attack "Purposely Didn't Hit UN" (Long Island Press, Dec. 23, 1964)
Anti-Castro Exiles: 3 Are Charged in U.N. Blast (Toledo Blade, Dec. 23, 1964)
Bazooka Plot Born in Morn (NY Daily News, Dec. 24, 1964)


Blunders Hex Attempt Of Exiles To Bomb Havana
British Capture 17 Cuban Exiles and Raiding Boat
The Call to Arms that Never Came
Castro's Foes Raid Ships at Sugar Port
Cuba Captures 20 'Terrorists'
Cuba Ex-Senator, A Batista Aid, Seized in Miami
Cuba Is Sued for Execution of American 40 Years Ago
Cuban Exile Leader Among 8 Seized [Manolo Ray]
Cuban Raider's Own Story on Attack [Ricardo Morales Navarrete]

El terrorismo contrarrevolucionario no tiene limites
Exiles Claim They Raided Radar Station
Exiles Pledge Broad Effort to Overthrow Regime
Exile Raiders Sink Cuban Patrol Boat
Exiles in 'Boot' Camp on No Name Key
Exiles Pledge Broad Effort to Overthrow Regime
Family seeks to avenge execution by suing Cuba
Floating Bomb Cache, Cuba Raiders Seized
Forty Years Ago: 1961 begins in flames
Gal Guerrilla Fidel Target, Exiles Say
Goldwater Would Support An Exile Invasion of Cuba
Hit and Run to Cuba with Alpha 66
Hungry Army on the Bricks
Let Exiles Raid, Invade If Needed, Nixon Tells U.S.
The Mafia, the CIA and Castro
Montaner, terrorist (part 2)
President Bars Attack on Cuba
Raiders Damage Red Ship
Raider's Target Was Cuban Oil
Regalo navideño de la CIA
Refugees Report Raid on Cuban Port
Silencio mortal sobre grupo anticastrista
The Riddle of AM LASH [Rolando Cubela]
Three Arraigned here in Cuban Arms Raid
Three Held in Bazooka Firing at the U.N.
Two Cuba Invaders Escape, 13 Jailed
U.S. Curb Angers Exiles
U.S. Curbs Miami Exiles To Prevent Raids on Cuba
U.S. Nabs Anti-Castro Fighters-Why?
We'll Hit All Ships To Cuba, Alpha 66 Threatens
Cuba en el Destierro por Exodus (El Tiempo, Nov. 14, 1964, 18)