A Border Patrol agent guides illegal migrants out of the
Sonoran Desert after they were spotted by a helicopter crew
near the Tohono O'odham village of Cobabi, about 55 miles
west of Tucson. (Tucson Citizen)
Working together, Border Patrol helicopters and
ground agents caught illegal immigrants south of
Three Points (above) and near the Tohono O'odham
village of Cobabi (below).



Bradford Rubinoff, a Border Patrol
search-and-rescue specialist, sees
if anyone needs medical help.



National Park Service rangers capture about 15 illegal immigrants
in the Huachucha Mountains in the Coronado National Memorial.

Migrants detained in the Coronado National Monument Park, Arizona.



Rebecca Pichardo, 25 (left), and Julie Gallagher,
26, pull over a driver west of Tucson. Being female
doesn't affect the way they do their jobs, they say.

An unmanned aerial drone, the Hermie 450
redies for takeoff at Fort Huachuca, Arizona.
Mexican children detained by Border Patrol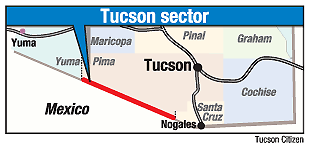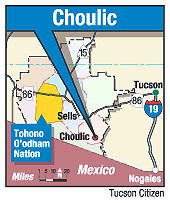 ARTICLES
JANUARY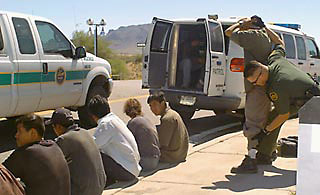 Accuser fails to recognize border agent
Bill eases way for immigrants to become legal here
Bush Proposes Legal Status for Immigrant Labor
Bush to Seek Immigrant Benefit Protection
Bush Would Give Illegal Workers Broad New Rights
Congress unlikely to overhaul immigration rules
Dems rip Bush plan for migrant workers
Entrants oblivious to Bush plan?
Illegal migrants asked: Did Bush plan prompt you to come here?
Migrant father, girl reunited after search
Migrant shot near Sasabe in critical condition at UMC
Migrant traffic threatens Organ Pipe
The struggle to support faraway families
Past has cautionary lessons for guest-worker programs
Smugglers' rides will be crunched
Test for U.S. Citizenship Faces Overhaul
U.S. Immigrant Labor Plan Leaves Mexicans With Doubts
U.S. to help fund immigrant care
Witness: Border Patrol agent assaulted entrant, tried to cover it up
FEBRUARY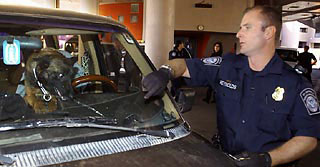 Clint Reynolds, a K-9 handler for the Homeland Security
Department, supervises his dog during a search of a car
crossing at Nogales.
Agent Saves a Life, Only to Lose His On Mexico Border
Agents swoop in on migrants
Arrest in Sex Slave Case
Battling smugglers saps park rangers
Bill aims at those who hire migrants
Border-fortifying plan blocked
Brazilian boom
Bush increases border security goals in budget
Cheap labor didn't appeal to Americans then, nor does it now
Dominican exodus forces U.S. deployments
Don't Punish Children for Parents' Illegal Entry
8,000 suspects, 20K pounds of drugs seized since Oct. 1
Ex-border agent gets prison, fine in drug case
Ex-Border Patrol agent admits kicking immigrant
$50,000 settlement in assault by BP agent
Garment Laborers Say Bush Guest-Worker Plan an Ill Fit
Group to march in Miami for bigger U.S. role in Americas
Illegal entrant arrests up in January
Immigrant smugglers 'rolled up,' agent says
Immigrant drophouses in Phoenix more upscale now
Immigration Is Topic A for Foreign-Born Voters
Immigration Issue Splits GOP Senate Candidates
Keep Your Tired, Poor Stereotypes
Labor boss facing sanctions
Lawyers Blast Immigration Phone Service
Loans planned for Latin America's poor
Multilingual Poll Finds a Few Surprises
National study finds strong job demand for Hispanic immigrants
New vigilance at border
Our Opinion: Chilling threat of violence from vigilantes
Our Opinion: Leave it to feds
Planned citizenship fee hike angers immigrant activists
President's immigration proposal stirs rumors
Senators plea for fast immigration system fix
Suspended agent acquitted of assaulting immigrant
Suspicions result in 28 migrant arrests
Teen Is Snared in Post-9/11 Security Net
Tracking system has 4,000 successes
2 punished for trying to slip kids into U.S.
Undocumented immigrants with expired visas live in fear
U.S. may help O'odham with security
U.S. Must Pressure Mexico, Marin Says
U.S., Mexico hope to send deportees closer to homes
Workplace: Children of immigrants face choice: family business or college
MARCH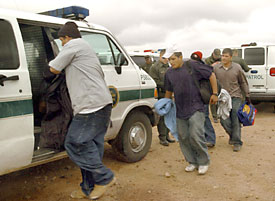 Arivaca: Small town caught in crossfire
Labor contractor gets 15 years in servitude case
Some Mexicans entering U.S. will be exempted from fingerprinting, photographs
Orlando area becomes new melting pot
U.S. to Welcome Short-Term Mexican Visitors
Chief hopeful border can be sealed
Scam artists promising green cards take aim at hopeful border crossers
Border roads at center of conflict
Rally for militarized border set
BORTAC's mission: seal U.S.-Mexico border
60 illegal immigrants found hiding at Sierra Vista hotel
Border agents nab 135 at motel
Immigration chief uttered epithet against migrants
Law targets migrant stash houses
105 suspected migrants found in 2 trucks
An Unlikely Immigration Champion
Census Projects an America of Greater Racial Diversity by 2050
Smuggler convoy called a first here
Mexico arrests 42 for migrant trafficking
Migration spawns ghost towns
Immigration Reform Is Off Front Burner
Senators slam Bush for not pushing immigration plan through Congress
Multifaith clergy hope to raise awareness of immigrants' plight
'FedEx' doesn't fool agent
Agents mount up to patrol border
Shootout ends with migrant dead in trunk
More agents, aircraft to guard border
Growing trend of migrants trying to smuggle their kids into Arizona
Migrant warnings going up
Bill to legalize migrant farmworkers gets support
41 migrants found in 'suspicious' truck
Guest Worker Residency Bill Is Taking Root in the Senate
Southwestern schools root out illegal pupils
House passes immigrant tuition bill
As Border Woes Strain Arizona, U.S. and Mexico Talk
Backlog of Immigrant Paperwork Growing
Bordering on the unfair?
Illegal immigrant tapes crossing for TV show
364 illegal immigrants captured over weekend
Scan finds pot cache in truck
Migrants jam holding pen
Customs: Illegal entry declining
Border agents can dismantle auto gas tanks
5 charged in robbery of 23 illegal entrants
APRIL
March heat kills 3 immigrants
Tax on funds going to Mexico hits wall
Bus company pleads guilty to felonies
The new Americans
U.S. Tightens Checks on Millions of Visitors
Kendall woman sold phony visas, feds say
Push Is On to Give Legal Immigrants Vote in New York
For Some Immigrants, a Balancing Act
Licenses for Migrants Urged
Border Patrol rescues 55 people along border since Oct. 1
When Immigrants Die: County's last rites
D-M sgt. accused of smuggling illegals
Kolbe seeks $4B to secure U.S. borders
Latino migration dividing America
Activist accused of smuggling 2 immigrants across Mexican border
Celebrating Immigration's New Face
Bill backed by Jeb Bush to allow illegal aliens drivers' licenses abandoned by sponsor
Border scanner policy debated
Illegal migrants rush to cross before June 1
Agents arrest 102 illegal migrants on O'odham land
Speaking to the Need for Job Skills
Border fight called peril to pronghorn
19 immigrants seized after vehicles get stuck
Protecting the Parks Along the Border
Major guest-worker program would fail, binational panel warns
Measure Fails to Qualify for Ballot
MAY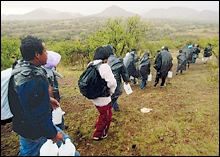 Toting water and their goods,
migrants leave Sasabe for the US.
Store's money orders bounced
'Tourists' fill up bus loaded with marijuana
A spike in apprehensions at border
Dueling Immigration Ideas Frame a Key Election Issue
Leading Dems push legalization of immigrants
SENTRI may speed car crossings at the border
'HELP US GET MESSAGE OUT': Desert warning
Gov. Bush signs bill improving life for farmworkers
State prison guard was smuggling immigrants, records say
114 immigrants abandoned near Wickenburg
S. Arizona smugglers turning to violence
Border Agents Warn of Influx
From 'el norte': Remittances aid homelands
Study: Immigrants outlive U.S.-born population

JUNE


Survivors of a pickup crash on Interstate 10 near Benson walk
out of the desert. Two people were killed and four were critically
hurt when a tire blew on the truck filled with at least 21 suspected
illegal immigrants, authorities said.
Couple's loss of green cards points to processing backlog
Parents Can Return After Mexico Burials
Woman guilty in human smuggling operation
Betrayal on the Mexican Border
'86 INS amnesty again stirs hope
$606M flows south from Az
Border control initiative runs into troubles
Border plan 'a work in progress'
Smugglers fire 11 shots at Border Patrol agent
Another rollover injures migrants
Federal grant helps cut swath through border trash
Help from ICE lets fewer illegal immigrants go free
Group walking 70 miles to protest border policies
Crashes eclipsing heat as top cause of migrant deaths in '04
U.S. again to fly back Mexicans entering illegally
Two border agents found dead
Bush plan may cut delays in obtaining U.S. citizenship
BORDER PATROL CHECKPOINTS: Locations new issue
Recruiters Head South of the Border for Nurses
Migrants Seek Office in Border State
Two die, 60 rescued in 2 border crossings
Patrol relying on fast food to feed migrants
Border Patrol makes arrests deep into Calif.
Van overloaded with migrants crashes, killing 2
Desert death toll rises to 60
Report: Illegal immigration costs Ariz. taxpayers $1.3B a year
Initiative that limits migrants still in doubt
U.S. BORDER PATROL: Women agents fit right in
2 drones on patrol as part of bold effort to seal border
SW Colo. sees spike in migrant trafficking
Dump truck driver held in migrant case
Prison term for holding migrants
Migrant initiative gets boost
U.S. to give migrants free flights home or ride to border
June border apprehensions dip sharply

JULY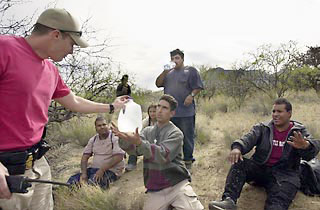 Border Patrol agent gives water to illegal immigrants.
A Melting Pot That's Brimming With Alphabet Soup
More illegal migrants dying - but not of heat
Activists opposing Protect Arizona initiative
Naturalization is a day at beach
Kids mark July 4 as new citizens
Raids Make a Dent in the Market for Fake Documents
Mexico's cash cow: families in New York
Faith without borders
Border Patrol claims 80% rate of capture
BORDER PATROL ROUNDUP: They're not talkin'
On the brink: Border Patrol agent struggles to save migrant
81st migrant's body found since Oct.
Assimilation harder for Hispanic teen immigrants
Smugglers' vehicles blocked by barriers
Crackdown's results hard to quantify
GAO: 'very little coordination' in anti-smuggling fight
As men go north, wives get forgotten
A tiny town fights Border Patrol
Foreign labor: for US, too much of a good thing?
Poll: Arizonans back denying benefits to illegal immigrants
Border agents nab 4 illegal migrants convicted of sex charges
Sonoran migrant staging area bustles after smuggling raids
2,500 Mexicans fly home on U.S. jets
Migrant dies in Nogales wash; girls saved
Funds Sent to Mexico Hit Record
AUGUST
More Legal Help for Migrants
Kolbe-challenger Graf supports use of troops on U.S.-Mexico border
Border Patrol: Drones have helped capture 248 migrants
Man gets 10 years for trying to hold migrants for ransom
Graf favors use of military on U.S.-Mexico border
Trying to Stop Surge of Illegal Migrants, Mexican Authorities Meet Them at the Airport
Radar may be used to detect migrants
Authorities Search Desert for Missing Immigrant
Limit on visits by Mexicans stretched to 30 days
5 die; most deaths in desert since '01
Immigrants Exploited by 'Notarios'
U.S. to Give Border Patrol New Powers to Deport Illegal Aliens
U.S. Is Linking Immigrant Patients' Status to Hospital Aid
Mexican Migrant Seeks U.S. Work Visa
Lujosos condominios explotan a inmigrantes
Repatriation to Mexico: Free trip back home costly lesson for some
Border Patrol to expand desert warnings
Feds: Smugglers use rural drop houses
Computer ID system hikes migrant arrests
Patrol's pepper balls enrage Mexicans
Report: Illegal immigrants cost U.S. $10B in '02
Illegal migrant hit agent with rock, Border Patrol says
Fear of invaders from south of border not new
Experts: Al-Qaeda could slip over border
Bush guest-worker plan angers conservatives
Security tightened on Mexico border until election
Immigrant deaths decreasing
4 U.S. agencies to use one badge
Report: Illegal immigrants cost U.S. $10B in '02
Purging illegal aliens from voter rolls not easy
Migrant issue OK'd for ballot
U.S.-Mexico border gets priority in time of 'risk'
Migrants' remains recovered
Migrant SS payments targeted
SEPTEMBER
Mexican border is secure, top border agent says
Officials: Yacht used in smuggling attempt
Mexican shelters provide a haven to border crossers
Task force tightening border security
Speedy deportations taking heat
Immigrants ill at ease with disclosure rule
Attack erased migrants' identities
CAUGHT AT BORDER: Attacks on U.S. have brought changes to border security
More women smuggling others' kids into U.S.
Rounding up all illegals 'not realistic'
Black Hawks enlisted to protect the border
U.S. Fears Terrorism Via Mexico's Time-Tested Smuggling Routes
Texan seeks to ban banks from using 'matricula'
Growers' Group Signs the First Union Contract for Guest Workers
Record deaths along border
Immigration advocates: Allow migrants from storm damaged islands to stay in the United States
Migrant smugglers may be using boats more often
2 Dems want $1B to monitor border
Guest Opinion: Our policy is a charade designed to feed corporate greed
Guest Opinion: Make capitalists put their money where their mouth is
Army sergeant's Ecuadorean wife faces deportation
Drownings tied to Border Patrol
Car-crash deaths of immigrants double
OCTOBER
State's now second in black population
Border War in Arizona
House backs U.S. ban on driver's licenses for illegal immigrants
For Immigrants, A Costly Final Trip
Border Patrol computers tie in to FBI
Migrant arrests soar at Huachuca
La adversidad no doblega a mexicanos en Florida
Migrants start march for voting rights
97 found in abandoned trailer
Phoenix targets smuggler helpers
Prenatal Care Is Latest State Cut In Services for Illegal Immigrants
NOVEMBER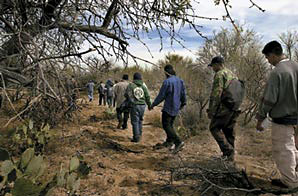 A group of illegal immigrants is led back to the road
by Border Patrol agents. The group was found hiding
under mesquite trees after running from a rental truck.
Prop. 200 'legally challenge-proof,' backer says
Mexico requires ID to vote, get services
Border crossing hours extended
Phoenix getting special team to hunt down fugitive migrants
More foreigners in hiding being found, deported by U.S.
A Mother Deported, and a Child Left Behind
L.I. Clash on Immigrants Is Gaining Political Force
ILLEGAL IMMIGRATION: Arizona's border the one to cross
DECEMBER
A Harsh Price to Pay in Pursuit of a Dream
Prop. 200 restraining order kept in force
Grand jury indicts Mexican man on rape, smuggling charges
Prop. 200 backers seek to intervene in lawsuit