Latino Politics
| | |
| --- | --- |
| | |
| Voter registration drive in Miami, Florida. | Voter registration drive in Orlando, Florida. |
The Congressional Hispanic Caucus Institute
National Hispanic Caucus of State Legislators
2004 National Survey of Latinos: Politics and Civic Participation
Hispanics and the 2008 Election: A Swing Vote?
Marco Rubio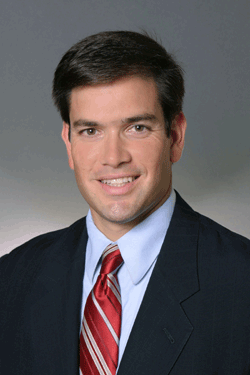 Marco Rubio acceptance speech (Video)
Marco Rubio, 'son of exiles,' rises as U.S. senator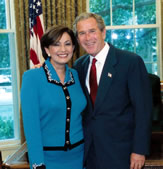 Rosario Marin & Pres. Bush
1994
A Dissenting Vote on the Endorsement of Pete Wilson
1997
Congressional travelers are attracted to Cuba
1999
Stepping out of Dad's Shadow
2000
Clinton orders increase in Hispanic workers
2001
Hispanic Caucus Has New Direction
2003
La Raza Criticizes Bush
La Raza draws Presidential Nominees to Bush Territory
Democrats launch National Citizenship Campaign
Rights group leader urges Hispanics to back free vote
The 42 most influential latino politicians - Hispanic Power
2004
A Vital Bloc, Realizing Its Power, Measures Its Suitors
Boxer Gets Backing From Latino Group in Primary
Bush TV ad blitz aims at Hispanics
Candidates Face First Test Among Latinos
Dean's failure to hire minorities criticized
Democrats, GOP to compete for Hispanic, swing voters
Goal: Divide GOP voting bloc
Heinz Kerry Takes to Field for Spouse
Hispanic activists oppose immigration plan because Bush offered it
Hispanic voters look for diverse message
Hispanics: Go past migration issues for votes
Hopefuls gear for Hispanic Tuesday
Hopefuls Target N.M. Hispanics
How's the Candidates' Spanish? Hard to Say.
Latinos Vote for Patriotism, Not One-Upmanship
Marin Draws a Contrast to Past GOP Candidates
Parties Seeking to Speak Language of Latino Voters
State GOP Haunted by Ghost of Prop. 187
Rosario Marin: a Republican to Put Democrats Off Balance
Democratic group courts hispanics in ads
APRIL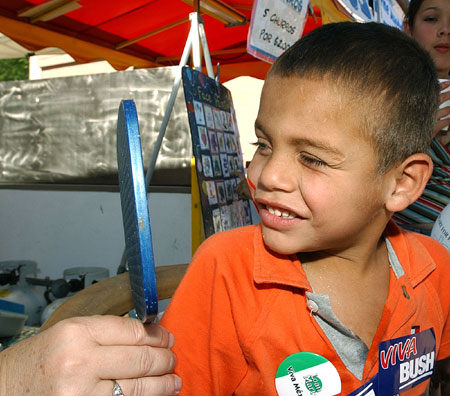 Rondan Montoya wears a "Viva Bush" sticker
at Cinco de Mayo celebration in Tucson, AZ.
Kerry leads in poll of Latin voters
In Senate battle it pays to speak Spanish, sí?
Mayor's race may aid Martinez
Hispanic Democrats extol Kerry
Miami man is top Bush campaigner
Jeb Bush tries to rally Hispanics for brother
Florida registration drive seeks new Hispanic voters
Florida, Cuban-American vote are critical, says president's campaign team in Miami visit
GOP counts on Florida Cubans
Cubans hope for strong anti-Castro pitch
Some Blacks and Hispanics Criticize Kerry on Outreach
MAY
Kerry's Low Profile May Cost Crucial Latino Votes
Economy, not immigration, top issue for Hispanics
JUNE
Kerry Woos Hispanics, Vows U.S.-Latam Partnership
New Latino Voters Put More Swing Into State
Latinos Fall to Footnote
Kerry Says U.S. Should Be a Better Neighbor to Latin America
Voter drive targets new citizens in Az
Latino leaders: Our clout growing
Hispanics say candidates ignore their issues
JULY
Kerry Opposes Licenses for Migrants
Political Face of Florida Latinos Changing
Kerry proposes major immigration changes
'Hope Is On the Way,' Edwards Assures Latinos in Los Angeles
Bush Is Taken to Task on Immigration
Hispanics favoring Kerry by 2-to-1, polls show
Get-Tough Policy on Cuba May Backfire Against Bush
Bush a la cabeza de los sondeos en la Florida
Politicians Snub Latinos' Real Wishes
AUGUST
Courting the Hispanic Vote
Immigration Sweeps Become an Election Issue for Rep. Baca
Apoyo popular a candidaturas de Kerry y Edwards
Edwards en Miami tras el voto cubanoamericano
VP candidate Edwards woos Cubans in Miami
Edwards, in Florida, Voices Support for Easing Limits on Travel to Cuba
Kerry Camp Tries to Attract Cuban-Americans
We'll punish Bushes at the polls, immigrants promise
2 counties vow to ease Hispanics' poll access
Republicans clash on Cuba in the final days
Los votantes hispanos, la clave en Broward
State Hispanic vote could make difference
SEPTEMBER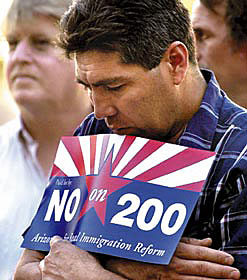 In Arizona, Proposition 200 would make
it impossible for undocumented aliens
to have rights.
Martinez's Win in Florida Could Help Bush Gain Latino Votes
Push aims at luring Cuban voters
Teresa blames president for Hispanic poverty hike
California: Latinos in Legislature Run a Risk
PROP. 200: IMMIGRATION MEASURE: 'It does not solve the problem'
Bush touts record he says helps Hispanics
Republicans rally for immigration initiative
California lieutenant governor, actress end Hispanic bus tour
Kerry, Edwards to hit the Florida trail today
Hispanic Democrats Criticize White House
Exile: President Bush has failed to bring democracy to Cuba
Bush's Cuban American Support May Be Slipping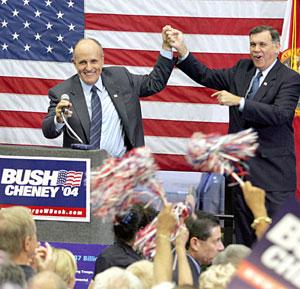 Giuliani aids Martinez cause
Campaigning in Florida, Democrats turn up heat
Attorney in Elián case to prepare Kerry for debate
Campaigns are wooing Florida's Hispanics
Little to stop illegal aliens from voting
Democratic advocacy group wooing Miami's Cuban vote
Se registran para votar decenas de miles de hispanos
'La Cucaracha' crawls on everyone, makes no excuses
Florida's Hispanic population has leapt since 2000, making vote crucial
OCTOBER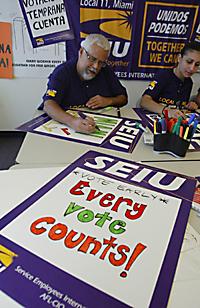 Aun más decisivo el voto hispano en la Florida
How to mess up on the Latino vote
Terrorism issue lifts Martinez
Cuba policies have some rethinking their support for president
Why Are Kerry and Bush Ignoring California's Huge Latino Vote?
Kerry courts black vote, vows to pressure Castro
Hispanic community is a desirable cipher to Kerry and Bush
Hispanic Vote in Florida: Neither a Bloc Nor a Lock
Bush Urges GOP in Fla. to Re-Elect Him
County questions 98 Hispanics' right to vote
GALEO Condemns Disenfranchisement of Latino Voters in Atkinson County
NOVEMBER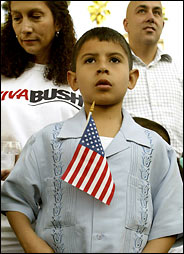 Latino supporters of President
Bush at rallies like this one Oct.
30 in Santa Ana, CA, are signs
of change in a once-solid
Democratic bloc.
Feds eye Hispanic vote
Challenge to Hispanic voters in rural Georgia county falls apart
GOP gets Florida Hispanic vote
Bush Snags Much More of the Latino Vote, Exit Polls Show
Outreach Effort Lures Hispanics to Bush
Hispanics bolster political muscle
Hispanics couldn't lift Kerry
Small inroads make difference for Bush
Hispanic rights groups to ask court to block Prop. 200
Un cubanoamericano fue clave para Bush
Hispanic Voters Declared Their Independence
How Hispanics Voted Republican
Bush share of Hispanic vote rose to 44 percent


Alberto Gonzales and Bush.
Gonzales Named to Succeed Ashcroft as Attorney General
Bush Names Close Ally for Justice Job
AG nominee, 'ultimate success story'
Bush's Man From Humble
Democrat Slams Kerry on Hispanic Outreach
Did Hispanics Really Surge To Bush?
Latino vote increasingly influential in U.S. election
Panelists discuss Latino vote
DECEMBER
Hispanic lawmakers: Democrats must do more capture Hispanic vote
Salazar reluctant to wave Hispanic banner
2005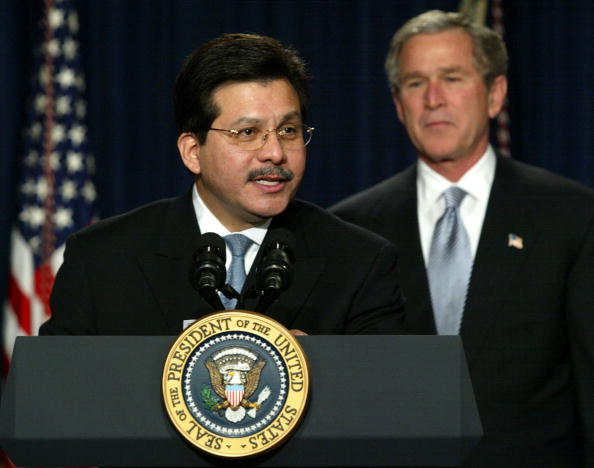 Gonzales confirmed attorney general
Bilingual politicians gaining clout
Vote May Be First to Blur Ethnic Lines
Mayor's Race Registers a Big Nada
South Florida group makes case for Hispanic Supreme Court justice
What a Hispanic justice would mean
Roybal, dean of Hispanic leaders in Los Angeles, dead at 89
2006
Latino and black voters reassessing ties to GOP
Too little, too late?
2008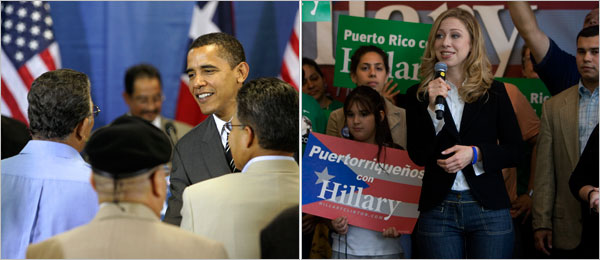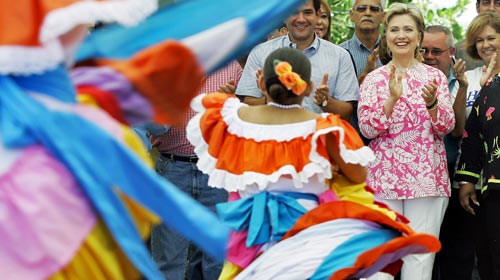 Candidates take different roads on Cuba
McCain, Obama clash over U.S. Cuba policy
McCain, in Miami, promises to continue isolating Cuba
Cuba Is Topic as McCain Continues Attack on Obama
Text of McCain's Miami speech
Cuba Reemerges as Issue at White House and on Campaign Trail
Obama risks losing Florida over Cuba stance
Obama Latin America speech in Miami
Obama Delivers Latin America Policy Address Before Cuban Group
Obama says he would meet with Cuba's leaders
Obama Takes San Juan
Puerto Rico Gets Its Moment in the Sun (the Political One) as Primary Nears
Obama has brushed up on Latin America
Will Obama Free Cuba?
Clinton keeps the faith in Puerto Rico
Political parties embrace Florida's Puerto Ricans
Hispanics will be Obama's big challenge
Elián saga might hound Obama visit
McCain uses Colombia trip to court Latino support
Exile politics squeeze McCain
Hispanics seek McCain's reassurance
Will Little Havana Go Blue?
Hispanics seek voter bloc too big to ignore
Obama proposes healthcare tax credit for small businesses
Obama promises Hispanics a push for 'American dream'
Obama and McCain Expand Courtship of Hispanics
Obama's Latin policies in play
Caribbean ponders McCain, Obama policies
Reggaeton star Daddy Yankee backs McCain
Rising Hispanic vote shifts focus off Cuba
McCain courts Fla. Hispanics
In Spanish, McCain Criticizes Obama on Immigration
Florida Hispanics sticking with GOP
Villaraigosa addresses perceived tensions between blacks and Latinos
When will candidates talk about immigration?
S. Fla. Cuban women could sway state's presidential vote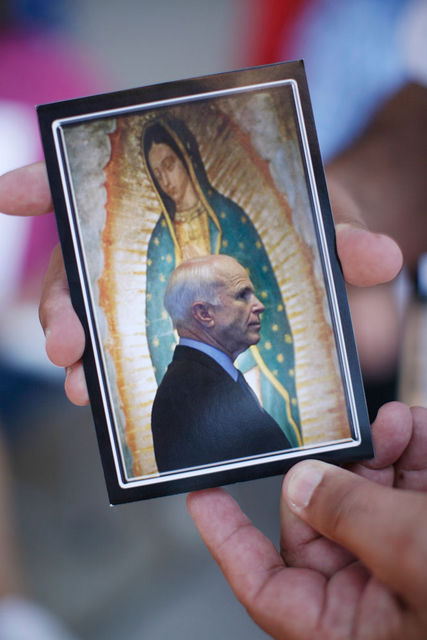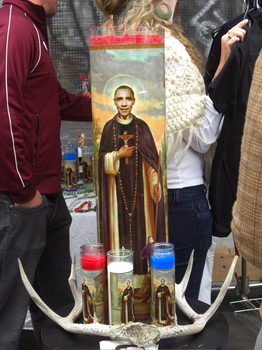 Hispanics, seeking to punish Republicans, take it out on McCain
Candidates agree on immigration, but ads don't show it
McCain should court all Latinos, not just Cubans
Protestant Latinos favor Obama, poll says
New citizens get ready to cast their votes
Palin en español on Univision Tuesday, Sunday
McCain tells Latinos, 'Examine my record'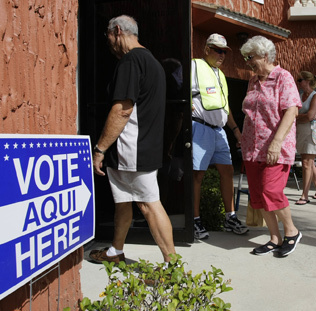 In Florida, focus falls on turnout, Hispanic vote
Immigration Cools as Campaign Issue
Ros-Lehtinen, Diaz-Balarts keep seats in Congress
El Salvador native, 86, had a long journey to U.S. voting booth
What brought them out to vote: Hispanics
Obama first Democrat to win Florida's Hispanic vote
Look for Obama to avoid immigration

2010
Hispanics defy ad to shun elections
Minorities ride GOP wave to historic victories