The Miami Herald
Fri, Oct. 31, 2008

In Florida, focus falls on turnout, Hispanic vote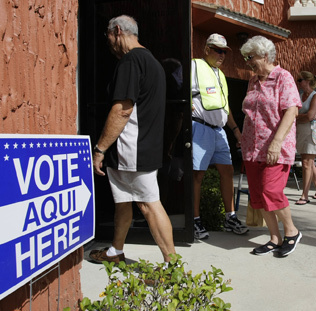 BY MARY ELLEN KLAS
The ghosts of elections past emerged in Florida on Friday as Al Gore stumped for Barack Obama and John McCain's campaign vowed to match George W. Bush's record ad-spending and absentee-ballot success.
In the final weekend before Election Day, Florida remains in play as one of the most pivotal states in the nation for the presidential race. Both campaigns have focused their battleground strategy on trying to avoid the pitfalls of 2000 -- when Gore lost to Bush in Florida by 537 votes -- and in 2004, when Bush trounced John Kerry despite unparalleled voter-registration efforts by Democrats.
McCain -- scheduled to come to Miami on Sunday -- will be trying to hold on to Miami-Dade's Hispanic voters and win over swing voters along the Interstate 4 corridor. Obama is focused on turnout -- making sure the 657,000 new Democratic voters and the 1.6 million Florida Democrats who sat out the 2004 election get to the polls this time.
''It's going to be obviously a ferocious four days here,'' said David Plouffe, Obama's campaign manager on Friday. ``We've got a lot of voters to turn out . . . And there's still a decent number of undecided voters out there.''
In 2004, Plouffe noted, Republicans won the early vote and the absentee vote. This year, he said, Obama has the edge. He said Democrats outnumber Republicans with a 200,000-vote edge in both early voting and absentee ballot returns as of Thursday night.
McCain's campaign counters that absentee vote requests from Republicans exceed those from Democrats, which could give the GOP a boost when votes are counted. Record television ad buys this week, ''electrifying'' crowds for running mate Sarah Palin and a solid ground game add up to ''one of the greatest comebacks since John McCain won the primary,'' Rick Davis, McCain's campaign manager, said Friday.
A poll also released Friday provided one sign that McCain may be trailing behind President Bush's 2004 benchmark among Hispanic voters in Florida. The exit poll of more than 8,683 voters was paid for by the Democratic firm Bendixen & Associates and showed that McCain is winning 69 percent of voters in Miami-Dade who were born in Cuba, compared to Bush's 78 percent in 2004.
The poll does not include results from the GOP-heavy absentee ballots but shows that while McCain is leading overall among Hispanic voters 53 to 47 percent, in Miami-Dade, Cubans, Venezuelans and Nicaraguans favor McCain. Respondents born in Colombia, Argentina, Peru, Mexico, the Honduras, the Dominican Republican and Puerto Rico lean toward Obama. To shore up support among this once-reliable Republican voting bloc, the McCain campaign has enlisted former Gov. Jeb Bush to tape an ad to run on Spanish radio this weekend and is hosting a rally Sunday at the University of Miami with Cuban-American singers.
McCain is mounting another line of defense along the battleground region of Central Florida's I-4 corridor, where Palin will headline three rallies on Saturday. McCain will return for one last push through Miami on Sunday and then start his seven-state road trip on Monday with a rally in Tampa.
Meanwhile, Obama's focus remains on trying to get the surge of new Democratic voters his campaign helped register as well as what his campaign calls ''sporadic'' voters to show up on Election Day.
Hillary Clinton will campaign for him in rallies in Orlando and Miami on Saturday. Obama running mate, Joe Biden, will host rallies to get out the youth vote in Tallahassee, Gainesville and Daytona Beach, and Obama returns to Florida for a final push in Jacksonville on Monday.
At rallies in West Palm Beach and Coconut Creek on Friday, Gore and his wife Tipper reminded voters of the importance of every vote. Gore lost his presidential bid in 2000 by 537 votes after dimpled ballots, hanging chads and ultimately a U.S. Supreme Court decision to stop a 36-day recount handed the election to George W. Bush.
''The economy started going down on Jan. 20, 2000, and I know,'' Gore joked to an audience of about 200 in West Palm Beach, home of the infamous butterfly ballot. ``I was the first one laid off.''
Then, he grew somber: ''Don't let anyone take your vote away from you or talk you into taking it away,'' he said. ``Go and vote early in Florida. Vote early. Take people with you to the polls. Make sure every vote is voted.''
Miami Herald staff writer Beth Reinhard and Marc Caputo contributed to this report.