Tucson Citizen
October 11, 2008

Hispanics, seeking to punish Republicans, take it out on McCain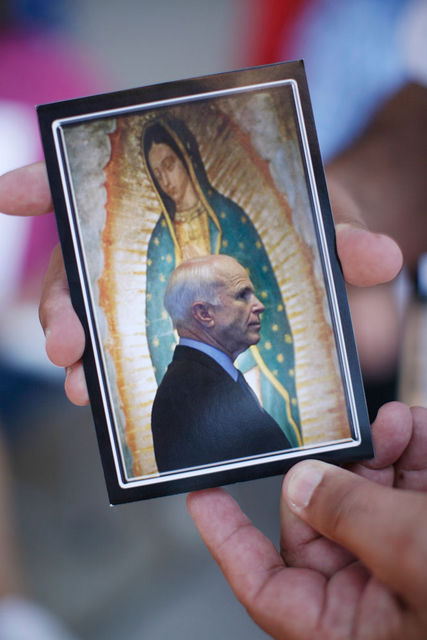 Xavier Rivas, a Republican activist working
on John McCain's Nevada Leadership
Team, shows a card featuring a photo of
McCain, walking past an image of Our Lady
of Guadalupe.
Latinos displeased with Republicans flocking to Obama
The Associated Press
LAS VEGAS - Cindy Florez can't always remember the name of the man who will get her vote for president, but she knows his party and that's enough.
"I will vote Democrat," the 23-year-old hotel housekeeper said, in broken English, moments after registering to vote at a John McCain campaign booth in a Latino neighborhood market.
It's an insult-to-injury moment for the Republican presidential candidate. And when it comes to McCain's relationship with Hispanic voters, it's not the first.
The man who once risked his career on an immigration reform bill that was embraced by Hispanics is now struggling to win these same voters, and falling perilously below the level of support that helped lift President Bush to the White House.
The candidate who won nearly 70 percent of Hispanic voters in his last bid for Senate in Arizona is watching a first-term Illinois senator run away with those voters.
The pro-military, anti-abortion candidate is seeing Hispanics with similar views turn away en masse.
McCain's campaign is pushing back on each of these fronts in Spanish-language radio and television ads and on-the-ground contact in the markets, Hispanic neighborhoods, military bases and churches across the southwest.
But polls show the candidate isn't finding it easy to shake his biggest liability with these voters: the R after his name.
"The Republican Party pretty much alienated that voting bloc with the debate over immigration," said Clarisa Arellano, a GOP activist in Colorado Springs, Colo., and a co-chair of McCain's Hispanic coalition in the state. "There's constant repetition that Sen. McCain is just another Republican, and negative campaigning works."
McCain's trouble is most evident in his own backyard — the swing states of Colorado, New Mexico and Nevada. Hispanics in these states are a growing and critical segment of the electorate. They are largely of Mexican descent and trend Democratic, but in recent elections Republicans have successfully carved out just enough of their support to win.
Bush won 44 percent of Hispanic voters in New Mexico in 2004, when he eked out a win in the state by 6,000 votes, according to exit polling.
In a poll conducted last week, McCain was winning just 17 percent of Hispanic voters in the state. Democratic presidential candidate Barack Obama had 62 percent, and 21 percent were undecided, according to the survey conducted by Research & Polling Inc. for the Albuquerque Journal.
McCain is faring somewhat better in national polls. A Gallup poll conducted last week showed 26 percent of Hispanics favoring McCain, while 64 percent preferred Obama.
McCain's advocates on the ground say there's no mistaking 2000 for 2008.
"I think Bush identified himself," said Larry Trujillo, a former Colorado state legislator who is now pouring hours into McCain's campaign in the state. "I don't think (McCain's) story is getting out, I don't think it has resonated as loudly as I wish it would, as it should."
Trujillo and other McCain backers said they find Hispanics know little of the senator's record and lump him in with Republicans they have turned against.
"The problem we have, many people, instead of being with Obama, they're anti-Bush. They want to vote against anything that represents Bush," said Xavier Rivas, a GOP activist working on McCain's Hispanic coalition in Las Vegas.