| | | |
| --- | --- | --- |
| | Marifeli Perez-Stable | |
Click on the images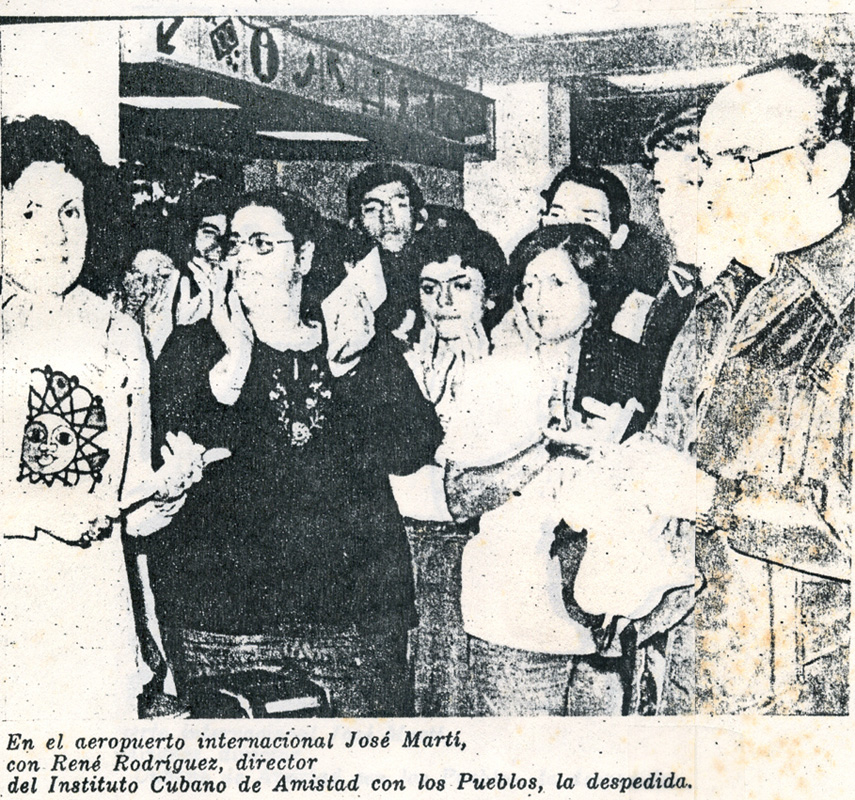 Perez-Stable (left) in Havana with her handler, the Communist executioner, indicted drug trafficker, and spy master Rene Rodriguez Cruz (right). Bohemia, Aug. 4, 1978, page 9.
Perez-Stable in April 1979 at a press conference in San Juan, Puerto Rico, with
Castro agent Raul "El Bizco" Alzaga, both of whom accused Cuban exiles of
the death of Carlos Muñiz Varela, a philandering Castro agent linked to drug
traffickers.
Lt. Col. Christopher S. Simmons, a U.S. Army career
counterintelligence officer, publicly accused Perez-
Stable of being a Castro agent for more than a decade.

"I had access to a colleague who debriefing, a recent debriefing of a former DI [Cuban Directorate of Intelligence] officer who was working what is called M-1 U.S. targets. But most specifically, he worked the academic section of U.S. targets and in the early first half of the 1990s. Now, this is the critical part because she [Marifeli Perez-Stable] says that her support of the regime ended back in the eighties. Her case officer recalled meeting with her in Ottawa, Canada, in mid 1991, and she was still an active agent of Cuban intelligence. So, no matter how she tries to spin, spin it that this may have been an indiscretion of her youth, I got the notes from her case officer who outed her. So, her usefulness to the regime ended when that second officer stepped forward." Lt. Col. Christopher S. Simmons, U.S. Army counterintelligence officer, quoted from interview on Babalublog radio, August 6, 2008.


by Antonio de la Cova, Ph.D.
María Felicia "Marifeli" Pérez-Stable Díaz was born in Havana in 1949 and left Cuba in 1960 with her parents Dr. Eliseo Perez-Stable Carreño and Nenita Díaz Moya, and her younger brother Eliseo.
Her maternal grandfather was the owner of the exclusive "Fin de Siglo" department store in Havana.
After residing in Pittsburgh, Pérez-Stable studied political science at the University of Florida in Gainsville (1969-73), where she teamed up with pro-Castro activists Carlos Alvarez, Raúl "El Bizco" Alzaga Manresa, Rafael Betancourt Abio, Mirén Uriate, Albor Ruiz Zalazar, and others. Carlos Alvarez and his wife Elsa Prieto, her colleages at Florida International University (FIU), pled guilty in Miami Federal court in February 2007 to charges of spying for the Cuban regime. The espionage couple were active with Perez-Stable in Areito magazine and the Antonio Maceo Brigade (BAM).
In April 1974, after spending a year in Puerto Rico, Pérez-Stable joined these and other pro-Castro activists on the editorial board of Areito magazine, a new quarterly publication that defended the Cuban revolution and disparaged Cuban exiles. A year later, in March 1975, Pérez-Stable traveled to Cuba for three weeks. She returned to the island in the summer of 1977 as "foreign correspondent" of Areito. During the July 26, 1977 rally in Camaguey, she sat in the grandstand close to where Fidel Castro gave a speech. Pérez-Stable spent the next three days visiting Holguín, Manzanillo and Cienfuegos. She was personally introduced to Fidel Castro in Manzanillo and they shook hands. Returning to Havana, Pérez-Stable interviewed government officials Jesús Escandel and Roberto Veiga. She then visited her uncles and the home that the government had expropriated from her grandfather on Línea and 41 Avenue. While in Cuba she began an intimate relationship with Jesus Diaz, a writer and government official.
In 1975, Perez-Stable started attending and organizing academic conferences that, in her own words, represented "a dignified success of the Cuban Revolution."
On November 28, 1975, Perez-Stable was interviewed by Miami FBI agents Bill Windland and George Kiszynski in relation to a pipe bomb left in front of the residence of her brother Eliseo. She had no knowledge of who placed the bomb but indicated that her brother had "made many political enemies in the Cuban exile community" because of his work with the pro-Castro Areito magazine. Perez-Stable then gave the FBI the names and addresses of all the editorial board members of Areito in the hope that they might assist the FBI.
On December 23, 1977, Pérez-Stable returned to Cuba for three weeks as a leader of the newly founded Antonio Maceo Brigade. The group assisted the Cuban government working at a construction project and other propaganda activities.
Pérez-Stable returned to Havana in March 1978 with Román de la Campa to receive from Casa de las Américas an award for the book that she edited entitled Contra viento y marea, that was published by the Cuban government. The writings are a denunciation of the Cuban exile community and the United States. Pérez-Stable donated the $5,000 award money to the socialist Eleventh Festival of Youth and Students scheduled for that summer in Havana, which she later attended.
That year, Pérez-Stable became a founding member of the Cuban-American Committee for Normalization of Relations with Cuba. On November 20, 1978, she returned to Havana as a member of the group of 75 participants in a so-called "dialogue" with Fidel Castro. She and the group met again with Castro and other high-ranking government officials to sign the "dialogue"agreement on December 8, 1978.
On November 2-4, 1979, Perez-Stable was a leading organizer of the "National Conference on Cuba," in New York City, that included the participation of fifteen Cuban government officials.
In 1980, Pérez-Stable founded the Círculo de Cultura Cubana, a Castro propaganda front that took tourists to Cuba and Sandinista Nicaragua during the 1980s.
On April 17, 1980, Pérez-Stable was in Managua, Nicaragua, interviewing Dora María Tellez, a high-ranking Sandinista leader, for a propaganda article in Areito. She was running Areito from New York and mailing out subscription requests.
The following month, former "dialogue" leader and turncoat, Rev. Manuel Espinosa, publicly denounced that when Pérez-Stable arrives in Havana, she is greeted by Lieutenant Noema of State Security, Lieutenant Colonel Jorge Gallardo, of the Directorate General of Intelligence (DGI), and revolutionary heroine Haydée Santamaría. Perez-Stable was also hosted in Havana by Rene Rodriguez Cruz, president of the Cuban Institute of Friendship with the People (ICAP), a front for the DGI. Spy master Rodriguez Cruz was a Communist executioner and indicted drug trafficker.
On May 15, 1980, the New York Times published a letter from Pérez-Stable and other "dialogue" activists, entitled "Time to Normalize Relations With Cuba," blaming the U.S. embargo on the island for the Mariel exodus of 125,000 refugees. Perez-Stable afterward unleashed in Areito and other leftist publications an apologia of the Castro regime's mistreatment of the 125,000 Mariel refugees.
On March 4, 1982, Florida Department of Law Enforcement (FDLE) officers Sergio Piñón and Daniel Benitez testified before a U.S. Senate subcommittee on security and terrorism investigating "The Role of Cuba in International Terrorism and Subversion." Piñon and Benitez declared under oath that the Committee of 75, Areito magazine, and the Antonio Maceo Brigade were "sponsored and headed by the Cuban DGI" intelligence agency. Perez-Stable had a leadership role in all of these groups.
In 1982, Pérez-Stable joined the Cuban Studies Institute headed by Professor María Cristina Herrera. Her motives for joining this group were not known until July 1983, when DGI defector, Captain Jesús Pérez Méndez, was debriefed by the FBI.
Copies of the FBI debriefing document were circulated to other agencies and the Police of Puerto Rico. The latter allowed me to read and take notes from the document when I was a journalist in San Juan. Pérez Méndez stated that Marifeli Pérez-Stable was the leader of the Antonio Maceo Brigade in New York and that she was "controlled by the DGI." He added that DGI officials Isidro Gómez and Jesús Arboleya Cervera, both high ranking DGI officials, "placed Marifeli in charge of the Círculo de Cultura Cubana." According to the defector, Pérez-Stable substituted Rutgers University Professor Lourdes Casal, "who was a DGI agent." Pérez Méndez went on to say that "the annual plans of Marifeli are prepared by the DGI and ICAP" and that "she receives $100 for every tourist that travels to Cuba with the Círculo de Cultura Cubana." It is not known if Pérez-Stable has reported this income on her annual tax returns. Pérez Méndez indicated that Pérez-Stable "infiltrated" the Cuban Studies Institute directed by Herrera, and "turned its position more favorable to Cuba."
Pérez-Stable returned to Havana in June 1984 leading a group of pro-Castro activists celebrating the tenth anniversary of Areito. She appeared photographed laying a wreath at the grave of DGI agent Lourdes Casal in Bohemia, June 8, 1984, pages 62-63, which also published her statements denouncing the Cuban exile community.
One of Pérez-Stable's last public activities on behalf of the Cuban revolution was when she helped organize the international conference "Thirty Years of the Cuban Revolution: An Assessment," in Halifax, Canada, Nov. 1-4, 1989, which included the participation of twenty Cuban government officials.
Pérez-Stable has never explained why she has diminished her public activism on behalf of the Castro regime. Her website at Florida International University (FIU), where she teaches, states: "From the early 1970s until the mid-1980s, she supported the Cuban Revolution. She is neither regretful nor apologetic."
Public documentation shows that Pérez-Stable supported the Cuban Revolution into late 1989, and not the "mid-1980s" as she now falsely claims. The arrest and conviction of the Cuban espionage Avispa Network in Miami in 1998, Mariano Faget, a senior U.S. Immigration official arrested and convicted of Cuban espionage in 2001, and Ana Belen Montes, the Defense Intelligence Agency's (DIA) primary political/military analyst on Cuba, who pled guilty in 2002 of spying for the Cuban government, has many people wondering if Marifeli Perez-Stable is working as a mole for Cuban intelligence.
On June 22, 2005, FIU Professor Carlos Alvarez, during an FBI interrogation, confessed to being a Cuban spy. He identified his Cuban intelligence handler as Mercedes Arce. Alvarez the stated on page 489 of the transcript, that when the spy Arce visits Miami, she stays in the residence of Marifeli, as late as August 2004.
When the FBI debriefing document was copied by bloggers on November 27, 2006, Perez-Stable retained Miami ACLU attorney John de Leon to threaten bloggers with a lawsuit for posting the information. In spite of her bravado, Perez-Stable failed to take legal action, as this would have exposed her to a sworn deposition about her pro-Castro activities during nearly two decades, her links to convicted spies Alvarez and Prieto, and her relations with Cuban government spy handlers and officials.
On June 18, 2009, Ambassador Armando Valladares published an article in the Washington Times, Their men in higher ed: Working the nexus between government and professoriate, denouncing Perez-Stable's spy activities. She failed to respond to these serious allegations.
Pérez-Stable is presently vice president for democratic governance at the Inter-American Dialogue in Washington, D.C., a member of the board of contributors of the Miami Herald, and a professor in the Department of Global & Sociocultural Studies at Florida International University, where her colleagues include Areito founder Lisandro Perez and Guillermo Grenier, a BAM activist and founding member of the Cuban Cultural Circle.

Media Use Suspected Spies as Expert Sources (News Busters, Aug. 5, 2008)
Spy catcher claims four are agents for Cuba (Miami Herald, August 8, 2008)
Treason in Our Midst Diego Trinidad, Ph.D.
Traicion en nuestra casa Diego Trinidad, Ph.D.
THE CASE AGAINST MARIFELI PEREZ-STABLE Diego Trinidad, Ph.D.
Dr. Antonio de la Cova polemic with the Miami Herald on Cuban spies Silvia Wilhelm and Marifeli Perez-Stable (2009)
Miami Herald Continues Use of Source Previously Tied to Cuban Intelligence (Cuba Confidential, May 11, 2014)