| | | |
| --- | --- | --- |
| | Elian Gonzalez Case | |
Elizabeth Brotons, her boyfriend
and son, Elian Gonzalez, 5, set
sail in a 19-foot boat with 11
others from Cardenas, Cuba. It
was 4:30 a.m. Nov. 21, 1999.
The boat sank and on the way to
freedom in the U.S. and all but
three drowned. Young Elian, the
only child on board, survived.
He clung to an inner tube and
floated for days.




Elian was rescued
by two fishermen
off the coast of
Fort Lauderdale
on Thanksgiving
Day 1999.
After hospital treatment, he
was released to his great-
uncle, Lazaro Gonzalez and
his cousin, Marisleysis
Gonzalez, who took him to
their home in Miami.
Elian and his cousin,
Marisleysis, 21, at Disney
World on Dec. 13, 2000,
followed by photographers
and journalists.
Congresspersons Lincoln Diaz-Balart and Ileana
Ros-Lehtinen visit Elian.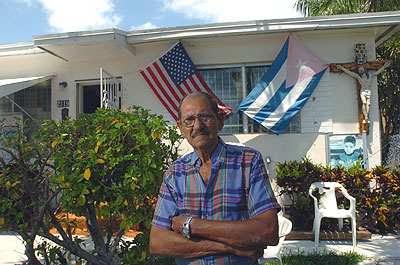 Delfín González created a memorial to his
nephew Elian at the Miami house at 2319
NW Second St.
Elian Gonzalez in Miami
INS Raid on the Gonzalez Home
Protests in Miami Following the Elian Gonzalez Seizure
Cartoons Protesting the Seizure of Elian
Elian Becomes Castro's Political Trophy

NEWS VIDEOS OF ELIAN'S SEIZURE, APRIL 22, 2000
Elian Gonzalez seized from his Miami home at gun point
The picture that the Clinton Administration feared the most
Marisleysis Gonzalez describes the armed federal raid on her home
Marisleysis Gonzalez gives a tour of her home wrecked by federal agents
Donato Dalrymple, the fisherman who rescued Elian, denounced the violent raid
Automatic weapon pointed at Elian
President Bill Clinton press conference
Janet Reno Press announcement of Elian seizure
Miami Dade County Mayor Alex Penelas denounces the federal raid
Roberto Curbelo denounces the armed seizure of Elian
MSNBC reporters attacked by Federal authorities
NBC photojournalist Tony Zumbado kicked and attacked by Federal authorities
Andrea Mitchell reports on the "very chilling image" of gun pointed at Elian
Elian raid security operation
MSNBC reporter Jim Avila in Havana
MSNBC reporter Suzanne Malveaux in Miami
Cuban Americans protest the armed seizure of Elian
Cuban Americans express outrage at Elian seiure
Cuban Americans protest in Miami
Cuban Americans in Miami burn tires in the street
Cuban Americans protest in Miami the Elian seizure
Cuban Americans protest and burn tires
Cuban Americans protest in Miami
Miami police in riot gear use pepper spray and tear gas against protesters
White House Press Secretary affirms Clinton approved Janet Reno's plan to use force
The Clinton White House denies heavy use of force
Al Gore, trying to inoculate himself from what was about to go down


DID THE CLINTON ADMINISTRATION SECRETLY TRADE ELIAN FOR HOSTAGES?
Secret deal made to hand over Elian?
Deal with hostage-takers allows them to return to Cuba
In Rare Deal, U.S. and Cuba Halt Standoff
Inmate still being held got safe-passage pledge
Hostage-case prisoner gets 55 years
Baton Rouge Police Officer was Convicted
Is Little Elian Just a Pawn in an International Business Scheme?
NATIONAL COUNCIL OF CHURCHES
National Council of Churches (Official web page)
Church Council disclaims Sandinistas anti-religious
Controversy surrounds national church alliance
Mediating churchman used to controversy
NCC Continues Its Pastoral Support of Elian's Grandmothers
Navy Protest Intensifies
Exhorta al Gobierno el Consejo Nacional de Iglesias a Restablecer Relaciones Diplomáticas con Cuba Roja
U.S.-Cuba ties renewal urged by church group
U.S. National Council of Churches delegation arrives in Cuba
The Elian Gonzalez Case (NewsHour Focus)
The Elian Gonzalez Case (The Washington Post)
Articles After Elian's Seizure