The Cuban Revolution
Rebel Terrorism (1955-1958)

Click on the pictures


Rene Garcia Collazo lost both legs and hand
while planting a bomb on June 12, 1957.
(Bohemia, July 12,1959, 8)
Odon Alvarez de la Campa lost his hands
when a bomb he was making exploded.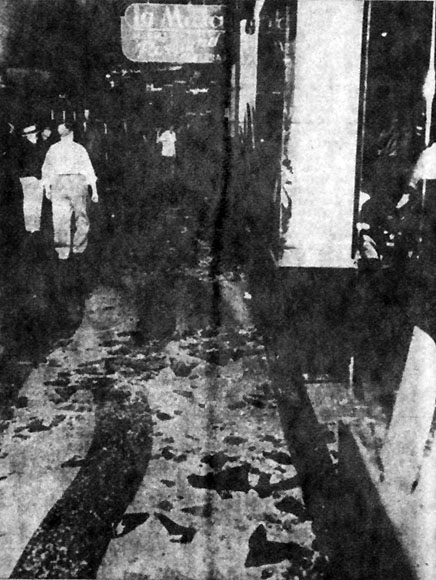 A rebel bomb detonated on the busy corner of
Galiano and San Rafael streets, destroying a
store front. (Bohemia, May 5,1957, p. 72)
Broken glass from the windows of a bombed shoe
store cover the sidewalk on San Rafael Street.


A bomb destroyed a pharmacy on 10 de Octubre
St., corner Santa Emilia, La Vibora, wounding a
passerby.
Store front destroyed by a bomb on Monte Street. Two other bombs in nearby stores
failed to detonate. (Bohemia, May 5,1957, p. 72)
"La Estrella" store on Galiano and San Rafael streets was also
destroyed by a powerful bomb. (Bohemia, May 5,1957, p. 72)
Employees of "La Estrella" store clean up debris left by the explosion of a
powerful rebel bomb. (Bohemia, May 5,1957, p. 72)
Store destroyed in one of the 18 businesses attacked by rebel bombs in
one night. (Bohemia, May 5,1957, p. 72)
AIRLINE HIJACKINGS
La Tragedia de Nipe: Una "Hazaña" Aérea del M-26-7 (Gente, Nov. 16, 1958)
Flight 482 Is Missing (Time, Nov. 17, 1958)
The hijacking suspect next door (Miami Herald, Oct. 26, 2008)
Cuban hijacking survivor's grief tinged with regret (Miami Herald, Oct. 26, 2008)
Sospechoso del primer secuestro aéreo vive entre nosotros (El Nuevo Herald, Oct. 26, 2008)
Los pasajeros del fatídico vuelo (El Nuevo Herald, Oct. 26, 2008)
1958 Cuban hijacking survivors reunite for first time (Miami Herald, Nov. 2, 2008)
Emotiva misa rememora la tragedia del secuestro del vuelo de Cubana de Aviación (El Nuevo Herald, Nov. 2, 2008)
1958 Cuba hijacking case won't be pursued (Miami Herald, Dec. 4, 2009)


AUDIO ENTREVISTAS CON SUPERVIVIENTES DEL SECUESTRO AEREO DE NOV. 1, 1958
Omara Gonzalez (Junio 27, 2008)
Osiris Martinez (Junio 27, 2008)

U.S. STATE DEPARTMENT REPORTS ON AIRLINE HIJACKING
U.S. Embassy Havana, Telegram 207, Oct. 22, 1958 (La Cubana DC3 missing from Cayo Mambi en route Moa Bay)
U.S. Embassy Havana, Telegram 398, Oct. 23, 1958 (Cubana abandoned search for missing plane)
U.S. Embassy Havana, Telegram 452, Nov. 3, 1958 (Survivor Osiris Martinez indicated at least two others involved in hi-jacking were U.S. citizens)
Department of State, Memorandum of Conversation, Ambassador Smith, Terrance G. Leonhardy, Nov. 5, 1958 (Investigation of Cubana Crash and other matters)
U.S. Embassy Havana, Telegram 475, Nov. 6, 1958 (Excerpts from testimony of Osiris Martinez, survivor of Cubana airline crash; 26th of July Movement)
Department of State, Memorandum of Conversation, Ambassador Smith, Terrance G. Leonhardy, Nov. 6, 1958 (Investigation of Cubana Crash and other matters; Dead hijackers wearing 26th of July Movement armbands; Hijackers: Edmundo Ponce de Leon, Raul Rolando Rodriguez Villegas and Pedro Valdes Orta)
U.S. Embassy Havana, Telegram 483, Nov. 7, 1958 (Survivor Osiris Martinez provides additional information; Martinez identified as gunmen the photos of Raul Rolando Rodriguez Villegas, Edmundo Ponce de Leon, Manuel Fernandez Falcon)
U.S. Embassy Havana, Telegram 484, Nov. 7, 1958 (Location missing plane still unknown but believed Second Front area)
Department of State, Memorandum of Conversation, Nov. 7, 1958 (Investigation of Cubana crash and other matters; Osiris Martinez; Hand grenades thrown at the Cubana arlines office in Miami)
Department of State, Memorandum of Conversation, Nov. 7, 1958 (Publicity on Cuban Plane Crash; Osiris Martinez; Edmundo Ponce de Leon)
Department of State, Memorandum of Conversation, Nov. 9, 1958 (Investigation of Cubana crash and other matters; 26 of July Movement)
Attorneys Mendes & Mount letter, to the Secretary of State, Dec. 1, 1958 (Representing American International Insurance Company who provided the insurance of the Viscount accident requesting a copy of the written statement by Osiris Martinez)
William A. Wieland letter to Matthew J. Corrigan, Dec. 22, 1958 (Response to Corrigan's request of obtaining a copy of the statement by Osiris Martinez)
Attorneys Mendes & Mount letter, to William A. Weiland, Dec. 29, 1958 (Representing American International Insurance Company who provided the insurance of the Viscount accident requesting copies of press releases issued by the Department of State)
U.S. STATE DEPARTMENT REPORTS ON REBEL TERRORISM
U.S. Embassy Havana, Despatch 589, Dec. 4, 1958 (Fire and Riot Losses in Cuba)


ASSASSINATIONS
Four Cubans Seized as an Assassin Band (N.Y. Times, Jan. 18, 1958)

BOMBINGS
Ratifican prision de un acusado por actos tedrroristas (Diario de la Marina, enero 20, 1955, 1)
U.S. Embassy Havana, Despatch 1140, May 17, 1955 (Bomb explosions)
U.S. Embassy Havana, Despatch 1249, June 14, 1955 (Six more bombs)
Estallaron petardos en tres centros de entretenimiento [Magalina Martinez Arredondo] (Diario de la Marina, enero 2, 1957, 1)
Bomb Goes Off on the Grounds of the Hotel Nacional (The Times of Havana, March 21, 1957)
Bomb Goes Off By Home Of Dr. Morales del Castillo (The Times of Havana, May 30, 1957)
2 more Bombs Explode Here; No One Injured (The Times of Havana, June 3, 1957)
U.S. Embassy Havana, Telegram 162, Aug. 26, 1957 (Mujal Condemns Terrorism)
Bombs In Havana Greet New Year (N.Y. Times, Jan. 2, 1958)
Havana Aqueduct Damaged by Bomb (N.Y. Times, Jan. 21, 1958)
Sabotage on Rise in Eastern Cuba (N.Y. Times, Feb. 10, 1958)
El Comandante Garcia Collazo Una Gran Leccion de Coraje (Bohemia, July 12, 1959)
Mi hermano Enrique
Aquí sí se ha hecho terrorismo, asegura ex miembro del M-26-7

KIDNAPPINGS
Cuban Rebels Seize Fangio, Auto Racer (N.Y. Times, Feb. 24, 1958)
Kidnappers Kind, Fangio Asserts (N.Y. Times, Feb. 26, 1958)
10 Americans Are Seized In Raid by Rebels in Cuba (N.Y. Times, June 28, 1958)
24 U.S. Navy Men Missing In Cuba; Kidnapping Seen (N.Y. Times, June 29, 1958)
28 U.S. Navy Men Due To Be Freed By Cuban Rebels (N.Y. Times, June 30, 1958)
Service Men Held in Cuba (N.Y. Times, June 30, 1958)
Two More Kidnappings (N.Y. Times, June 30, 1958)
The Cuban Kidnappings (N.Y. Times, Editorial, June 30, 1958)
2 More Americans Abducted In Cuba By Rebel Forces (N.Y. Times, July 1, 1958)
Captives Safe, Rebels Say (N.Y. Times, July 1, 1958)
Dulles Rules Out Blackmail To Get Americans Freed (N.Y. Times, July 2, 1958)
Folly in Rebel Cuba (N.Y. Times Editorial, July 2, 1958)
Four More Americans Seized (N.Y. Times, July 2, 1958)
U.S. Opens Parley With Cuba Rebels (N.Y. Times, July 2, 1958)
On the Arrest of U.S. Citizens (July 3, 1958)
5 North Americans Freed By Cuban Rebel Captors (N.Y. Times, July 3, 1958)
U.S. Boatswain's Mate Talked Cuba Rebels Out of Holding Him (N.Y. Times, July 3, 1958)
Eisenhower Vows Aid for Captives (N.Y. Times, July 3, 1958)
U.S. Aide In Cuba Plans New Talks (N.Y. Times, July 5, 1958)
Castro's Kidnappings Show War Is Still On (N.Y. Times, July 6, 1958)
The Sack Is No Style Hit With Cuba Rebels' Foes (N.Y. Times, July 6, 1958)
3 More Americans Released In Cuba (N.Y. Times, July 6, 1958)
Grandstand Kidnaping (Time, July 7, 1958)
Cuba Rebels Free 3 More Americans (N.Y. Times, July 8, 1958)
Cuba Rebels Free Another Civilian (N.Y. Times, July 9, 1958)
2 More Americans Freed By Cubans (N.Y. Times, July 10, 1958)
Dealing with Kidnapers (Time, July 14, 1958)
All Free (Time, July 28, 1958)
Kidnapping is Reported (N.Y. Times, October 20, 1958)