| | | |
| --- | --- | --- |
| | UNITED STATES-HAITI RELATIONS | |
Haitian Immigrants in the U.S.

1998
A dispute that began over bird droppings
Haiti to send back waste dumped by U.S.
Hillary Clinton arrives in Haiti for last stop on tour
U.S., Haiti squabble over control of tiny island
Whose Rock Is It? Yes, the Haitians Care
1999
General Calls For Pullout From Haiti
G.I.'s to Quit Haiti in 1999; Reason Cited Is Budgetary
Haiti's administration slowly turns away from democracy
House votes to pull American troops out of Haiti by end of year
A Nation in Need
Senator sounds warning on Haiti
Urgent talks on Haiti sought
US congressmen visit Haiti amid government crisis
U.S. continues efforts to end government stalemate in Haiti
U.S. losing patience as Haiti struggles to reform leadership
U.S. subsidizing witchcraft, Helms complains
U.S. troops in Haiti likely to leave next year
U.S. troops proud of Haiti mission that brought smiles, comfort
2000
Clinton urges Aristide to resolve Haiti's electoral impasse
Customs dispute over rice halts U.S. aid to Haiti
Cutoff of U.S. aid to Haiti leaves judiciary faltering
Haitian Strongman Living in N.Y.
Jesse Jackson assails U.S. policy toward Haitians
U.S. officials see failed Haiti policy
U.S. presses Haiti over elections
U.S. Waits for Aristide's Haiti to Deliver on New Promises of Reform
2001
INS arrests ex-colonel given life in Haiti for his role in massacre
U.S. Embassy in Haiti shut down after attack
U.S. urged to soften its policy on Haiti
2002
Ashcroft Orders Haitian Deported
Citing Strife, U.S. Delays Two Loans to Haitians
Renewed Calls for Revising Policy on Haitians
U.S. disappointed with Haitian leader

2003
Aristide gets warning from U.S.
The ruins of another US try at democracy: Haiti

2004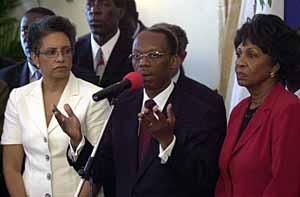 President Aristide, stands with his wife Mildred, left,
and Congresswoman Maxine Waters, right.
France, U.S. split on Haiti
If peace deal fails, diplomats may lack backup plan
Powell disappointed by Aristide
Powell rules out military aid to Haiti
U.S. Declines to Use Force to Put Down Haitian Strife
U.S. Officials Hint at Support for Haitian Leader's Ouster
U.S. officials debating whether to help show Aristide the door
Bush to send military team to Haiti to review embassy security
Powell: Aristide must keep his job
Powell Pushes for Pact in Haiti
U.S. slowly reacts to revolt
U.S. tells citizens: Exit Haiti
U.S. to Push Aristide Toward Solution in Haiti
U.S. to Mediate in Haiti Crisis; Urges Americans to Leave
Lacking Accord, Diplomats Leave a Divided Haiti
U.S. Scrambles to Find New Course in Haiti
As rebels gain, how to help Haiti?
Worsening Scenes in Haiti Will Test U.S. Tolerance for Chaos
A lack of political will likely means U.S. troops on sidelines
Powell, Too, Hints Haitian Should Leave
Powell Puts Pressure on Haitian Leader To Resign
Aristide may lose caucus support
Black caucus calls for troops in Haiti
U.S. Considers Options in Haiti
531 Haitians held at sea are sent back
U.S. Puts Blame for Crisis on Aristide
Ignore Haiti? Tell That to Politicians in Florida
Change took own course, U.S. insists
Bush's policies on Haiti at issue
Round 2 for US nation-building in Haiti
U.S. intervention rejected as too risky
Powell and Aide Questioned on Haiti by Panel's Skeptics
Haitians Again Relying on U.S. Military to Bring Order
U.S. Support for Democracy Hurt in Haiti
Handling Haiti (OnlineNewsHour)
U.S. Relied on Others to Deal With Haiti
U.S. Worried as Caribbean Nations Defer on Haiti Leaders
APRIL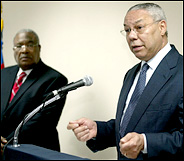 Secretary of State Colin Powell,
right, addresses a news conference
in Port-au-Prince as Gérard Latortue,
the interim prime minister, listens.
On Visit to Haiti, Powell Says the U.S. Weighs Prosecution of Aristide on Corruption Charges
In Haiti, Powell Reassures Interim Leaders
U.S. goals in Haiti: halting violence, graft
Improve security, handling of aid, Meek says
U.S. Envoy Says Haiti Must Transform Itself
MAY-DECEMBER
Powell: Haiti was spared civil war
In U.S., Haitian leader to ask for funds
U.S. hands Haiti task to U.N.
Aid for Haitian textile trade faces opposition
Powell visiting Haiti
Gunfire Erupts During Powell's Visit to Haiti
2006
Preval talks trade, meets with Bush
2009
Haiti prepares for Hillary Clinton visit
Haitians up pressure for special immigration status
Haitian businesses say downgraded travel advisory doesn't go far enough