United States
Immigration
2008
Click on the pictures

More than half the 21 million cars crossing from Tijuana to San Diego each year wait in lines of 90 minutes or more.
Border Patrol Agent Victor Guzman points to a cut
on the border fence west of Columbus, N.M, April
9, 2008. Holes have been cut with acetylene
torches, hacksaws, and plasma torches.
The tower is fitted with sensors, cameras and
other sensitive equipment and is part of the
"virtual fence" outside Sasabe near Arivaca
Road.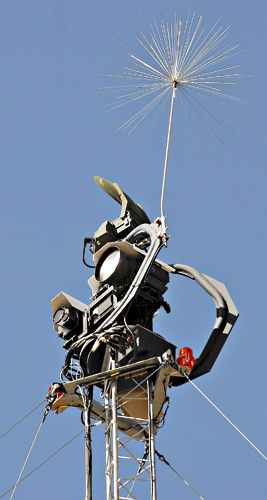 Tower with sensors, cameras, and other
sensitive equipment are part of the "virtual
fence'' outside Sasabe near Arivaca Road.
Ohio Army National Guard members build a road along the border for the U.S. Border
Patrol. Guard members said the dirt road turned to mud when it rained and Border Patrol
agents often got stuck on the steep hill.
Arizona Air National Guardsman at the border.
A meeting at a border fence near Tijuana.

Men caught crossing the Mexican border in a holding cell in Nogales,
Arizona.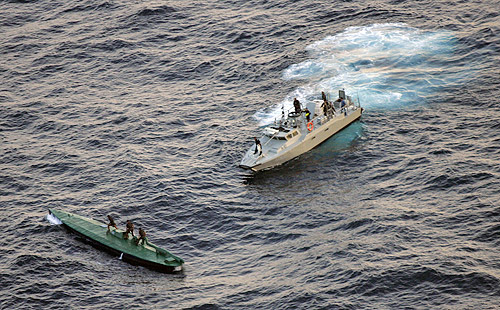 Mexican navy sailors ride on top of a seized drug smuggling submarine as it was being
towed by a navy ship off the coast of the Pacific resort city of Huatulco, Mexico.

MARCH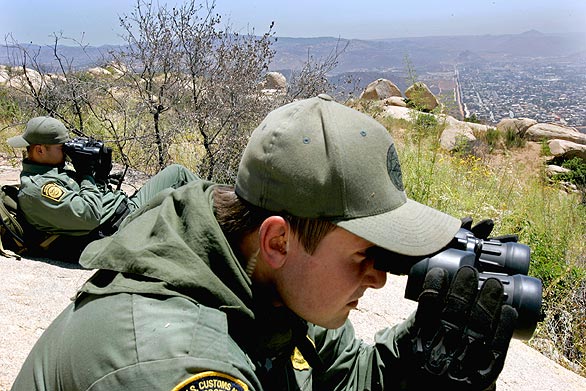 U.S. Border Patrol on Tecate Peak.
On U.S.-Mexican border, new deterrent is jail time
Migrants cost border counties $192M
Virtual fence debacle demands investigation
Anti-illegal immigration groups grow in Florida

APRIL


A Sierra Vista Army National Guard member welds a piece
of angle iron to reinforce the 10-foot fence east of Naco
Where U.S.-Mexico border fence is tall, border crossings fall
Arizona's 'virtual' border wall gets a reality check
Along U.S.-Mexican border, an erratic patchwork fence
Illegal immigrants often die anonymously
Arizona slams door on illegal immigrants
Immigration, Outsourced
Suits over U.S. citizenship backlogs spike
Many Visas Are Sought for Skilled Immigrants
Power to Build Border Fence Is Above U.S. Law
Legal Immigrants, Until They Sought Citizenship
Immigration, Off the Books
Fight over border fence environmental waivers could reach Supreme Court
Mexico police rescue 83 migrants from sweltering cargo truck
Immigration, Off the Books (N.Y. Times editorial)
Mexican security and railway damage slow flow of illegal immigrants from Central America to U.S.
Cuban reggaeton star missing at sea was lured to Florida by promise of money, friends say
Pope Speaks Up for Immigrants, Touching a Nerve
On the border with Michael Chertoff
Refugees fill jobs in Cactus, Texas, after immigration sweep
Cracking Down on Border Crossers
Social Security number fraud hurts victims
1,200 Guard members toil along border
Immigrant rights groups shifting tactics as November approaches
France struggles with immigration
Central American migrants met with hurdles in Mexico
Let them eat paint part of Border Patrol's plan

MAY

Flag-waving and placard-carrying marchers crowd Broadway in
downtown L.A.
"Legalization now," reads the placard carried by a protester in the
march from MacArthur Park.
Demonstrators gather at the intersection of Olympic Blvd.
and Broadway before the start of the May Day march and
rally in downtown Los Angeles.
Sylvia Camacho cheers with other demonstrators at the May
Day march in Los Angeles. Thousands of immigrant workers
and their supporters called for immigration reform.
This year's May Day rally draws business support, but far fewer protesters
Fewer Latino Immigrants Sending Money Home
US crackdown and slowdown have Mexican migrants giving up sooner
Cultural event urges immigration reform
Guardsman charged with selling fence metal
Feds indict 23 men in migrant smuggling cases
Illegal Farm Workers Get Health Care in Shadows
Immigration, Gang Violence and a Crusade
Immigration reform: When there's no one to harvest the crops
Ariz. governor ends sheriff's immigration contract
Governor denies punishing Sheriff Arpaio
Homeland Security Stands by Its Fence
Human smuggling a $2.5B business in Az
Az migrant desert deaths drop, but heat likely to raise carnage
Texas officials sue US over border fence
Dominican Crackdown Leaves Children of Haitian Immigrants in Legal Limbo
Border Patrol agent pleads guilty to marijuana smuggling
Border Agents, Lured by the Other Side
Va. county Hispanics 'devastated' by status checks
Some U.S. farms outsourced to Mexico
8 tons of cocaine, 3 machine guns, 25 years
On the front line of border security
JUNE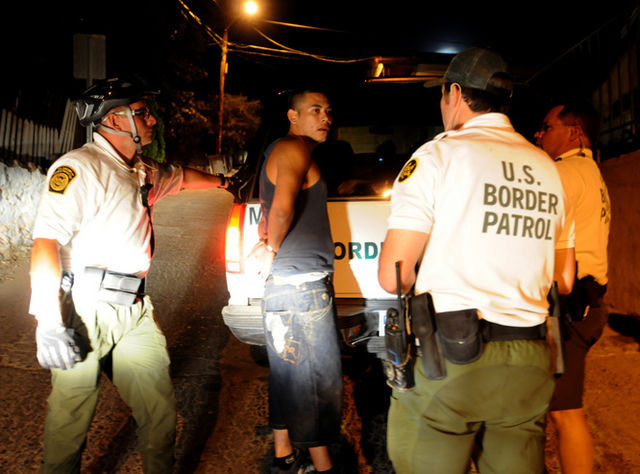 Border bike patrol detains undocumented alien.
More immigrants choose to leave U.S., go home
Workers release migrants for money
New cards to be issued for frequent crossers
'Piecemeal' immigration reforms better than nothing (Editorial, Tucson Citizen)
Dobbs, Limbaugh feed hate of Latinos
Ten sue feds over delays in approval for citizenship
National Guard wrapping up duty along border
Trying to halt desert deaths in brutal heat
Why the valedictorian should be deported
New Outreach to Blacks as Border Patrol Grows
Cuban smugglers sentenced to 10 years
Federal prosecution of illegal immigrants soars
JULY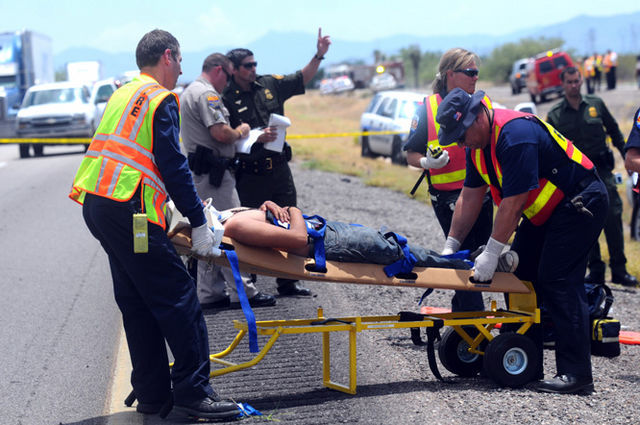 Paramedics work on illegal immigrants hurt in an accident along I-10
Deportations on the rise in Florida
In a twist, USA's Asians are heading to the Mountain West
Group Wields Racketeering Law Against Landlords to Combat Illegal Immigration
Mexican Maya migrants in U.S. send millions home
Immigrant, Pregnant, Is Jailed Under Pact
In Immigration Cases, Employers Feel the Pressure
At Tijuana checkpoint, border crossers wait . . . and wait . . . and wait
3 Pa. teens charged in fatal beating of immigrant
Constitution is a casualty as Sheriff Joe goes to work
AUGUST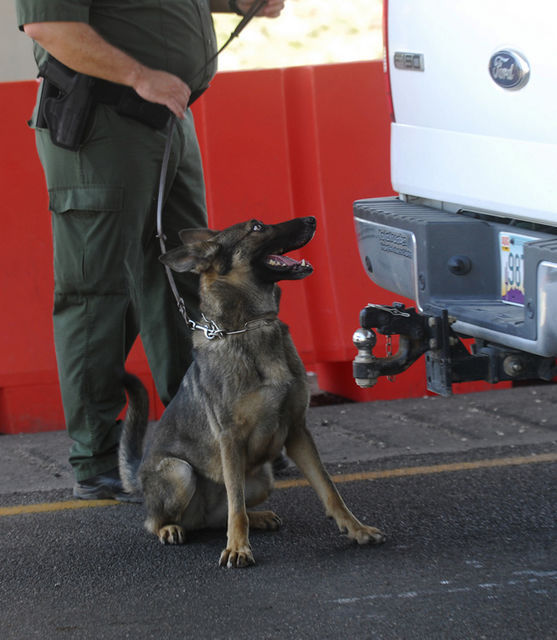 K-9 handler and instructor Christopher Ibara
works with his dog Brita, who alerts on a truck
at the checkpoint near Tubac.
Immigrants Deported, by U.S. Hospitals
In a Generation, Minorities May Be the U.S. Majority
Son of illegal immigrants wins wrestling gold medal
Nearly 12 million Mexicans said to reside in US
The sniff patrol: Border Patrol dogs find drugs, humans
Immigration Authorities' No-Jail Offer Is Withdrawn
Town wonders if it's next to face immigration raid
Fear grips immigrants after Miss. plant raid
Many border agents quit because of working conditions
Feds to end funding of ER care for migrants
Deported Mexicans face shattered lives
House votes to end access for Mexican trucks
SEPTEMBER


Old border fence and new fence at Nogales.
White House wants $400M to finish border fence
Border fence could be new president's problem
Congressman's son caught smuggling immigrants
John Boyd Criminal Complaint
Border Patrol a boost for struggling towns
Southern California's dual citizens see little conflict
OCTOBER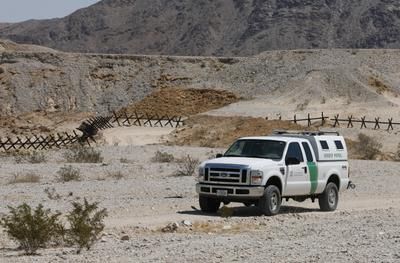 Vehicle barriers at Imperial Valley, California, border with Mexico.
Less money going to Mexico as U.S. economy falters
Illegal immigrant inflow to the U.S. lags that of legal immigrants
Illegal immigrant arrests down in Arizona
Massive fire turned a perilous trek deadly for border crossers
FATEFUL CROSSING: For burned illegal immigrants, a long road to recovery
Immigration expert: Spanish-language media contribute to fear among immigrants
Experts compare current immigration situation to deportation of Mexicans in 1930s
Mexican town helps migrants flee police
Candidates agree on immigration, but ads don't show it
A Somali Influx Unsettles Latino Meatpackers
New Fence Will Split a Border Park
Officials ramp up 'airline' for illegal immigrants
Ex-border agents on run for 2 years held in Mexico
Obama aunt from Kenya living in US illegally
NOVEMBER
Past year saw record deportations
Educated workers also head north
Deported in Coma, Saved Back in U.S.
7 teenagers in Long Island 'lynch mob' plead not guilty to murder of immigrant
Brother: Hate crime victim wanted 'the American dream'
Prosecutor: Teens 'determined' to hurt hate-crime victim
Levy on immigrant killing: Just a one-day story!!!
7 TEENS STALKED MEXICANS: DA
A Death in Patchogue
Skilled immigrants a 'brain waste' in California's workforce
U.S. Africans in the spotlight
Illegal immigrants going home, and local labor market at risk
Money from parents in U.S. can have steep price