The New York Times
October 1, 1998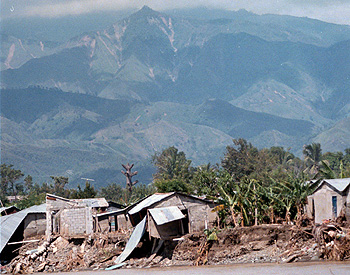 In a Town Destroyed, Dominicans Salvage Little but the Will to Go On
By RAYMOND HERNANDEZ
LAS MINAS, Dominican Republic -- Miguel Montero and his family
fled their home in this remote precinct of the town of San Juan last
week after radio reports warned that a hurricane was headed their way.
But once Hurricane Georges completed its violent journey through here,
the Monteros returned to a scene that left them stunned: the flood waters
had swept their home and nearly half of this small village into the murky
depths of the nearby San Juan River, leaving almost nothing behind.
"I feel lost," said Montero, a slight, 23-year-old man whose family has been
forced to sleep on the floor of a baseball stadium in the center of San Juan along
with hundreds of his fellow villagers. "Everything we had is gone. There is no
trace that we were ever here."
While most people in this Caribbean nation begin the arduous task of
repairing their homes, schools and businesses, few in this forsaken village
have been left with anything to repair. Their homes have nearly all disappeared.
Hurricane Georges dealt one of its most devastating blows to the 15,000 people
living hereand in the surrounding villages on the western edge of this nation.
Houses were either swallowed by the engorged river or toppled and
buried in mud. Trees were shredded and in many cases uprooted. The
stench of rotting animal carcasses fills the air. And the local coffin maker,
who normally makes 10 a week, says he is suddenly filling orders for 12 a
day.
As Frank Monte de Occa, a migrant worker who lost his home, put it:
"We have become a community of refugees. We have nowhere to go. I
don't know how we will ever recover from this."
Yet, with rescue workers arriving and wreckage from the storm being
slowly cleared away, many residents are already trying to look past this
ordeal.
Nelson Montero said his two nieces, ages 6 and 3, and a nephew, 2,
drowned in the surging waters that swept through the area in the
pre-dawn hours of Sept. 22, but Montero, a tall man with sunken eyes
and leathery skin, says he has not allowed himself to linger on it too much,
saving his energy for rebuilding his home.
He has urged his sister, the mother of the three children, to do the same.
"She is completely devastated," Montero said. "But I told her not to dwell
on it because it would only make things worse. The dead are dead.
There's nothing we can do. The living must continue living."
Las Minas, nestled in between mountains about a hundred miles west of
the capital city, Santo Domingo, is a poor community of farm workers
that had the terrible luck of being in the way of the hurricane as it barreled
along the southern coast of the island before shifting violently inland and
crossing the border into Haiti, the Dominican Republic's neighbor on the
island of Hispaniola.
The hurricane struck hardest in Las Minas and other small towns and
villages in the west, where the bulk of the nation's 249 storm-related
deaths occurred, according to American officials coordinating rescue
efforts.
Beyond that, it took nearly a week for any help from outside to arrive in
the mountainous region because Las Minas and the other neighboring
small towns had been cut off by flood waters and broken bridges.
That has deepened the misery here and forced people to make do with
what little food and water they had before the storm.
"I have no idea of when we'll begin putting our lives back together again,"
said Manuel Pineldo, whose home was destroyed and whose brother was
swept away by surging flood waters and drowned. "We live in a province
that is cut off from everything. The help we need isn't arriving."
The despair can be seen almost everywhere. People dig pots, pans,
dresses and clothing from mounds of mud.
They draw buckets of drinking water from and bathe in a river being
dredged for dead bodies.
They sift through the rubble of their former houses, scavenging for nails,
lumber and other costly and scarce building material that they can use to
rebuild.
Or they load pickup trucks with mattresses, sofas and whatever else they
can salvage to take on their journey to find a new home.
Valentine Morillo Sanchez is one of those who returned to see what could
be saved from his house, a small one-room structure made of timber and
sheets of tin that was almost miraculously left standing. There was not a
lot left inside: four wooden chairs, a small table, a mattress spring, his
baby's crib -- and the mud.
"There's not much left worth saving," said Sanchez, a timid and
soft-spoken man who took such pride in his little house that he actually
bothered to paint its tin exterior purple.
"But," he added, "the good thing is we're alive."
For now, Sanchez, his wife and two children, ages 2 and 11 months, are
staying at a shelter until they can figure out what to do next.
"This has devastated us," said Sanchez, 31, who makes his living by
running errands for a local bank president.
Perhaps the only uplifting thing in Las Minas these days is the resilience
and resolve of its people.
Blasmaria Diaz, a 23-year-old migrant worker, toiled beneath a blazing
sun on a swampy field where his house once stood, prying its tin roof
from the mud.
"I'm going to rebuild it over there," he said, almost confidently, as he
pointed to a field far from the river, a place where he things he will be
safer. "I don't know how long it will take. But I'm going to rebuild it
eventually."
Zenida Encarnacion, a 37-year-old bodega owner who lost both her
home and business, somehow found it in herself not to be bitter -- or at
least show bitterness.
The day before the hurricane struck, Ms. Encarnacion and her three
children arrived at a shelter that officials had set up at the local baseball
stadium. Bracing for the worst, she took as many goods from her store as
she could carry: bottles of orange juice, rolls of bread, boxes of cookies
and on and on.
"I'm fortunate that I have food to feed my children with," she said sitting in
a small, cramped room inside the stadium. "There are so many others who
are going hungry."
For now, one big question on most people's minds is what will become of
La Minas. Some say they fully intend to rebuild their homes and stay. But
others say that would be fool-hardy.
Berna de Lozanto, a 23-year-old mother of three, is in the latter camp.
"This is a dangerous area," she said Wednesday afternoon, pointing to the
river. 'I will never come back. Not with my children. Not with that river
there."