CUBAN
IMMIGRATION
(2006-2016)
Click on the pictures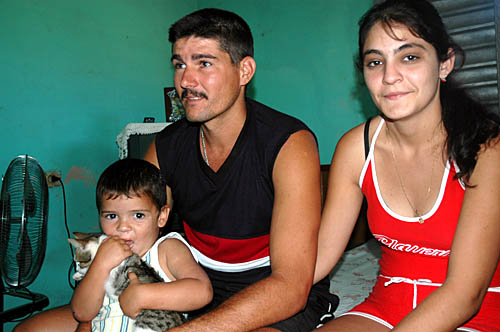 Elizabeth Hernandez, son Jhon Maikol and the boy's
father, Junior Blanco, thought they and 12 other
Cubans had made it onto U.S. soil when they reached
the Old Seven Mile Bridge in the Keys. Instead, they
were repatriated to Cuba.
Cubans sent home; picked wrong bridge
Long wait angers migrants
Video riles Cuban exiles
Cubans' return now up to Castro
Migrating dogs can be repatriated if caught at sea
Coast Guard waffled over 15 Cubans
Judge says 15 Cubans who landed on Keys bridge should have stayed in U.S.
Cubans hopeful after U.S. judge rules they should not have been returned home
El tráfico humano y la muerte viajan con lancha rápida y pasaporte norteamericanos
Smuggling of Cuban migrants investigated
Sharing the Joy of Liberty At a Cuban Pig Roast
Pisa Mona un grupo de 15 cubanos
Coast Guard repatriates 74 Cubans
Cubans sing to hide escape from Mexico
Two plead guilty in migrant-smuggling death
2007
Repatriated Cuban migrants make it back
Cruise stops Cuban migrants despite pleas
More Cubans using Mexico as route to flee to U.S.
2008
Migrants land at park, plant
Tens of thousands are leaving Cuba
Cuban rapper's desperate try for U.S. may have failed
Feds indict 23 men in migrant smuggling cases
Some Cuban emigrants head back home
Cuban smugglers sentenced to 10 years
7 from South Florida face alien-smuggling charges
Cuban migrant dies in suspected smuggling trip
Miami man recovers boat from Cuban-smugglers
Mexico to deport Cubans heading illegally to US
2009
Cubans tell of capture and torture on Mexican journey
2015
New wave of Cuban immigrants reaches U.S., but through Texas, not Florida (Los Angeles Times, Nov. 25, 2015)

2016
El éxodo inacabable: ¿Cuántos cubanos han emigrado en los últimos 20 años? (El Nuevo Herald, Sept. 3, 2016)