The New York Times
April 8, 1998
Voodoo Priest Charged With Attempted Murder Via Fire
By GARRY PIERRE-PIERRE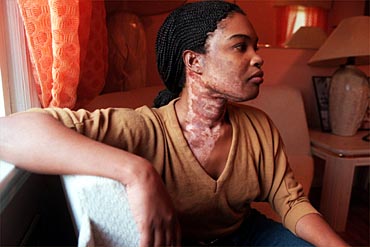 Sheila DeGraff was burned on her neck, face and body.
voodoo priest in New Jersey who had promised to chase away evil spirits instead tried to kill a distraught believer by setting her on fire, according to law enforcement officials, who have charged the priest with attempted murder.
The man, Pierrot Charles, is accused of trying to kill Sheila DeGraff, a 28-year-old Haitian immigrant from New York's Long Island, after she went to his home in Irvington, N.J., last October seeking help. Ms. DeGraff said friends had convinced her that mysterious sounds she was hearing in her basement were caused by spirits unleashed by her 81-year-old father, and that Charles could drive the spirits away.
Instead, according to Ms. DeGraff and the authorities, she was subjected to a harrowing ordeal involving a sheet, candles and a flammable liquid, and ended up with second- and third-degree burns that required surgery on her face, neck and body.
Neither police nor the Essex County prosecutor's office offered a motive for the attack or details about the relationship between Ms. DeGraff and Charles. They said they were still investigating whether others were involved, and whether anyone else was present for the ceremony but failed to report the incident.
"Every day is a reminder of that awful night," Ms. DeGraff said Tuesday. "It's something that I haven't forgotten and will never forget."
On Monday, Charles, 40, pleaded not guilty to charges of attempted murder, aggravated assault and possession of a deadly weapon. He has been released on bond on condition that he not approach Ms. DeGraff.
James Weinberg, Charles' lawyer, said his client was innocent and called the charges "ridiculous."
"It's like charging a rabbi or a priest with murder," Weinberg said. "It's incongruous."
But Irvington Police Chief Steven Palamara said the charges were about criminal acts, not religious beliefs. "Anybody can practice anything you want until you hurt somebody else," he said. "I don't understand what burning her had to do with voodoo."
In the weeks after the incident, Ms. DeGraff discussed her ordeal publicly, and it was reported by Creole-language news organizations, casting an unusual spotlight on voodoo practices among Haitian immigrants in the region. Such practices are typically cloaked in great secrecy.
Ms. DeGraff said she was initially fearful of pressing charges, but finally changed her mind last week and gave a formal statement to the authorities.
Police said they had learned of the events soon after they took place but did not have enough evidence to charge Charles until now.
Ms. DeGraff said that the incident occurred at midnight Oct. 7, on the last of nine nights that Charles spent summoning the spirits. Ms. DeGraff said she was standing in a vacant lot near Charles' house when he covered her with a white sheet, then doused her with Florida Water -- a cologne sometimes used for ceremonies in African-based religions. She heard a whooshing sound and realized she was ablaze.
She was brought back to Charles' house, she said, but was not taken to St. Barnabas Hospital in Livingston, N.J., until the next afternoon. She underwent skin grafts and two operations.
Ms. DeGraff's boyfriend, Jean Valme, acknowledged last fall that he had been present during the incident, saying that he had taken her to see Charles to ward off evil spirits. He did not return calls seeking comment Tuesday.
Although the accusations against Charles are highly unusual, experts say the practice of voodoo -- a mix of African and Catholic beliefs that was born on the slave plantations of 18th-century Haiti -- is widespread among Haitians in the United States as well as in their homeland.
In many Haitian hamlets, the voodoo priest, or hougan, is the most influential person, acting as healer, soothsayer, exorcist and counselor. And as they immigrate to the United States, many Haitians cling to their beliefs.
"Like a lot of ethnic groups who've migrated here, we've brought our culture with us," said Henry Frank, a Sorbonne-trained anthropologist and executive director of the Haitian Centers Council, a social service organization based in Brooklyn.
But he described voodoo as a benign practice, and said outsiders were wrong to equate it with black magic or sorcery. "Black magic," he said "has about the same relationship to voodoo that Satanism has to Catholicism: it's an extremist response."
Ms. DeGraff said she was seeking religious relief when she traveled from her home in Uniondale, N.Y., to Irvington, to see Charles. "I thought they were really trying to help me," she said. "They said I was going to die. I didn't want to die."