United States-Mexico Relations
2003-2004
2003
Bush Doesn't Mention Fox In Tribute to Cinco de Mayo
Fox, elder Bush meet in Mexico
Fox to press case for migration accord
Mexican feds refuse to take over border killings case
Mexican Official to Quit, Frustrated by U.S.
Mexico Asks World Court to Block the Executions of 51 in the U.S.
Mexico Challenges U.S. On Death Penalty Cases
On U.S. visit, Fox to stress immigration
Talks aim to improve NAFTA
Trying to Put Mexico First, With No U.S. in the Way
U.S. Consulate Probe in Mexico
2004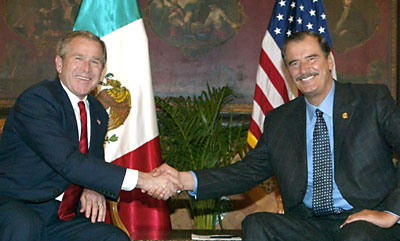 Mexico Awaits Hague Ruling on Citizens on U.S. Death Row
Mexico's Fox Backs Bush Proposal on Immigration
Mexico to Send Rio Grande Water to Texas
FEBRUARY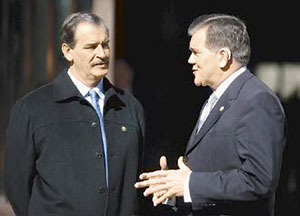 Vicente Fox and Tom Ridge, secretary of the U.S.
Homeland Security Department.
Border crossings - legal and illegal - top agenda
Court declares 1998 money laundering sting illegal
No deal on returning migrants to Mexico
Mexico's new consul prepares for growth
MARCH
Bush, Fox set to discuss migration, security issues
Grown Cautious, Fox Expects Delay on U.S. Action on Migrants
Bush, Fox Settle Short-Term Visa Spat
Bush, Fox 'need each other'
APRIL
U.S. Told to Review Death Row Cases
A Court Decision Is One Thing; Enforcing It Is Another
Prom booze trips to Son. are being discouraged
U.S.-Mexico border region faces tough energy demands
U.S. Suspends Crime Program With Mexico
JUNE
High Court Opens U.S. Roads to Mexican Trucks
Governor finds fiscal optimism on Mexico trip
Arizona truckers' group supports more U.S. access for Mexican trucks
JULY
Mexico Troops Interrupt Funeral of Marine
AUGUST
Mexico to restart dual citizenship plan
Mexico-U.S. talks focus on water rights, NAFTA
U.S., Mexican border governors agree on border security
SEPTEMBER
Mexico, U.S. Unveil Border Clean-Up Plan
Congress takes steps to slow Mexican truck travel in U.S.
NOVEMBER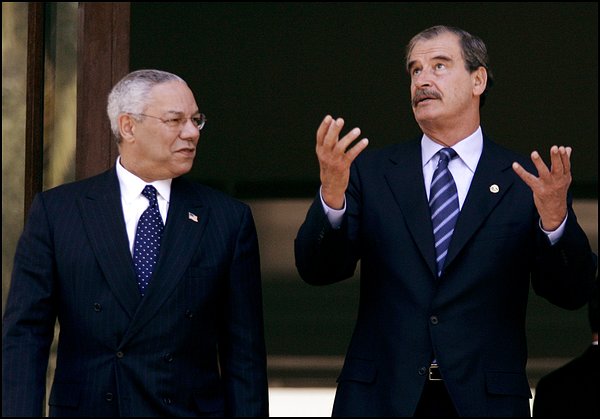 President Vicente Fox talks with Secretary of State Colin
Powell, Nov. 10, 2004.
Mexico to Press U.S. on Stalled Migrant Plan
Bush to Push for Temporary Worker Program
Powell Cautious About Immigration Changes
Guest-worker program back on table for US and Mexico
Bush Renews Migrant Pledge
Bush, Fox agree to summit next year on border issues