| | | |
| --- | --- | --- |
| | Quiahuiztlan | |
"The next day about ten o'clock we reached the fortified town called Quiahuiztlan, which stands amid great rocks and lofty cliffs and if there had been any resistance it would have been very difficult to capture it. Expecting that there would be fighting we kept a good formation with the artillery in front and marched up to the fortress in such a manner that if anything had happened we could have done our duty.
We went half way through the town without meeting a single Indian to speak to, at which we were very much surprised, for they had fled in fear that very day when they had seen us climbing up to their houses. When we had reached the top of the fortress in the plaza near by where they had their cues and great idol houses, we saw fifteen Indians awaiting us all clad in good mantles, and each one with a brazier in his hand containing incense, and they came to where Cortes was standing and fumigated him and all the soldiers who were standing near and with deep obeisances they asked pardon for not coming out to meet us, and assured us that we were welcome and asked us to rest. And they said that they had fled and kept out of the way until they could see what sort of things we were, for they were afraid of us and of our horses, but that night they would order all the people to come back to the town."
Bernal Diaz del Castillo, The Discovery and Conquest of Mexico, pages 89-90.

Click on the pictures

| | |
| --- | --- |
| | |
| Entrance | Quiahuixtlan is located between both hills. |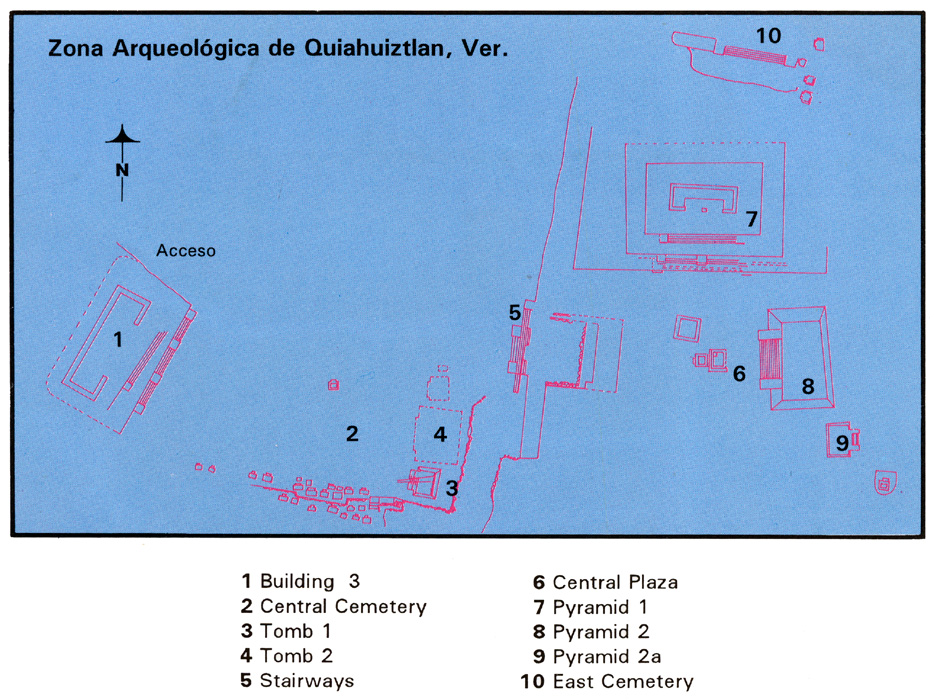 Ball Court
Eastern Civic Section
Central Cemetery
East Cemetery
Pyramids 1 and 2
Building 3

LINKS:
Quiahuiztlan: Ciudad, Cementerio y Fortaleza