Chicago Sun-Times
September 8, 2007

Gov's aide stays silent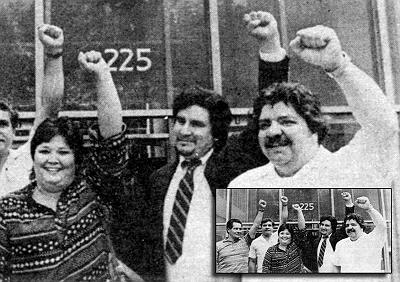 Steven Guerra, second right, in 1985. Inset photo
from left: Ricardo Romero, Julio Rosado, Maria
Cueto, Steven Guerra and Andres Rosado.
(Courtesy of Claridad)
SPRINGFIELD | Once-imprisoned Guerra refuses to discuss alleged ties to FALN
BY DAVE MCKINNEY Sun-Times Springfield Bureau Chief
SPRINGFIELD -- Steven Guerra refused Friday to speak about his alleged ties to the FALN -- just as he chose silence and prison after refusing to cooperate with a 1980s federal terrorism probe of the group.
Gov. Blagojevich's $120,000-a-year aide spent nearly two years in a federal prison for refusing a federal judge's order to testify before a grand jury investigating a wave of FALN bombings that terrorized Chicago and New York City in the 1970s and 1980s. Guerra chose to be convicted of contempt even though he was offered immunity from prosecution in exchange for his testimony.
The disclosures this week brought demands that he either explain his refusal to cooperate with federal investigators or leave his high-paying state job.
"This is very troubling, and I think he needs to set the record straight. If he can't set the record straight with a plausible explanation, I don't think he should be working for the State of Illinois," said Rep. Jack Franks (D-Woodstock).
Blagojevich spokeswoman Abby Ottenhoff denied an interview request with Guerra. Another Sun-Times reporter who also asked for time with Guerra and waited four hours for him to emerge from his Thompson Center office was similarly rebuffed.
Ottenhoff said Guerra has "chosen not to speak directly to the Sun-Times" about his past and that all she can do is relay his responses to questions posed to her.
Ottenhoff said Guerra did not testify before the federal grand jury in New York because "he did not have any knowledge relevant to the investigation, and he believed the process had devolved into a McCarthy-like witch-hunt." She said Guerra "clearly and unequivocally condemns the violence attributed to FALN."
A government informant who was a self-described FALN member allegedly recruited by Guerra told prosecutors that Guerra had been described as "one of the leaders of the resistance in the United States," seeking independence for Puerto Rico.
Guerra, who is of Mexican descent, spoke about attempts to break FALN members out of prison and attended a Puerto Rican meeting of "terrorists" where "the ambush of police officers and the destruction of dams" was discussed, the informant alleged in a pre-sentencing document.
Guerra was never charged with any of the violence FALN perpetrated.
The Blagojevich administration continues to support Guerra, a stance that has angered at least one FALN bombing victim.
Joseph F. Connor lost his father, Joseph, in a 1975 tavern bombing in New York City for which FALN took credit -- an attack the feds wanted to ask Guerra about.
"The very notion of this criminal working for government is incomprehensible. If Gov. Blagojevich does not immediately fire this criminal, the governor himself should be removed from office by the people. My father would not recognize a country that would allow this insanity to perpetuate," Connor said.
Tax lien questions surface
Ottenhoff said, "Our sympathy goes out to the Connor family. Those who were responsible for the Connors' loss should be held accountable."
Some state lawmakers said they were hearing from constituents Friday, asking why Guerra was on the public payroll.
"I have gotten calls from people in my district office who cannot believe this guy is working in the government," said Sen. Maggie Crotty (D-Oak Forest).
Sen. John Millner (R-Elmhurst), a retired cop, called the accusations against Guerra "appalling" and said he should immediately step down or be fired.
"If a police officer committed a felony -- he may be the best cop in the world -- you can't hire him. So therefore, how can they hire a $120,000-a-year deputy chief of staff in the governor's office with a past like this?"
But the politician who recommended Guerra for his state job, U.S. Rep. Luis Gutierrez (D-Ill.), lavished praise on a longtime acquaintance who "made what he considered a principled decision, and he paid a heavy price for that decision."
"I have known Steven for a long time. He is a good man who cares about making our state a better place to live," said Gutierrez, who persuaded President Bill Clinton to grant clemency to 11 imprisoned FALN members in 1999.
Meanwhile, new questions about Guerra surfaced Friday over a $33,954 federal tax lien filed against him for taxes owed. The Internal Revenue Service declined to answer questions about it, and Ottenhoff said Guerra was unaware of the 2002 filing. Another federal tax lien, tied to his divorce, has been settled.
"There has been no attempt to collect, and he has not received notice from the IRS, so at this point it's not clear if there is an outstanding balance due," Ottenhoff said, referring to the still-pending lien.
Contributing: Leonard Fleming, Annie Sweeney