Orlando Sentinel
September 15, 2006

Zoo home is coqui-dokey with Puerto Rican icons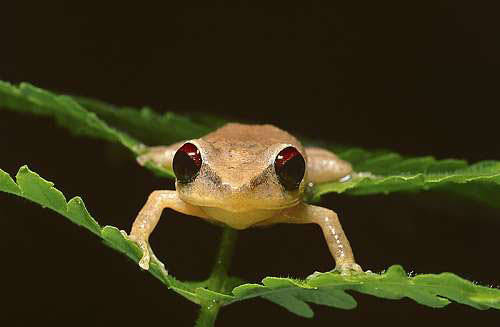 Walter Pacheco
Sentinel Staff Writer
A new sound can be heard among the warbles, hisses and growls at the Central Florida Zoo -- ko-kee, ko-kee -- and it has traveled here from Puerto Rico by way of Hawaii.
The coqui frog -- revered in Puerto Rico as a national symbol for its song, hunted in Hawaii for endangering the habitat of native species -- is the star of a new exhibit, which kicks off Saturday with a weekend celebration at the Sanford zoo.
Fiesta del Coqui, which runs through Sunday, celebrates this timid and controversial amphibian's history and folklore, as well as the traditions and culture of Puerto Rico.
"The zoo's collection didn't have anything that represented Puerto Rico, and we were approached with this great opportunity," says Shonna Green, zoo spokeswoman. "Not only do we have something that wholly symbolizes Puerto Rico, but it's an animal that's really adored by Puerto Ricans everywhere."
Evelyn Rojales, a Sanford resident originally from Puerto Rico, is excited about the exhibit and thinks it will be a hit.
"The coqui are very important and special to our people," Rojales says. "We'll do anything to see one in Central Florida."
There are 17 species of coqui; they are predominantly brown with some markings, such as a stripe down their backs.
They measure less than 2 inches, depending on the sex and altitude of habitat. Unlike other frogs, coqui don't posses webbed feet and cannot swim. Coqui can be found in the mountains of Puerto Rico's rain forests but also have adapted to the island's urban areas.
Their distinguishing character is the croak males emit during mating season. Only a few species of coqui are capable of the distinctive song.
"I can't stand toads and frogs because they are so slimy and bumpy, but the coqui is different because of its beautiful song," Rojales says.
A problem in Hawaii
Though the song of the coqui brings back nostalgic memories of Puerto Rico's wilderness and rich Caribbean culture, it reminds Hawaiian residents that the frog's voracious appetite has dimished the insect populations that serve as nourishment for the islands' native birds and frogs.
Officials at the Hawaii Department of Agriculture think coqui frogs were transported to the islands on curled leaves of bromeliads imported from Puerto Rico. The frogs lay about 20-30 eggs beneath the leaves of the cuplike center of the plants.
Coqui populations may exceed 10,000 per acre because of the lack of predators in Hawaii and their rapid rate of reproduction.
The 80-to-90-decibel pitch of their croak -- similar to that of a lawn mower -- also keeps residents and tourists from a good night's sleep.
Agriculture officials tried eliminating these invasive frogs with hot water, lime and a caffeine-based treatment that provokes an instant heart attack, but all these have damaged the native habitat.
The effect of the frog is so pervasive in Hawaii that local political candidates have included coqui-control programs as part of their campaign platforms.
Lilibeth Serrano, a United States Fish and Wildlife Service spokeswoman with Puerto Rico, says that the coqui is a national symbol "and many are already in danger of extinction. Some species have not been heard in years."
Thanks to frog-population-control programs in Hawaii, Central Florida Zoo herpetologists were allowed to collect 30 coquis and transport them to Florida.
Ah, a love song
Apparently local coqui frogs are doing well. Several males can be heard singing their famous song, and some baby frogs have been born.
"We were so happy to hear the ko-kee, ko-kee because we knew they would start mating," beams reptile handler Jennifer Stabile. "This is the first time that coqui are born in captivity in the United States. We'll probably add another 50 frogs to the collection. I'm anxious to hear our guests' reactions to these little frogs."
Wpacheco@Orlandosentinel.Com