The New York Times
May 12, 1998
Peña Gomez, 61, Three-Time Candidate for President of Dominican Republic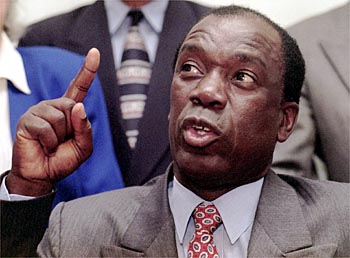 By LARRY ROHTER
Jose Francisco Peña Gomez, a three-time candidate for president of
the Dominican Republic who rose from a childhood of extreme
poverty to become one of the most prominent black political figures in
Latin America, died on Sunday night at his home outside Santo Domingo.
He was 61.
Peña Gomez had been battling pancreatic and stomach cancer for years,
but refused to give up his passion for politics. At his death, he was running
for mayor of Santo Domingo, the country's capital, in municipal and
congressional elections scheduled for Saturday, and polls showed him
with a comfortable lead.
President Leonel Fernandez, who narrowly defeated Peña Gomez in
1996, on Monday decreed a suspension of all campaigning and declared
three days of national mourning "in recognition of the contribution Peña
Gomez made to democracy in the Dominican Republic."
The campaign will then resume and the election will proceed as
scheduled, government officials said.
No politician openly acknowledging African ancestry has ever been
elected president of any Spanish-speaking Latin American nation in this
century, though a few of mixed race have held power. But Peña Gomez
came extremely close to achieving that feat, and even without occupying
his country's highest office came to be known throughout the hemisphere
as an eloquent spokesman for and defender of political, social, and racial
equality and justice.
"He was a great man, one of the very few people I have known who at
critical moments put democracy ahead of his own personal interests,"
Robert Pastor, the director of the Latin American and Caribbean program
at the Carter Center in Atlanta who knew Peña Gomez well, said on
Monday.
Peña Gomez was born on March 6, 1937, in Valverde to parents of
Haitian descent. As an infant, he was orphaned when Rafael Trujillo, the
military dictator of the Dominican Republic, ordered a massacre in which
more than 10,000 Haitians and Dominicans of Haitian descent in the
border area were killed and additional thousands fled across the border.
A peasant family took in the foundling, raised him as their own child, and
gave him their name. In one of the ironies that marked his public life and
illustrated his appeal to the poor, Peña Gomez's running mate in 1996
turned out to be none other than Fernando Alvarez Bogaert, scion of the
family that owned the ranch where he was raised.
"I am a human being who has experienced many vicissitudes," Pena
Gomez said in an interview in 1996. "I was born in an era of conflicts. I
have two sets of parents and two families. One is by blood, and the other
is the result of cohabitation. But both are dear to me."
As a result of his upbringing, Peña Gomez relied on his voracious
intellectual appetite to supplement a tenuous early education. At 8, he
worked in a grocery store and at a bar, and by the time he was a
teen-ager, he had taken jobs as a shoemaker's and a barber's apprentice.
At 15, he became an instructor in a literacy program for poor children in
his native province and later worked as a teacher in rural and night
schools. By 1960, he had moved to Santo Domingo, where he enrolled in
a broadcasting course and proved so natural a talent that a radio station
quickly hired him to announce baseball games and other sports events.
At the same time, Peña Gomez was making his first forays into politics.
After an interlude when he studied political science at universities in Costa
Rica and Puerto Rico, he became first the press secretary of the leftist
Dominican Revolutionary Party, or PRD, and then its secretary-general.
The PRD was the party of Juan Bosch, the radical firebrand who for 20
years had led the opposition to the Trujillo dictatorship. By the time
Bosch was elected president in 1962, Peña Gomez had emerged as a
protege. Bosch was ousted by a coup in 1963, however, and that led to a
civil war, and, in April 1965, an American invasion of the Dominican
Republic.
Peña Gomez took his oratorical skills to the streets and the airwaves to
head the opposition to that intervention, which led to Joaquin Balaguer's
becoming president and the PRD's being cast into the political wilderness
for 12 years. Repression was intense throughout that period, and Peña
Gomez eventually had to leave the country.
Taking refuge in France, he studied political science and constitutional and
labor law for two years at the University of Paris. Earlier, Peña Gomez
had earned a law degree from the Autonomous University of Santo
Domingo and had also studied political science in courses at Harvard
University and Michigan State University.
In exile, he also was involved in efforts to obtain international
condemnation of human rights violations in the Dominican Republic,
forging relationships with groups that were important for the rest of his life.
It was also during that period that Bosch and Peña Gomez had a falling
out that resulted in Bosch's breaking with the party that he had founded
and setting up a new one.
In 1982, Peña Gomez was elected mayor of Santo Domingo, which
automatically made him a strong contender for the presidency. But his
party passed him by in 1986, with some of its leaders arguing that it
would be impossible for a black man, especially one of Haitian descent,
to defeat Balaguer, who was foreign minister at the time of the 1937
massacre and was notorious for his disdain for blacks.
The PRD lost to Balaguer anyway, and in 1990, Peña Gomez finally won
the nomination. He finished third in a vote marred by widespread
accusations of electoral fraud after a campaign that was full of racial
innuendo, but he vowed to try again.
In 1994, he won his party's nomination for a second time, but had to
contend with what electoral observer-groups described as race baiting
and vote fraud that was even more blatant. The widely questioned final
official results showed him losing by 30,000 votes, and though many
political observers expected Peña Gomez to order his followers into the
streets to challenge the tally, he chose restraint and negotiation.
His first bout with cancer followed soon afterward. But the disease went
into remission after treatment in the United States, and, with Balaguer
barred from succeeding himself, Peña Gomez finished ahead of two
strong competitors in the first round of a special presidential vote in 1996,
receiving 47 percent of the vote. But he fell short of the majority that he
needed to avoid a runoff, and was narrowly defeated by Fernandez in the
second round.
Shortly thereafter, the cancer reappeared, and Peña Gomez spent most of
the rest of his life shuttling back and forth between Santo Domingo and
New York, where he underwent medical treatment.
In January, a factional dispute led him to jump back into the political arena
in the hope that his personal popularity and fiery oratory would enable his
party to make gains in the voting on May 16.
Surviving are his wife, Peggy Cabral, and eight children and stepchildren.
With his admirers converging on Santo Domingo from all corners of the
country on Monday, the Dominican government agreed that his body
would be displayed at the national baseball stadium to accommodate the
huge crowds that are expected.