New York Daily News
April 29, 2005

A Cuba libre in art
by Robert Dominguez
The third annual Cuban Arts Festival New York features dozens of Cuban and Cuban-American
musicians, playwrights, poets, filmmakers, dancers, artists and photographers out to show
that the best way to thaw the Cold War chill with the island is through art.
A month-long celebration at sites all over the city starts Sunday with "Retoversiones," a Cuban jazz
recital at Our Lady of Good Counsel, 230 E. 90th St. at 3:30 p.m. and a concert by Martín y su Rico
Tumbao at Ciao Soho, 150 Spring St. at 8:30 p.m.
For schedule information, go to http://www.cubanartsfestivalny.org.
Here's a look at four of the artists:
Ariel Fernandez Diaz, Hip-hop deejay
Cuba's main exports aren't limited to sugar, tobacco and Yankees
pitchers. One of the leading ambassadors of Cuban hip hop - a blend of
U.S.-style rap and traditional Afro-Cuban rhythms - is Fernandez Diaz,
aka DJ Asho.
Formerly one of Havana's top club deejays, Fernandez Diaz started the
hip-hop-themed magazine Movimiento, Cuba's only such publication.
He's also the creator of "Microfonazo," the island's only rap radio show.
"The Cuban rap movement isn't political, it's cultural," says Fernandez
Diaz, who will be spinning on May 11 at Art in General (79 Walker St.)
and speaking at NYU on May 13.
"The music hasn't really been marketed [in the U.S.]," he adds. "My
mission is to defend and promote the new voices of my generation, not
only here but across the world."
Ivan Acosta, Documentary maker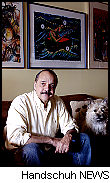 Though best-known for wistful fiction that reflect his experiences as a
Cuban exile, Acosta has lately turned to Latin jazz for inspiration. A
playwright ("El Super") and filmmaker (1985's "Amigos") who fled the
Communist regime in 1961, he shows his latest documentary on
Afro-Cuban music at El Museo del Barrio May 14.
Filmed mostly in New York, "Candido: Hands of Fire" is a loving tribute
to 84-year-old percussionist Candido Camero, a pioneer of the
Afro-Cuban jazz movement of the late 1940s.
Camero, who will appear at the screening, revolutionized Latin
percussion with his trademark three-conga set-up.
"He's done so much for Afro-Cuban jazz," says Acosta, 60. "So it's
wonderful to have had the opportunity to immortalize one of our heroes
while he's still with us."
Tania Bruguera, Artist
Few artists can spark controversy in two languages, let alone two
countries, like this performance artist. Bruguera's works often deal with
the relationship between art and power in Cuba. Her pieces have been
shut down by angry officials in Havana and have also attracted
anti-Castro protesters in Florida.
"I'm just trying to use art as a tool to make people think about what is
going on in their reality," says the Havana-born Bruguera, who lives in
Chicago.
Her latest, "Portraits," will be on display at Instituto Cervantes on May
13. It features a group of musicians clapping in rhythm to actual speeches
by figures including Albert Einstein, Adolf Hitler - and Fidel Castro.
"The musicians won't know what speeches are being given beforehand,"
says Bruguera. "It's all about playing with the idea of the vacuum of
politics."
Ricky J. Martinez, Playwright
He's a may be a first-generation Cuban-American born and bred in
Miami, but Martinez, 33, never strays far from his roots. For the past
decade, Martinez has been working on a trilogy of symbolic dramas
dealing with struggles among troubled characters who live on a tropical
island - including a tyrannical father whom Martinez hints is modeled on
Castro.
"It could be any island in the world," says Martinez, coyly. "But there are
elements of magic realism with touches of 'Cuban folklore' - which is
what I call the stories that have been passed down from my parents that
are based in truth."
The third part of the trilogy, "Heavenly Hands," will be given a reading at
Repertorio Español on May 10. Martinez is hoping to return next year
for a reading of the first installment, "Las Mulattas."
"Some characters cross paths from each of the plays," says Martinez.
"But each work is meant to stand on its own."