Boston Herald
Tuesday, September 21, 2010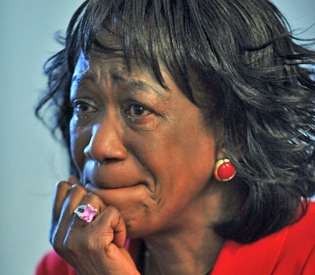 Obama's Aunt Zeituni: 'System took advantage of me'
By Jessica Heslam
President Obama's "feisty" Aunt Zeituni sat down with WBZ-TV anchor Jonathan Elias for her first TV interview - telling him she didn't take advantage of the system but the "system took advantage of me."
The interview came four months after Zeituni Onyango, 58 - a Kenyan native living in a South Boston housing project - won her bid to stay in the United States. She had been here illegally since 2004.
Onyango, who told Channel 4 she's been "treated like public enemy No. 1," said she's been getting monthly disability checks of nearly $700 after a doctor deemed her disabled in 2004. She said she lived in a homeless shelter before nabbing public housing.
"I didn't take advantage of the system. The system took advantage of me," Onyango said in the first segment of the interview, which aired last night during WBZ-TV's 11 p.m. news. "I didn't ask for it - they gave it to me."
Elias said he'd been trying to land an interview with Onyango for months - and she was a no-show when they set up two previous sit-downs. When she agreed this time around, Elias picked her up himself last Wednesday and drove her to the station.
Last night's piece began with Onyango declaring: "If I come as an immigrant, you have the obligation to make me a citizen."
"She's feisty," said Elias, who spent a couple hours with the president's infamous aunt. "While she's a fascinating woman, there is zero contrition."
The second part of the interview airs tonight at 11 p.m.