The Miami Herald
Thu, Jun. 24, 2004

'Worst is over' for pitcher comforted with his family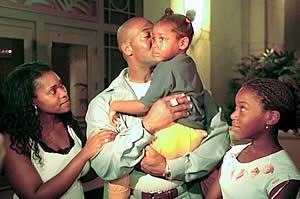 Yankees pitcher José Contreras holds his daughter
Nailenis, 3, with wife Miriam Murillo, left, and
daughter Nailan, 11.
BY KEVIN BAXTER
For the first time since he defected from Cuba's national baseball team more than 20 months ago, New York Yankees pitcher José Contreras awoke under the same roof as his wife and two daughters Wednesday morning. But six hours later, he was still trying to convince himself it was true.
''This is what I've been dreaming about for two years,'' said Contreras, flashing an uncharacteristic smile. ``This is the happiest day since I've been here. My children, they've grown. And my wife, I can hug them all. They're one of the reasons I came here. To take care of my family.
``And now to enjoy all this with them? I'm very happy.''
The reunion could have gone more smoothly. First, Contreras' wife, Miriam Murillo Flores, her sister, the two girls, a brother-in-law and five family friends were part of a group of Cuban migrants that spent three hours outrunning more than a half-dozen Coast Guard boats and a helicopter to reach Big Pine Key just before dawn Monday.
BACK TO IMMIGRATION
Then, after spending a day-and-a-half being processed by immigration officials, most of the group was forced to return to the immigration office Wednesday because of a clerical error in their forms. They also obtained identification forms that would allow them to leave South Florida for New York, where they will watch Contreras pitch at Yankee Stadium on Saturday.
But those were just minor inconveniences, Contreras said.
''It's been pretty emotional,'' he said. ``I have the people I love at my side. My family, my friends. It's going to be a lot more peaceful.''
Contreras said his wife never told him of her plans to leave Cuba, even though the trip was probably months in the planning.
''My wife was afraid to tell me,'' he said.
AT THE SAME TIME
So he took the mound Sunday at Dodger Stadium at almost the exact same moment his wife and children were stepping into the boat that would whisk them to freedom.
''At first, I didn't believe it,'' Contreras said of the Tuesday afternoon call informing him his wife and daughters were in the United States. ``But when I saw them here. . . . ''
Here Contreras stops talking and just smiles.
The family spent their first night together talking until nearly dawn, then put plans to go shopping on hold because of the immigration paperwork problems.
Contreras said he was surprised at how his daughters, Nailan, 11, and Nailenis, 3, have grown, but he had no doubt they would recognize him -- or at least his voice. They have spoken daily by phone since he walked away from the Cuban baseball team during a tournament in Saltillo, Mexico, in October 2002.
''I never thought it would take this long. I thought maybe six months, a year at the most,'' Contreras said of the reunion. ``It's been very difficult. For me, for my children, for my family.''
Contreras, 32, met his wife when he was 12 and she 11 and attending the same school. They quickly became sweethearts and then, four years later, were married. Except for the pitcher's trips abroad with the Cuban national team, the two were never apart until Contreras defected.
Since then, Murillo had been harassed by Cuban officials who accuse her husband, once a national hero favored by Fidel Castro, of being a traitor. She had been followed when she left the house and, even though she was twice given permission by the Nicaraguan government to emigrate to the Central American country, Cuban officials repeatedly told her it would be five years before she would be allowed to leave.
NEW BEGINNING
And now, the difficulties of separation are just beginning for Ramón Calá and Roberto Crespo, childhood friends who came with Contreras' family when they fled Cuba on Sunday night. As the three lunched on hamburgers and chicken wings on a patio at the Loews Hotel in Miami Beach on Wednesday, the two men broke down in tears as they spoke to relatives in Cuba on Contreras' cellphone.
Contreras couldn't suppress an uneasy laugh.
''I've been there,'' he said.
''Calm down. Everyone's fine,'' Calá told his family. ``Have faith in us.''
Finally Contreras took the phone, only to hear a frantic voice on the other end.
''The worst has passed,'' he said. ``They're here with me. The worst is over.''
That certainly would seem to be true for Contreras, who says his first nine months in the United States were hell.
A devoted father who loved to cook for his daughters and help the eldest with her homework, Contreras said he often thought about his family when he took the mound.
As a result, he struggled -- something the Yankees blamed on physical problems and mechanical flaws in his windup. Privately, however, the team conceded what everyone else knew: Their $32 million pitcher was homesick.
''I thought of them a lot when I was on the mound,'' Contreras said. ``Last year it affected me a lot.''
This season Contreras said he was able to leave his emotions in the dugout when he pitched, but not when he returned to his spacious New Jersey home and found that the bedrooms he had reserved for his girls were still empty.
HOME IN TAMPA
He also has a four-bedroom home in Tampa, where the family will live during the offseason and where his daughters will attend school.
In Cuba, the girls shared a tiny two-bedroom apartment in an aging government-owned apartment building on the outskirts of Pinar del Río.
''Now it's going to be much better,'' Contreras said. ``After a game I'll go to my house and have the family support that everyone has, in the good times and bad. It's like someone lifted a huge weight off me.
``That's going to relax me a lot.''
The Yankees are certainly hoping so. Contreras was 117-50 with a 2.82 earned-run average in 10-plus seasons in the Cuban League but has won just four of seven decisions and posted a 6.18 ERA in 11 starts with the Yankees this season.
Despite the hardships of the past two years, Contreras says he has no regrets about defecting. Especially now.
''One of the reasons I left was I wanted to play against the best in the world. I wanted to test myself as a pitcher,'' he said. ``The other reason was I wanted a better future for my children.''
And just the thought of that made him smile again.