The Miami Herald
Apr. 17, 2003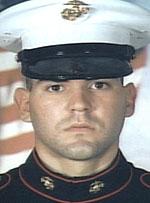 Marine called pregnant wife in Dade hours before death
BY ELAINE DE VALLE
It was about 5 a.m. Monday in Iraq when Cpl. Armando Ariel González, a U.S. Marine in southern Iraq who had been sleeping only four hours a night, finally got to the head of the telephone line and called his pregnant wife in Hialeah.
''He was very optimistic,'' Luidmila González said. ``He thought it would be two more months before he came home.''
Shortly before 3 p.m. Monday, Marines showed up at the insurance company where she works. Her mother was with them. She knew that couldn't be good.
They said her husband was dead, crushed by a military refueling tanker that collapsed as he worked beneath it. He is believed to be the first South Floridian killed in the war in Iraq.
''I couldn't believe it. I had spoken to him the night before,'' the young widow, 25, said Wednesday. ``How could it be? I still had his words from the night before in my mind. Even yesterday, I was with hope that they'd call us and say it was a mistake.
``Now I think that he felt deep inside that he had to make that phone call. God knows how long he had to wait in line, when he could have been sleeping.''
The Marine's father, Julio Orlando González, could not hold back his tears as his daughter-in-law spoke. As she turned the pages of the couple's wedding album, he forced down chicken soup made by his son's mother-in-law, Nancy Chaviano.
''I was his father and his mother. I'm proud of him because he knew how to wear his uniform very well, very well,'' he said.
He could speak no more.
Armando Ariel González's mother still lives in Cuba. The family is trying to find a way to bring her to the United States for his funeral, probably late this month.
LOVED THE U.S.
González, 25, was a Cuban rafter who arrived in the United States in 1995 by way of the Navy base at Guantánamo Bay and joined the Marines three years ago. He missed Cuba but loved the United States, although he was not a U.S. citizen.
He was a driver in Marine wing support squadron 273 who dreamed of becoming a firefighter or paramedic. He was a newlywed -- married less than six months -- described by his wife as romantic and caring.
''He had really deep feelings,'' Luidmila González said. ``He was always more concerned on what other people were doing. He joined the Marines to make his mom and dad proud.
``He was so anxious to become a father. I wanted to wait a little longer because we just got married, but he couldn't wait.''
If the baby is a boy, she wants to name him Armando.
''I want him to be so proud of his dad,'' she said, but then quickly added: ``I don't think that I want my child to join the military.''
Her husband loved military service, she said.
''He really enjoyed being a Marine. He didn't want to finish his four years [next year] without seeing real combat,'' she said, a wistful smile crossing her lips. ``He knew it was part of his job and he just did it.''
He was stationed at Marine Corps Air Station Beaufort in South Carolina and left for the Persian Gulf March 21, one of the last in his unit to be deployed.
''He didn't think they were going to send him because his whole unit was gone,'' Luidmila González said.
Until then, he came home to Hialeah every weekend, even if it was only for 24 hours. He had recently rented an apartment near the base, and his wife, four months
pregnant, was making plans to quit her job and move there.
LONG HOURS
Overseas, her husband was working long hours. ''He was driving all day long, sleeping only four hours,'' Luidmila González said.
González's death is the first among the 1,800 or so Marines deployed from his South Carolina base.
''The mood around here is very somber. We lost one of our brothers,'' said Capt. Don Caetano, base spokesman.
''We're a tight-knit group here and when something like this happens, everyone is affected,'' Caetano said. ``He was well-liked and well-respected. He's going to be missed.''
Caetano said the military was working to get González posthumous citizenship, as has been done with other noncitizen casualties.
''He and his father and his brother came over to America from Cuba. Just the steps that he took to even come to America and then to go defend the country and defend freedom and serve his nation,'' Caetano said.
The base will have a memorial service next week, Caetano said.
Family members in Hialeah, who must wait a week to 10 days before the Marine's body can be brought home, have not scheduled a service.
Just a few miles from Luidmila González's apartment, where the Marine's family mourned him Wednesday, the Rev. Alberto Cutie held a Catholic mass for González at the home of Ada Dominguez, another Marine mother. About a dozen women, mothers of other Marines and soldiers who are overseas, attended.
''Although it is not my son, one feels like it is,'' said Marta Mendez, whose son Fausto Mendez is in Iraq. ``I feel the pain of that mother.''
Next to her, Haydee Alacan wept.
''I feel like every Marine who dies is like my son dies,'' said Alacan, whose son, Carlos Alacan, 29, is also overseas.
``They are extraordinary men and women who deserve love and respect. They are on a big mission and they've done it because it's their duty and because of their
principles and because of their love for humanity.''