Click on the pictures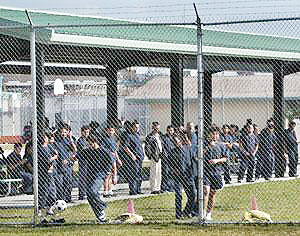 Detainees at the Krome detention center play soccer, or watch, in a recreation area.
Bunk beds for noncriminal detainees at the
Krome Detention Center have compartments
for the few personal possessions they can keep.
Detainees do legal research in the law
library at Krome, which is available to
them on request.
ARTICLES FROM 2005
A Mexican Manual for Illegal Migrants Upsets Some in U.S.
Legal Residency Extended for Salvadorans
Immigration plan discouraged by GOP lawmakers
Record Immigration Changing New York's Neighborhoods
New plan for border security: Chips on visas track crossings
At Krome, life on hold
FEBRUARY
Two activists square off on immigration issues
Criminals at the Border Thwarted by Own Hands
Mexico's Migrants Profit From Dollars Sent Home
MARCH
Most Mexican Illegal Immigrants Open to Worker Program
An Often-Crossed Line in the Sand
Smuggling Trial in Texas Focuses on Trucker's Role
Truck Driver Spared Death in Smuggling of Immigrants
Conservatives Split in Debate on Curbing Illegal Immigration
Most migrants want to stay in U.S.

APRIL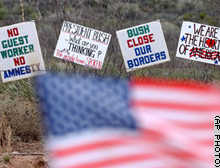 Border volunteers accused of holding man against will
President Seeks Change in Plans at U.S. Borders
College facing fines for housing Minutemen without permit
Report: Border sensors defective
Border militia takes toll on Douglas
April 15 Anxiety With Twist
Minuteman founder leaving Mexico border area
Driver's License Curtailed as Identification
Security proposal would alter flow of military data
U.S. soil enticing Mexican women
Senate OKs funds for border agents
JULY-DECEMBER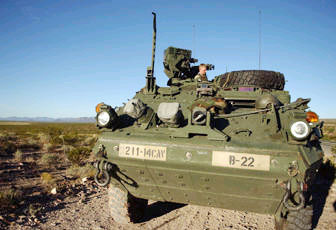 Armored vehicles from a reconnaissance squadron
based in Fort Lewis, Wash., were stationed along a
20-mile stretch of highway 9 between Columbus and
Playas, N.M., watching for illegal immigrants. (AP)
Rising tide of Brazilians seeking illegal U.S. entry
'Other than Mexican' migrants are rutinely released
Now departing for Mexico: one-way flights for illegals
A long, painful journey. Now an uncertain future.
Haitian teen wins battle to stay
Bush plan on illegals dims hopes for agenda
Tancredo pushes GOP to tackle immigration
Illegal immigration becomes security issue
Immigration Sting Puts 2 U.S. Agencies at Odds
10 Are Charged With Smuggling of Immigrants
Student deportation case thrown out
6 Mexicans to be deported
Number of border deaths sets record in Ariz., overall
Illegals Afraid to Get Storm Aid
Hayworth Introduces 'Enforcement First' Immigration Reform Bill
Bank of America offers free money transfers to Mexico
Slim Pickings in California
The immigration equation
Migrants integral part of state economy
Border Solutions
Cuban exile likely to direct bureau
Greyhound's illegal-immigrant policy draws criticism
Bush Polishes His Guest Worker Plan
Broken border, broken record
GOP mulls ending birthright citizenship
Mexicans head north for a better life. Way north.
Immigration bill gets support
Plan aims to shore up borders
How rapists prey on vulnerable border crossers