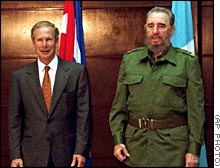 HAVANA (AP) -- Guatemalan President Alvaro Arzu returned home Wednesday after a friendly state visit to Cuba that marked a warming relationship between two countries once strained by the ideology of the Cold War.

Before traveling to the airport, Arzu said he was encouraged by the new relations, which had marked by both "criticism and applause."

"We are going to strengthen the relationship," Arzu said.

During his visit, Arzu and President Fidel Castro agreed to cooperate in drug interdiction efforts and signed other bilateral accords on agriculture and maritime transport. Guatemalan businessmen explored investment opportunities with Cuba's state enterprises.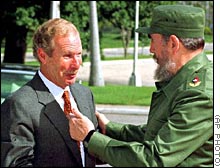 Arzu said he looked forward to returning to Cuba in November for the Ibero-American summit, an annual meeting of Spanish, Portuguese and Latin American leaders. "Very important communication ties are established among the leaders" during those annual meetings, he said.
Relations were severed in 1961 after anti-Castro exiles trained at Guatemalan camps launched the disastrous CIA-sponsored invasion on Cuba's Bay of Pigs. Diplomatic ties were restored early last year.
In late 1996, Arzu's government and Marxist-inspired rebels signed an agreement that ended 36 years of civil war in the Central American country. Cuba sided with the Guatemalan rebels during the conflict and some were trained on the island.
Copyright 1999 The Associated Press.