CNN
January 17, 2000


Evacuees returning as Guatemalan volcano threat eases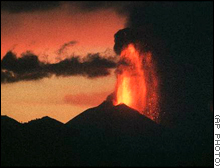 From staff and wire reports
GUATEMALA CITY (CNN) -- About 800 people evacuated Sunday from
three villages around the erupting Pacaya volcano near Guatemala City were
expected to return to their homes on Monday afternoon.
Lava continued to flow from the volcano, but officials said the flow did not
pose any danger and they expected activity to lessen. The red alert status, the
most severe, was lowered to yellow. The airport in Guatemala City, 50
kilometers (31 miles) to the north, was reopened after being closed Sunday
afternoon.
Eddie Sanchez of the Guatemalan Meteorology Center said Monday morning
that ash continued to spew from the volcano and the lava flow had traveled
about 900 meters (985 yards) down the mountain.
Sanchez said there had been no reports of deaths or major injuries from the
eruption.
The Pacaya volcano is located close to the Aurora airport near the town of
San Vicente, about 35 kilometers (22 miles) from Guatemala City. Pacaya
erupted Sunday, sending lava, fire and ash thousands of feet into the air, and
forcing the evacuation of about 2,000 nearby residents, according to free lance
journalist Martin Asturias.
"Some people don't want to leave their homes," Asturias told CNN by phone
Sunday night.
Estimates of the total number of people evacuated due to the volcano's activity
ranged from 1,300 to 2,000.
Part of crater appears destroyed
Asturias said more than 50 people who were close to the volcano when it
erupted had been burned or otherwise injured. "Those people were evacuated
immediately and were treated by firemen and emergency services," Asturias
said.
Experts at a local seismological station reported glowing lava flowing south
from the volcano toward the town of El Caracol. They said part of the
volcano's crater appeared to have been destroyed by its own eruption.
Luis Alberto Sanchez Flores, of the National Volcanologist Institute, said the
eruption was sending spurts of lava 1,000 meters (1,100 yards) into the air and
heavy winds were carrying flakes of ash as far as 48 kilometers (30 miles)
south of the volcano.
Pacaya most active of nation's volcanoes
Pacaya is the most active of Guatemala's 32 volcanoes, with three lava flows
formed by eruptions between 1989 and 1991.
In 1998, the volcano twice spewed up plumes of ash, forcing evacuations and
shutting down the airport in Guatemala City.
Correspondent Harris Whitbeck, The Associated Press contributed to this report.