St. Petersburg Times
March 18, 2002

On the air: Voice of an exiled daughter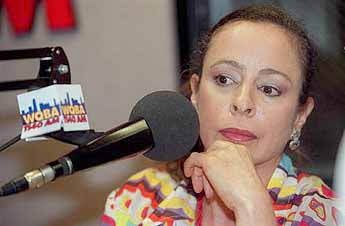 Alina Fernandez is attracting an audience in Miami where she is the host of a radio show that directs anger toward her father - Fidel Castro.
By THOMAS C. TOBIN
MIAMI -- It is 11 p.m. and Fidel Castro's daughter is on the air.
"Buenas noches, amigos," Alina Fernandez begins, only a month into her part-time job as a late-night talk show host on WQBA, the Cuban-American radio station.
"I want to say that my generation has been the victim of the manipulation of Cuban history," she says in Spanish, blasting her father's regime in a velvet voice made for
radio. "So tonight is a special night for us, especially my generation."
If this were Tuesday or Thursday, the fare on her variety show, Simply Alina, would be lighter. A painter, maybe a musician, would grace the guest chair. But it is
Wednesday, which means only one thing: total immersion in Cuban politics.
The in-studio guests include Napoleon Vilaboa, a broad-chested man with glasses and a thick gray mustache. He is a lion in Miami's Cuban exile community, having
fought in the Bay of Pigs invasion.
The night's topic is the 45th anniversary of the March 13 student raid on the Presidential Palace, where Cuban revolutionaries made their way to the second floor
before Fulgencio Batista's guards stopped them.
Alina Fernandez, born in 1956, was a baby at the time, the product of a 1955 summer affair between her mother and Castro while both were married to other
people. Today, eight years after escaping the island disguised as a tourist, Fernandez finds herself reliving Cuba's past with the help of fellow exiles. She also is seeing
her country's history from a vantage point that still seems new to her -- from outside the isolated orbit of communist Cuba.
"I'm learning today," Fernandez says before taking her seat behind a softball-size microphone for what will be a two-hour show.
With her long black hair pulled back into a sideways ponytail, she is wearing light blue slacks, pale violet shoes and a brightly colored blouse of complicated patterns.
She is decidedly anti-Castro but in a subdued way that contrasts with the passions of people like Vilaboa, who waves his hands, scrawls notes on a legal pad and fills
the microphone before him with rat-a-tat bursts of speech that echo the gunfights of his youth.
The grizzled exile argues two points. One, that Castro had nothing to do with the palace raid, as some people believe. And, two, that those in charge of the raid
wanted to form a democratic government. Jailed as a political prisoner at the time, Vilaboa could not participate.
"If we would have succeeded in the attack, the history of Cuba would be completely different because Castro never would have taken power," he laments over
Miami's public airwaves as the phones blink with five waiting calls. "We would all be in a very happy and fulfilling country."
This is how Spanish-language radio is done in Miami, home to 700,000 people of Cuban heritage.
"Cuban radio has the effect of opera," said Joe Garcia, executive director of the Cuban American National Foundation and a recent guest on Simplemente Alina.
It is a world, he said, of bold, categorical statements and over-dramatized discussion. "But people listen and people listen with great interest."
As for Castro's daughter: "She brings a different spin," Garcia said. "Clearly, she knows the Cuban drama from the inside and she can certainly add to the depth of
knowledge."
The show is so new that the station's Web site does not yet list Fernandez among its hosts. It takes at least three months for ratings to come in, so it is far too early to
know the size of her audience. But judging from calls, e-mails and letters, the response is better than expected, said programing director Chuny Montaner.
"She's very up-to-date and very well-versed in politics," Montaner said. "She gets interesting responses and she asks good questions ... She has a soft approach. But
that doesn't mean she's soft at all."
Neither the radio station nor Fernandez mention the host's unique tie to Fidel Castro. Said Fernandez: "People just know."
The first-time listener might be attracted by her celebrity, said Montaner. "But when they listen to her a second time, it's because they like something about her."
Fernandez grew up an unhappy child on the outer edges of Castro's mildly privileged entourage. Her mother, Natalia Revuelta, was a rich and beautiful socialite
married to a doctor, Orlando Fernandez, when she fell in love with Castro.
Alina Fernandez has detailed her story in a 1997 book, Castro's Daughter: An Exile's Memoir of Cuba, where Revuelta is portrayed as a distant mother who ceded
intimacy and the work of parenting to a black nanny named Tata Mercedes.
The experience left Fernandez emotionally scarred. She has had four husbands and says she still battles anorexia, which is the subject of a soon-to-be-published
second book, Una Hoja de Lechuga, or A Leaf of Lettuce.
Through much of her youth, Castro visited often, according to Fernandez' first book, which relates mixed feelings about the "maximum leader."
She remembers meeting him for the first time as a very young child: "(My mother) put me on the floor in the midst of a cloud of cigar smoke, and there, his head lost
in a bluish stinking cloud, was the top hairy man ... He bent down ... and inspected me ... I did not want to give the man a kiss: his face was too hairy."
A more kindly memory of Castro comes later after Fernandez, her mother, her grandmother and the nanny are allowed to live in the abandoned home of a wealthy
Havana family that fled the revolution. "Though he no longer came practically every night the way he had before the argument with (my mother)," she wrote, "one
could feel his presence like a warm mantle protecting our home."
Later, Fernandez had a daughter, Mumin, and became active in Cuba's opposition movement. That, coupled with hard conditions, made life in Havana unbearable,
she says.
She described a toilet in her apartment that could not be fixed for a year and half, nightly blackouts across the city, struggling to get medication for an ulcer, even the
absence of flowers in Havana -- not to mention the watchful and paranoid eye of her father's regime.
"I think that my father did a very bad job for Cuba. Cuba is ruined," Fernandez said last week, recalling her 1993 escape at a table in the Versailles Restaurant, a
focal point of Miami's Cuban culture.
Castro's daughter apologized that her English was not perfect. She sipped a glass of ice water and declined to eat lunch -- a lingering symptom of her anorexia.
"It's not normal. I should be hungry. I'm not," she said. "I have always a bizarre behavior toward food."
At age 38, she resolved to leave Cuba for the sake of her daughter, then 16.
She said a friend in Miami helped her get a fake Spanish passport and sent her a wig, a pair of gloves and a brown raincoat to disguise herself as a Spanish tourist.
She put on bright red lipstick, doused herself with Chanel perfume and strutted through Havana's tiny airport terminal using a loud Spanish accent.
"The technique was, instead of trying to hide, I try to attract attention," she said. "So it was really a good performance."
After flying to Spain, she went to live in Columbus, Ga., with the help of a wealthy ally and then-U.S. Sen. Sam Nunn, an influential Democrat. Her daughter was
allowed to join her. After 3 1/2 years, she went to New York City to see about publishing her book. She stayed three years, then went to Spain to write. Last year,
she joined her daughter in Miami.
The two live together in a plain beige home in Little Havana, sharing expenses and making ends meet. Fernandez, 45, said she is looking for a night job that would
start after her radio show ends at 1 a.m. She doesn't sleep much, she said.
Her daughter works in an office by day and as a dancer by night.
Fernandez last spoke with Fidel Castro when she was in her 20s. She writes letters to her mother, but they do not speak.
"I don't know what an old lady alone by herself in Cuba is doing, but that's where she wants to be," Fernandez said.
Fernandez said she lives in the U.S. under a re-entry visa and has been told that citizenship is not an option.
Today, the talk in Miami is of what will happen when he dies. His radio host daughter, for one, will have mixed feelings.
"I have missed as a human being a relationship with a father," she said. "But at the same time he damaged so many Cubans, and in that sense I was a victim, too. So I
feel more as any other Cuban, and I suppress a personal feeling because you cannot deal with both."