CNN
October 18, 1999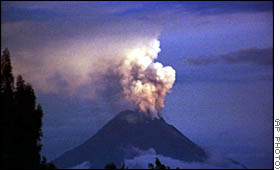 Ecuador's 'Throat of Fire' rumbles and rains ash
COTALO, Ecuador (Reuters) -- Tungurahua, or "Throat of Fire" in the
Quechua Indian language, rumbled and rained ash on Monday, raising
fears of an eruption in the near future that could pour lava into one of
Ecuador's top tourist attractions.
Many of the 20,000 residents of nearby Banos, about 105 miles (170
km) south of the capital, Quito, evacuated their homes on Sunday, while
authorities monitored the volcano and began preparing on Monday to
evacuate 162 animals from a zoo.
With its hot springs and waterfalls tumbling down green slopes, Banos is one
of Ecuador's biggest tourist attractions. Just below the equator but at 5,900
feet (1,800 meters) above sea level, it enjoys a crisp climate of eternal spring
and a spectacular view of snowcapped Tungurahua.
Tungurahua began to rumble in September and last erupted in 1918, when locals
fled wearing wooden bowls on their heads to protect against falling rocks.
It towers 15,060 feet (5,020 meters) above sea level and is one of
Ecuador's 31 active volcanoes. Tungurahua has erupted 81 times in the past
3,000 years. Scientists say the volcano erupts about every 100 years and
lava could flow over a ridge into parts of Banos.
Scientists declared an "orange alert" on Saturday for Tungurahua, meaning
Banos and residents of other villages on the volcano's slopes must move.
At dawn on Monday, Tungurahua belched a dense column of ash and vapor
that could be seen 25 miles (40 km) away.
"All the conditions are ripe for an imminent eruption," said volcanologist
Patricia Mothes of Ecuador's Geophysical Institute.
Fellow volcanologist Minard Hall said, "There's no doubt there will be an
eruption."
Volcanologists said there was an 80 percent chance Tungurahua would
erupt, but they could not pinpoint when.
Armed troops controlled the movement of people and cars around Cotalo
to turn away the curious and discourage pillaging in the abandoned towns.
The volcano "hasn't stopped throwing up ash, it seems it's increasingly
active," a soldier told Reuters at Cotalo in increasingly cold weather.
Banos seemed like a ghost town on Monday after most residents went to
Ambato about 25 miles (39 km) from Tungurahua. But experts said that city
of 173,000 could be showered with ash depending on the wind's direction.
Only a few weeks ago, about 2,000 people living near Quito were forced to
evacuate their homes due to the possibility that the nearby Guagua Pichincha
volcano could erupt. Quito, a city of 1.2 million people, is surrounded by
nine volcanoes, and Guagua Pichincha has begun to shower it with ash.