The Miami Herald
August 24, 1998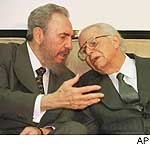 Castro meets with former Dominican leader
By JUAN O. TAMAYO
Herald Staff Writer
SANTO DOMINGO, Dominican Republic -- Their ages add up to 163, their years
as presidents of Cuba and the Dominican Republic total 62. So when Fidel Castro
and Joaquin Balaguer met Sunday, they begot history.
``The last of the Caribbean dinosaurs!'' marveled Dominican historian Miguel
Guerrero. ``They share a passion for power, an authoritarian culture. In real terms,
they are authentic caudillos,'' or strongmen.
Castro, on a five-day visit to Cuba's Caribbean neighbor, also met Sunday with Juan
Bosch, the aged leftist whose 1963 election as president led to a coup, a civil war
and then a U.S. military invasion to avert ``another Cuba.''
He also visited the western town of Bani, birthplace of Cuban independence hero
Maximo Gomez, where about 1,000 people cheered him in a plaza festooned with
banners reading ``Hero of the Americas, Welcome.''
But it was his visit to Balaguer's home that left watchers agog, wondering what two
of the most enduring figures of Latin American political history and longtime
antagonists might talk about.
``Here you have me, like a soldier,'' Balaguer was heard telling Castro in a barely
audible tape recording of their 40-minute meeting. Castro was heard calling one of
his host's remarks ``very intelligent.''
Balaguer sat all but slumped into a corner of a sofa in his sparsely furnished private
office, while Castro sat to his right. Each wore a suit and tie.
Historic meeting
By any yardstick, it was a historic meeting.
Balaguer, 91 years old, blind and almost immobile, is a conservative who persecuted
Dominican communists in the 1960s and '70s, sometimes to the death. Castro, 72,
remains a post-Soviet champion of communism.
Castro armed and trained Dominican guerrillas who tried to topple dictator Rafael
Trujillo in 1959 and Balaguer in 1973. Balaguer was vice president when Trujillo
armed Cuban exiles for a botched invasion of their island soon after Castro seized
power in 1959.
Balaguer ruled the Dominican Republic for 22 of the last 32 years through a crafty
mixture of force, fraud and patronage. Castro has ruled Cuba for nearly 40 years
through a Leninist single-party system.
But if their meeting Sunday was incongruous, it was only the latest sign that many
Latin Americans have begun to make their peace with a man they once abhorred as
a promoter of armed Marxist subversion.
Changing attitudes, times
Some have forgiven, some have forgotten. Balaguer himself began a discreet
opening toward Cuba in the mid-1980s, though he blocked a resumption of diplomatic
ties until he left office in 1996.
Most are simply from a generation too young to know.
``Who is that?'' 14-year-old Glorivi Rodriguez asked as she looked at a wreath laid
by Castro Saturday at the tomb of the Dominican Republic's founding fathers. A
ribbon said simply, ``From Fidel Castro Ruz.''
Jorge Castañeda, historian of the Latin American left, said he's not surprised that
countries afflicted by Castro-armed guerrillas in the 1960s and 1970s are now willing
to embrace him.
``Cuba no longer represents a threat because the Cold War is over and Havana is
not a model to follow,'' Castañeda said in a telephone interview from his home in
Mexico City. ``Havana is not a beacon anymore.''
Revealing secrets
Havana, in fact, now seems to consider its subversion efforts so ancient that it
published a book last year, for the first time giving details of its campaign to ``export
the revolution.''
In his Secrets of the Generals, journalist Luis Baez interviewed 41 top Cuban
military officers, who proudly recalled their meddling in Argentina, Venezuela,
Nicaragua and Bolivia. Others alleged but still not confessed: Colombia, El Salvador,
Guatemala and Puerto Rico.
Castro himself admitted last month that his government had armed several guerrilla
groups in the 1960s, including the Tupamaros in Uruguay, one of the most deeply
rooted democracies on the continent.
Uruguay's usually mild-mannered President Julio Sanguinetti exploded with anger.
Castro's admission, he charged, ``shows that we were attacked by a totalitarian state
. . . that brought violence and blood.''
But none of the other Latin American nations targeted for subversion ever protested
after Baez's book was published. They forgot, forgave or simply chose not to make
a public stink about it.
The astute politician
Perhaps that's why Castro sought out the meeting with Balaguer, to close a dark
chapter of Cuban-Dominican history, during his five-day visit that ends today.
But perhaps he simply wanted to meet one of the hemisphere's most astute and
colorful politicians, a man who sometimes seems to inhabit novelist Gabriel Garcia
Marquez's magical-realist land of Macondo.
Balaguer, a deeply religious bachelor, has long employed a series of dwarfs as
household servants and lived in what was once the maids' quarters of his family's
home in central Santo Domingo.
During his 1994 election campaign, aides handed out red panties to women
supporters and bicycles to children. And even as Dominicans suffered through
massive power blackouts, he spent millions to build a lighthouse that shoots a spooky
beam shaped like a Christian cross high into the sky.
Castro has his own idiosyncrasies. He is said to go to bed between 4 and 5 a.m.
most days, and the names of his wife and children are state secrets. No foreigner
has ever been known to visit his private home in Havana.
And what of Castro's and Balaguer's future plans?
Castro, who turned 72 this month and will mark 40 years in power on Jan. 1 -- he is
the world's longest-ruling nonhereditary government leader -- has repeatedly said
that ``revolutionaries never retire.''
Supporters of Balaguer, who was forced to step down in 1996 by a constitutional
change, have been printing decorative license plates that say ``Balaguer 2000-2004''
-- a reference to the next presidential election.
Balaguer would be 93 years old when he runs, but few Dominicans who know the
crafty politician are betting against him.