The Miami Herald
Feb. 18, 2002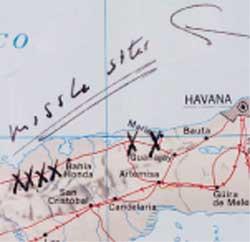 Cuba map linked to JFK finds new route to Miami
BY ELAINE DE VALLE
For sale: An old color map of Cuba, circa 1962. In good condition -- except for some handwritten notes on the front
and back.
Price: $750,000.
See, the notes reportedly were written by President John F. Kennedy on Oct. 16, 1962, when he was told there were
Soviet missiles on the communist-ruled island.
Nine X's mark the spots where the missiles were thought to be -- near Bahia Honda and Guanajay, both west of Havana.
The words ''missile sites'' are underlined twice and surrounded by arrows. On the back, in the same black ink,
Kennedy doodled some words, apparently from his discussion that day with his 12 top advisors: ''NATO,''
''Cuba,'' ''Reconnaissance,'' and ``hoping to intercept.''
The map is being sold by a dealer in historic memorabilia in Washingtonville, N.Y. And he thinks he can
find a buyer in Miami -- someone who will treasure it, said the dealer, Gary J. Zimet.
''I'm sure with the large Cuban community, this would have especially great interest,'' he said. ``It
should go to a good home, someone who'll appreciate and take care of it.''
Zimet is selling the map for the second time.
''I sold it to a client about three years ago and am now selling it on his behalf. He's looking to divest
himself of some of his fine-arts holdings,'' said Zimet, president of momentsintime.com, which sells
autographs, letters, manuscripts, signed photographs and other historic documents.
Items on Zimet's website include a book of poems reportedly written by The Doors frontman Jim
Morrison about a month before his death ($500,000); a check seemingly signed by mobster Meyer
Lansky on July 1, 1938, payable to a Dr. Tishler for $35.50 ($850), and a two-page letter written and
signed by Sigmund Freud on his Berggassel Vienna stationery in 1936 ($5,750).
Last year, Zimet's outfit sold the album signed by John Lennon to Mark Chapman five hours before
Chapman shot Lennon dead in 1980. It fetched $460,000, Zimet said.
BIG TICKET
But the map is his big-ticket item.
''In all modesty, it's about the best damn thing I've ever sold,'' he said. He said his client asked him not
to divulge how much it sold for three years ago.
''I can't overstress the importance of the piece. It's unarguably the best Kennedy autograph that has
ever been for sale,'' said Zimet, who gets a 15 percent ``buyer's premium.''
Zimet acknowledges that the piece probably belongs in a museum, such as the Florida International
Museum in St. Petersburg, home of the world's largest private collection of John F. Kennedy artifacts.
Exhibits feature such objects as a rocking chair used by Kennedy in the Oval Office, a pen Kennedy
used to sign the Nuclear Test Ban Treaty, and the slain president's prescription sunglasses.
In fact, the man who amassed the collection at the museum -- much of which was bequeathed to him
by Evelyn Lincoln, Kennedy's personal secretary -- was Robert White, a collector of Kennedy
memorabilia and the one who originally had the map. He sold it to a collector, who later sold it to
Zimet.
Zimet said the map, which he says White told him was prepared by the CIA, was probably given to
Lincoln by Kennedy himself. ``In addition to being his secretatry, she was his confidante, and he gave
her many, many artifacts, highly important ones over the years.''
The museum in St. Petersburg would be happy to have it, said Sharon Jackson, a vice president of
sales. ``It would fit nicely with either our JFK exhibit or our Cuban missile exhibits.''
But, alas, the museum does not buy -- it takes donations.
Jackson said there would not be many people who knew about the map to authenticate it. ``That
would be something that would come under defense or security or something. That would have been
classified top secret, I'm sure. Research on it would be futile.''
DOCUMENTATION
But it does come with a documentation letter from White, who said he got confirmation from a former
CIA topographer who said it was definitely prepared by the agency. He believes Zimet's map is the
same one he had -- and now rues the day he got rid of it.
''I would have rather kept it with the Cuban Missile Crisis material I collect,'' White said. He said it
would have gone nicely with a magnifying glass Kennedy reportedly used to check out the fine print.
But it was rather large and he didn't have a place for it.
``At that time, I didn't have any prospect of a museum.''
What he did have was a very eager client who ''just drove me crazy about selling it to him.'' So he did.
``It was basically a family decision to sell it.''
He won't say what he got for it. But he did say it was a popular item. ``Everybody that saw it loved it
and wanted it.''
When told Zimet was seeking three-quarters of a cool million, White gasped. ''Oh, my God! That's
nowhere near the value I placed on it back in 1996,'' he said. ``I would have loved to have gotten
that.''
Does he think it will fetch that sum? ``It might. . . . People pay $3 million for a baseball.''
Members of the Cuban American National Foundation would like to hang the map at the Freedom
Tower when the restoration of the building -- itself historic for different reasons -- is complete.
But the influential lobby won't shell out the cash.
''If he would like to donate it to us, we would love to display it,'' said executive director Joe Garcia.
``But I can think of a lot of other things that, with $750,000, can be more useful for the struggle for a
free Cuba.''
Jaime Suchlicki, director of the University of Miami's Institute for Cuban and Cuban American studies,
would also love it -- but not at that price.
`ENOUGH MAPS'
''Number one, the university isn't going to spend that kind of money. Number two, we got enough
maps,'' Suchlicki said. ``I don't know that anybody would pay that kind of money for that thing without
Kennedy's signature.''
But he has a counteroffer: ``I'll give him $50 right now to hang it in my office.''