Alfonso Bedoya
(1904 - 1957)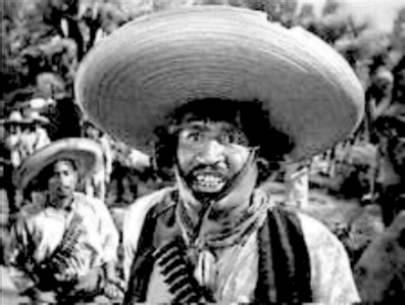 Here is an actor noted for a single line of dialogue. He was the perfect Mexican bandido with his weather-beaten face, and menacing, sardonic smile. Born in Vicam, Sonora, Mexico on April 16, 1904, he started his career in Mexican films as a character actor. He left the tiny village of his birth and his family moved from place to place all over Mexico. He lived in Mexico City for a time. As a teen he moved to Houston, Texas where he attended a parochial school but he soon quit school and set out working odd jobs and trying to eke out a living. Eventually he ended up back with his family in Mexico City. He found work in the Mexican Film Industry and from there he was discovered by Hollywood and cast in "Treasure of the Sierra Madre" (1948), his American film debut, as Gold Hat the bandit. It is in that film where we hear, in his thick Mexican accent, the infamous line: "Badges? We ain't got no badges! We don't need no badges. I don't have to show you any stinkin' badges!" It is a classic like the film itself. He made other American films but none to match "Treasure..."
Among his other films were: "La Golondrina" [The Swallow] (1938) his film debut in Mexico; "El Gavilan" [The Hawk] (1940); "Los de abajo" (1940); "Los Olvidados de Dios" [Those Forgotten by God] (1940); "El Gendarme descondido" [The Unknown Policeman] (1941); "Simon Bolivar" (1942); Los Tres Mosqueteros" [The Three Musketeers] (1942); "La Virgen morena" [The Virgin of Guadalupe] (1942); "Doña Barbara" (1943) as Peasant; "La Perla" [The Pearl] (1947) as Godfather, also in Mexico; "Bells of San Fernando" (1947) as Guard at the Pass; "Si me han de matar mañana" (1947) as El Nagual; "Angel in Exile" (1948) as Ysidro Alvarez; "Angel on the Amazon" (1948) as Paulo; "Streets of Laredo" (1949) as Charley Calico; "Border Incident" (1949) as Chuchillo; "The Fortunes of Captain Blood" (1950) as Carmilio, Prison Overseer; "The Black Rose" (1950) as Lu Chung; "Man in the Saddle" (1951) as Cultus Charley; "Stronghold" (1951); "California Conquest" (1952) as Jose Martinez; "Sombrero" (1953) as Don Inocento; "The Stranger Wore a Gun" (1953) as Degas; "Border River" (1954) as Capt. Vargas; "Ricochet Romance" (1954) as Alfredo Gonzales; "Black Pirates" (1954) as Garza; "Ten Wanted Men" (1955) as Hermando; "The Big Country" (1958) as Ramon Guiteras, his last film.
Unfortunately, a problem with alcohol ruined his health and ended his career. He died in Mexico City, Mexico on December 15, 1957.