CNN
September 27, 1999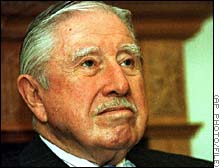 Court hears torture allegations against Pinochet
LONDON (CNN) -- An attorney for Spain told a British magistrate on
Monday that allegations of torture against former Chilean ruler Augusto
Pinochet warranted his extradition to Spain under British law.
"An act of torture by a public official anywhere in the world is an offense
under United Kingdom law," said Alun Jones. "It becomes simply facile to
argue that these offenses are a matter for Chile and no one else."
Deputy Chief Magistrate Ronald Bartle heard a clerk read details of 34
allegations of torture and one of conspiracy to torture during the final
years of Pinochet's 17-year dictatorial rule of Chile
The 83-year-old Pinochet was arrested October 16 on a Spanish warrant
while in a London hospital recovering from spinal surgery. He was kept
under house arrest for nearly a year while attorneys argued the merits of
Spain's request for extradition.
Spanish Judge Baltasar Garzon, who had been investigating the alleged
killings of Spanish citizens during Pinochet's 1973-90 dictatorship, wanted to
try the retired general on charges of terrorism -- international crimes, he said,
that could be prosecuted anywhere.
Pinochet ousted elected Chilean President Salvador Allende in a bloody
coup in 1973. About 3,000 people reportedly died or vanished during his
rule, and tens of thousands of others fled the country out of fear of the
military.
Outside the court on Monday, noisy demonstrators gathered to voice both
support and disdain for the one-time dictator. Pro-Pinochet demonstrators
outnumbered his opponents by about 200 to 30 as the hearing got under
way.
Pinochet was not in court Monday morning; he has been in and out of the
hospital in recent weeks. He is expected to attend court when Bartle issues
his ruling, expected about two weeks after the hearing ends.
Charges limited to post-1988 crimes
British crown prosecution lawyers were expected to take about a day
and a half to present Spain's case for extradition. Pinochet's attorneys will
follow.
The hearing, in London's Bow Street Magistrates' Court, is expected to last
a week. At its conclusion, Bartle must decide if Pinochet's alleged crimes are
extraditable, if Spain has jurisdiction and if the legal paperwork is in order.
Pinochet's attorney's have argued that the general has immunity from
prosecution because he was head-of-state at the time the crimes were
committed.
Supporters and critics both claimed victory in March when a seven-man
panel of Law Lords ruled against immunity, but limited the charges against
the retired general to crimes allegedly committed after 1988, when Britain
signed an international law banning torture.
"The big effect of Pinochet has been the decision by Britain's most senior
court, the House of Lords, that he does not have immunity from
prosecution," said international attorney Geoffry Robertson, who is not
involved in the case. "That's the big one, and that has already been decided."
After the Lords' ruling, Garzon added dozens of post-1988 torture
allegations to bolster his case.
Pinochet attorney Clive Nicholls objected to the additional charges, noting
that only one specific act of torture read in Monday's hearing was contained
in Spain's original extradition request.
Bartle agreed to listen to Spain's case before making a decision on the
admissibility of the extra allegations.
Pinochet could seek humanitarian return to Chile
If Bartle finds in favor of extradition, Pinochet's lawyers will be faced with
a dilemma: Do they pursue a lengthy appeal or do they call on British
Home Secretary Jack Straw to release the general on humanitarian
grounds?
Straw has said he won't make that decision while the legal process grinds
on. But in a recent meeting, British Foreign Minister Robin Cook told his
Chilean counterpart that Britain would consider freeing Pinochet on
humanitarian grounds.
London followed up by making clear that any such discussion was not a
promise.
Pinochet's friends say the retired general is suffering from heart problems,
diabetes and depression, and they fear he may die in Britain if the extradition
process is a protracted one.
Correspondents Margaret Lowrie, Fionnuala Sweeney and Nic Robertson, The Associated
Press and Reuters contributed to this report.