The Gainesville Sun
Friday, October 9, 2009

UF students join in 'No More Che Day'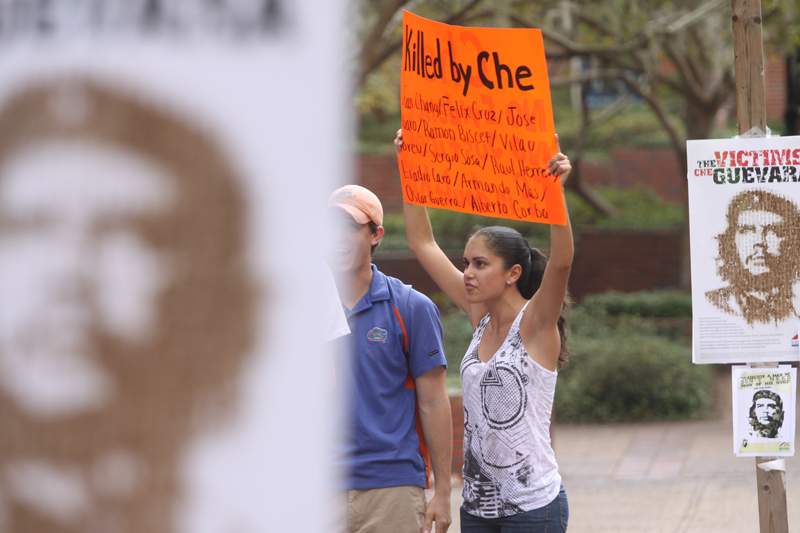 As another birthday of Ernesto "Che" Guevara passes, University of Florida political science major Dayme Sanchez, 20, holds a sign
that says "Killed by Che" Friday on Turlington Plaza. Photo: Zachary Bennett/The Gainesville Sun
By Ankita Rao
Correspondent
When University of Florida student Mauro Perez woke up Friday morning, he didn't think he would be holding up posters and handing out fliers about Ernesto "Che" Guevara.
But when the Cuban-American junior saw a group of students spreading awareness against the late revolutionary who played a key role in socialist Cuba, Perez joined them.
Guevara, an Argentine Marxist and key figure in the Cuban Revolution, was executed 42 years ago Friday. While many label him a revolutionary, other say he was a terrorist.
The popular image of him in a beret and leather jacket adorns T-shirts, hats and buttons on campus, in specialty stores and online.
Perez was among the students at Turlington Plaza and at the Plaza of the Americas on Friday afternoon handing out fliers, T-shirts and posters for "No More Che Day."
The white leaflets had the image of Guevara and his quotes such as "To execute a man we don't need proof of his guilt." The group told students about at least 180 documented murders of men, women and children they say have been committed by Guevara.
"I wouldn't think people who wore his shirt would support him if they knew what he did," said Chris DePaola, 20, communications chairman of the College Republicans, which supported Friday's protest.
The event stems from a campaign by the Young America's Foundation, a national organization promoting a conservative movement.
UF political science major Dayme Sanchez, 20, said she heard of YAF's event and wanted to bring awareness to campus in a nonpartisan, nonaffiliated demonstration. She spoke to several organizations on campus for support and UF's College Republicans decided to support the event.
Sanchez, who lived in Cuba until she was 6 years old, said she and her family suffered the consequences of Guevara's impact by the restrained rights to speech and fair trial.
"Some people think he was a revolutionary, but he wasn't that nice," she said.
As students received the fliers, some stopped to support the group and others to disagree.
Johnson, 19, said Guevara liberated Cuban workers and fought against a flawed system.
"He was killed, but the message of social justice lives on," Johnson said.
He said he understands why the No More Che Day group is expressing its views, but doesn't think the protesters are telling both sides of the story.
For students like Perez and Sanchez, Guevara's icon does not symbolize liberation.
"It's not just what you stand for, but how you go about attaining it," Perez said.