CNN
Sept. 2, 2004

Bahamas battered by Frances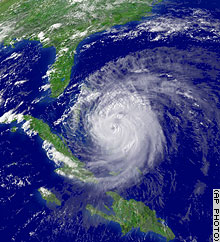 FREEPORT, Bahamas (AP) -- The ferocious winds of Hurricane Frances flung debris and kicked up 15-foot waves in the sparsely populated southeastern Bahamas on Thursday, while people in the main population centers of Nassau and Freeport rushed to prepare for the worst storm in at least five years.
Most buildings in the Bahamas are built of concrete, stone or other heavy materials to withstand winds of up to 125 mph. But the Category 4 storm's lashing 140 mph winds had Bahamians crowded outside hardware stores, loading plywood and other materials onto pickup trucks.
"I've never seen a hurricane of this magnitude," Simeon Robinson, 52, said as his son boarded up their apartment in Freeport. "Even the building code, which is one of the strictest in the region, is not designed to protect against winds of this magnitude."
By early evening Thursday, the storm's eye was over San Salvador Island, about 190 miles southeast of Nassau, the capital. Waves of more than 15 feet were reported on San Salvador; electricity and phone service was down on Long Island. Minor structural damage was also reported.
The storm tore tin roofs off houses and plucked trees from the ground in the Turks and Caicos Islands on Wednesday, forcing hundreds to leave their homes for shelters or higher ground.
Teams were out in both the Turks and Caicos and the southeastern Bahamas assessing damage. No deaths or injuries had been reported.
Bahamas Prime Minister Perry Christie urged Bahamians to remain calm, but warned they could see "the most intense hurricane in recorded history."
Forecasters said the storm's eye was heading toward Nassau on New Providence Island, home to more than two-thirds of the country's 300,000 people. "The worst of it is expected overnight or Friday morning," said Neil Stuart, a meteorologist at the U.S. National Hurricane Center in Miami.
Cruise ships diverted traffic out of Frances' path, and hotels in the Bahamas were either empty or else full of guests saddled up to bars waiting for the storm. Dozens waited at airports trying to leave but most flights were canceled in the Bahamas, a chain of more than 700 islands.
People in low-lying parts of the Bahamas were urged to evacuate. Some islands were expected to see a storm surge of six to 14 feet.
When Hurricane Floyd blew through the Bahamas in 1999, it left the Grand Bahama airport under water and closed beachfront hotels from San Salvador Island to Grand Bahama.
Many of the Turks and Caicos' 20,000 people ignored their government's call to leave. More than a dozen houses were damaged there, and one woman was rescued when her roof blew off, but the storm's eye missed the heart of that British territory, where gusts of about 90 mph were felt.
"We have good buildings that are built for hurricanes," said Dorothy Clark, with the Turks and Caicos emergency management service. "Some of the phone lines are still down, but our crews have been able to contact people via satellite phone on all of the islands."
Turks and Caicos Chief Minister Michael Misick said the islands had sustained "only minor damage." He declared them open to tourists.
The U.S. Embassy in Nassau evacuated about 200 non-emergency personnel and their families, said Stacie Zerdecki, an embassy spokeswoman.
Storm shelters were being opened in Bahamas schools.
Helen Russell, a 48-year-old teacher in Freeport, decided to ride out the storm in her wood-roofed home, which has a pine tree towering over it.
"My biggest fear is basically being inside then the roof coming off," she said. "Hopefully it'll be there after the hurricane passes."
A hurricane warning was up for most of Florida's east coast, stretching more than 300 miles from Florida City, near the state's southern tip, to Flagler Beach, north of Daytona Beach. About 2.5 million people were ordered to clear out, the biggest evacuation request in the state's history.
Forecasters said the still-strengthening Category 4 storm could hit Florida as early as Friday night, less than three weeks after Hurricane Charley raked Florida's western coast with 145 mph winds, causing billions of dollars in damage and killing 27 people.
Florida Gov. Jeb Bush declared a state of emergency, activating the National Guard.
At 5 p.m. Thursday, the hurricane's eye was above San Salvador Island and was about 375 miles east-southeast of Florida, moving northwest at 10 mph.
Copyright 2004 The Associated Press.