CNN
Wednesday, May 12, 2004

Brazilians dubious over reporter expulsion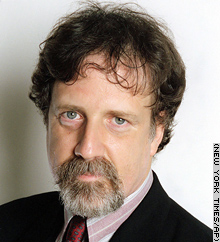 Larry Rohter
BRASILIA, Brazil (Reuters) -- The expulsion of a New York Times correspondent because of a story on the president's drinking habits has transformed Luiz Inacio Lula da Silva from a "victim into a villain," critics said Wednesday.
Friends and foes alike criticized the decision to invoke a dictatorship-era law to cancel the visa of Larry Rohter over an article he wrote that alleged Silva drank heavily.
"It's a political mistake. The government managed to transform a victory into a defeat -- it went from victim to villain. There is no precedent for this during democracy," Sen. Jefferson Peres of the left-leaning Democratic Labor Party said Wednesday.
"The article was badly done, but that doesn't justify the government's decision, which is authoritarian," he said.
The last time a foreign journalist was expelled from Brazil was in the 1970s, at the height of a 1964-85 military dictatorship.
Bill Keller, executive editor of the Times, said in a statement that if Brazil "intends to expel a journalist for writing an article that offended the president, that would raise serious questions about Brazil's professed commitment to freedom of expression and a free press."
In Washington, U.S. State Department spokesman Richard Boucher said: "Brazil's decision to cancel the visa of the New York Times journalist who wrote the article in question is not in keeping with Brazil's strong commitment to freedom of the press."
Foreign Minster Celso Amorim denied the decision to revoke Rohter's visa was an attack on press freedom.
"This is not about freedom of speech. It's about (a) story that is libelous, injurious and false," Amorim said. "We never acted against anyone who criticized Brazil's internal or foreign policy, but it is another thing to offend the honor of the chief of state."
The lengthy article in Sunday's Times, entitled "Brazilian Leader's Tippling Becomes National Concern," recapped rumors that had long been circulating among journalists in the nation's capital.
But many questioned the sourcing, which included an ally-turned-enemy of Silva and two partisan newspaper columnists, to argue that Silva's drinking had become a national concern.
Former President Fernando Henrique Cardoso, who was in office from 1995 to 2003, told foreign correspondents in Sao Paulo that both the article and the president's reaction were off base.
"I have known Lula for 30 years and I can attest to the fact that he is a social drinker only," Cardoso said. "Expelling the reporter who wrote the article, however, is an overreaction. By retaliating, they are keeping the article alive longer than it merits."
Rio de Janeiro Sen. Sergio Cabral appealed the expulsion to the country's Supreme Court, and a court spokeswoman said a number of judges believed the decision to expel Rohter was unconstitutional.
The New York Times agreed.
"Based on consultations with Brazilian legal counsel, we believe there is no basis for revocation of Mr. Rohter's visa and would take appropriate action to defend his rights," the newspaper's press spokeswoman Catherine Mathis said via e-mail.
Even members of the Silva's usually loyal Workers' Party attacked the decision.
"The government's decision was a wrong and dangerous measure from a democratic point of view, because it is an authoritarian gesture," said Sen. Cristovam Buarque. "It sets a dangerous precedent."
Brazil's media also expressed concern.
"After a year-and-a-half trying to distance himself from figures such as Venezuelan (President) Hugo Chavez, another populist with little affection for democracy, in just one stroke of a pen, he sank to their level," wrote columnist Nelson de Sa, on Folha de Sao Paulo newspaper.
In Rio de Janeiro, the Foreign Press Association issued a statement that read: "We fear that this drastic attitude is a warning to foreign correspondents in the sense that to work in Brazil your duty is to write articles that please the government."
Rohter's whereabouts were not immediately known. His office said he was out of the country.
Roberto Busato, president of the Brazilian Bar Association, said Rohter may not be allowed to re-enter if he is outside Brazil.
"If the government had one gram of sense it would reverse this decision," said Busato. "This decision hurts Brazil's image even more than the New York Times article."
Copyright 2004 Reuters.