The Miami Herald
January 2, 2000

Anti-Castro pilot rains leaflets on Cuba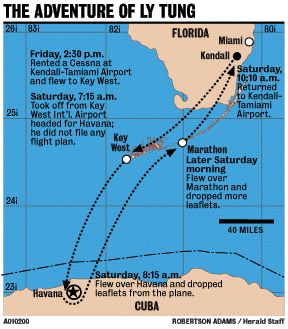 MARIKA LYNCH AND MARTIN MERZER
Cuban MIGs scrambled Saturday and an F-16 responded from Homestead Air Reserve Base
as a man often called Vietnam's James Bond flew a rented plane from Key West to Cuba,
circled over Havana and dropped leaflets advocating rebellion and calling Fidel Castro
''an old dinosaur.''
Unknown to Ly Tong, 51, virtually every move he made was monitored by Cuban and U.S.
authorities, who cooperated to avoid an international incident, according to Michael
Sheehan, a U.S. Customs spokesman.
''Make no mistake about it,'' Sheehan said. ''This is a very, very, very lucky man. He is very
lucky to be alive right now.''
In the end he walked away, punished only by forfeiting his 2-week-old pilot's license.
Tong, who said he had been planning the ''mission'' for months, seemed
undaunted. He said he carefully chose Jan. 1, 2000, as the day of his flight.
ANTI-COMMUNIST
''Very important people are paying attention to what happens the first day of the
third millennium,'' Tong said. ''How can I sacrifice my life for Cuban freedom? I
believe in God, justice and my mission against communism.
In 1996, Cuban MiGs shot down two planes flown to the island by Brothers to the
Rescue, a Miami-based exile group. Four pilots were killed.
Jose Basulto, founder and leader of that group and pilot of the only plane not shot
down in 1996, expressed unabashed joy when he heard about the flyover.
''Very good. I congratulate him,'' Basulto said. ''I support any action that goes
against Fidel Castro and strives to support Cuban opposition from within the
island.''
This time, Cuba demonstrated restraint, U.S. officials said. Still, authorities of
both nations were annoyed.
UNDER INVESTIGATION
''This incident is still under investigation,'' said Kathleen Bergen, a spokeswoman
for the Federal Aviation Administration. ''We're still determining whether any
federal laws were broken or violated.''
She and Sheehan said Tong ''voluntarily'' surrendered his pilot's license after he
returned to Kendall-Tamiami Executive Airport and was confronted by authorities.
As his single-engine Cessna 172 rolled to a stop, a U.S. Customs Blackhawk
helicopter descended seemingly out of nowhere, settling on the runway directly in
front of him.
''He didn't know a lot of things, including the fact that we followed his every move,''
Sheehan said. ''These are sensitive times.''
HEIGHTENED TENSIONS
The incident came amid heightened tensions over the fate of Elian Gonzalez, the
6-year-old Cuban boy now enmeshed in an international custody battle, and it
came on the 41st anniversary of the revolution that brought Castro to power.
Late Saturday, Tong also seemed oblivious to heightened tensions.
''I violated the airspace,'' he said. ''That's not important. The most important thing I
try to do is energize the Cuban people to rise up and overthrow the Havana tyrant.
A former South Vietnamese fighter pilot shot down over North Vietnam in 1975
and imprisoned for five years, he now is an American citizen who lives in New
Orleans but has been staying at the Kendall home of a friend.
He told his story at Tamiami Airport as he stood outside ADF Airways, which
owns the plane. He wore a blue flight cap, brown leather dress shoes and a
size-too-small orange flight suit with four patches.
He said he finally earned his U.S. pilot's license two weeks ago and rented the
plane Friday, paying $240 for just four hours of flying. But he made a weekend of
it.
Tong took it to Key West, where he refueled and spent New Year's Eve. Then, at
about 7:15 a.m. Saturday, he set out for Cuba.
EASY MISSION
He called it the ''easiest mission in my life.''
He said he flew the plane only 10 or 15 feet above the ocean to avoid detection.
It didn't work.
A Customs radar center in Long Beach, Calif., tracked the plane as it violated
Cuban airspace, Sheehan said.
The Cubans also saw the plane. They scrambled two MiGs, which flew out of
Tong's sight but close enough to intervene, and they contacted the FAA, seeking
information about the plane.
Meanwhile, the Air Force launched an F-16 to keep an eye on Tong and the
MiGs, authorities said. It patrolled over the southern Florida Keys.
Tong later said he was blissfully unaware of all of that as he circled over Havana.
Speaking as a sightseer, he was not impressed by the sights he saw.
''I stayed over congested areas,'' he said. ''It's a little dirty. After communism, all
beauty becomes worse.
50,000 LEAFLETS
He said he rained nearly 50,000 pink, orange and yellow leaflets on the streets
below. They were written in Spanish and English.
One leaflet lists seven action points. Among them:
''Demand your right to be the master of your own freedom and liberty. Insist on
redressing every Cuban social and cultural issue associated with your inalienable
human rights!''
''Coordinate Cuba's internal resistance forces with her global partners in quest for
liberty, including all freedom fighters of Vietnam, China, Korea and everywhere
else in the Universe, to overthrow Havana's tyrannical legacy of the Twentieth
Century.''
''Get rid of Fidel Castro and the cruelty of his Twentieth Century regime.''
Authorities were considering what, if any, charges to file. The most likely
appeared to be the aviation equivalent of littering, based on leaflets he dropped
from the plane over Marathon en route to Miami.
So, by the end of the adventurous day, Tong was still a free man, which seemed
to surprise him.
Believing he could be shot down or captured by Cuba, he had placed two leaflets
and several pictures inside an envelope addressed to The Herald.
''Only my friends knew,'' he said. ''They expected me to be shot down or die or be
put in prison. I was born to be a freedom fighter.
Herald staff writers Frank Davies and Elaine de Valle contributed to this report.