Noblesville Daily Times (Indiana)
April 15, 2008

Noblesville man recalls Bay of Pigs Invasion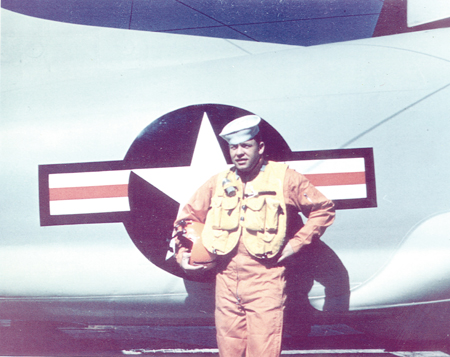 Don Roberts of Noblesville aboard the USS Essex in
1961. Photo submitted by Don Roberts
Written by William Fouts
Today marks the 47th anniversary of the failed Bay of Pigs Invasion. Don Roberts of Noblesville was an eye-witness as events off the coast of Cuba unfolded over the days that followed, though officially, he wasn't there.
While U.S. Involvement in the invasion has been well documented since then, the Pentagon and the Kennedy Administration initially denied U.S. forces were involved.
"Three Navy Commanders got us together and said you will never talk about what we're doing for the rest of your life or you're going to a federal prison," Roberts recalls. "So, I kept my mouth shut for 35 years."
Roberts, 71, was an aircraft maintenance technician aboard the aircraft carrier USS Essex CV-9 in 1961. Though ordered not to, Roberts kept a diary of events aboard ship. Nearly five decades later, he still gets choked up as reads through it.
He watched in horror as dead and wounded U.S. and Cuban personnel were brought aboard ship. He listened on the radio as CIA operatives pleaded for help, and like the rest of his shipmates, he felt anguish as the Essex headed for home leaving the invasion forces to their fate on the beaches.
But as the Essex set sail March 6, 1961, from its port at Quonset Point, R.I., Roberts had no reason to suspect their mission would be anything out of the ordinary. The ship's usual mission was to cruise the East Coast with its destroyer escorts and search for Soviet submarines.
A typical voyage could last between two weeks and a month, but all too often, Roberts said, missions lasted longer due to the constant mechanical problems plaguing the Essex's sister carrier the USS Lake Champlain C-39.
"We called it Building 39 because it never moved," Roberts joked.
Two weeks into the cruise, it seemed clear to Roberts something was up. Stopping in Norfolk, Va., the Essex took on larger than usual supplies of food and ammunition. High ranking Navy, Army and Air Force brass held late-night meetings aboard ship.
A number of men in civilian clothes also boarded. Crew members were ordered not to speak to them.
"They were CIA," Roberts said.
The ship also took on a supply of jet fuel, unusual since the Essex carried only propeller-driven aircraft, Roberts noted. But the cargo that really got Roberts's attention was 200 aluminum caskets.
"You don't have to live behind a rock to know that something is going to happen," Roberts said.
The Essex set out from Norfolk April 2. As the ship neared Jacksonville, Fla., the Navy's new A-4 attack jets arrived.
Passing the Florida Keys, the crew was told it was on a scientific mission to study ocean currents. But by April 12, the crew was gathered and sworn to secrecy. Two days later, they were ordered to turn in their cameras.
In the pre-dawn hours of April 15, jets began launching from the Essex's deck. By sunrise, bodies were spotted in the water. Smoke could be seen rising just over the horizon from Cuba, Roberts said.
"Everyone says that this is it," Roberts said reading from his diary. "Everything is all business. Adrenaline is pumping."
Over the next several days, the crew listened as CIA operatives stationed on the Isle of Pines (now known as the Isle of Youth) pleaded for more air support. But, President Kennedy had suspended air operations in support of the invasion.
Even as more dead and wounded men, including U.S. Marines, arrived aboard the Essex, the crew heard U.S. Ambassador to the United Nations Adlai Stevenson, as well as the Navy's Chief of Operations deny news reports that U.S. ships were lying off the Cuban coast.
By April 27, it was over.
"Secured from general quarters. We can't believe it. What a screwed up mess. Some men are openly crying," Roberts' diary entry reads.
The Essex returned to Quonset Point May 2. To his surprise, the USS Lake Champlain was gone. The crew joked that it must have been sunk.
On May 5, U.S. Navy Commander Alan Shepard became the first American in space. Shortly thereafter, the Lake Champlain returned to Quonset Point to a hero's welcome.
"He was picked up by the USS Lake Champlain," Roberts said. "We were supposed to go down and pick him up, but we were on that Cuban situation."
By William Fouts
wfouts@noblesvilledailytimes.com